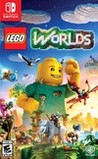 Summary:

LEGO Worlds is an open environment of procedurally-generated Worlds made entirely of LEGO bricks which you can freely manipulate and dynamically populate with LEGO models. Create anything you can imagine one brick at a time, or use large-scale landscaping tools to create vast mountain ranges

LEGO Worlds is an open environment of procedurally-generated Worlds made entirely of LEGO bricks which you can freely manipulate and dynamically populate with LEGO models. Create anything you can imagine one brick at a time, or use large-scale landscaping tools to create vast mountain ranges and dot your world with tropical islands. Drop in prefabricated structures to build and customize any world to your liking. Explore using helicopters, dragons, motorbikes or even gorillas and unlock treasures that enhance your gameplay. Watch your creations come to life through characters and creatures that interact with you and each other in unexpected ways. In LEGO Worlds, anything is possible!

…

Expand
Developer:

TT Games

Genre(s):

Action Adventure

,

Sandbox

# of players:

No Online Multiplayer

Cheats:

On GameFAQs

Rating:

E10+
Please enter your birth date to watch this video:
You are not allowed to view this material at this time.
LEGO Worlds - Launch Trailer
Nintendo Force Magazine

Oct 30, 2017

It's just you, a virtual catalog of different generically themed LEGOs, billions of bricks and your imagination to use as you wish, whether it be build or explore. [Issue #30 – November/December 2017, p. 63]

Multiplayer.it

Sep 20, 2017

Lego Worlds on Nintendo Switch keeps the fun of the title intact but it's a conversion with some technical issues.

LEGO Worlds is the perfect toy for our creativity. However too many technical problems and the lack of online get the product is not expected.

LEGO Worlds on Switch is a missed opportunity for Nintendo, Traveller's Tales and... the players.

Lego Worlds feels like someone dumped a box of Legos on the floor and told you to have fun. Only you've never held a Lego in your hand or heard the word fun. This is less of a game and more of an experiment for Lego to figure out its place in the increasingly digital future toy space, which is fine, but I for one would much rather play with real Legos. Or sleep on a pile of Legos.

LEGO Worlds is fun in small increments and I would be lying if I said this game does not hit the target audience's expectations. If you like sandbox games with open-ended gameplay, or are looking for a decent Minecraft alternative, this game is for you; unfortunately there just was not enough substance in the aimless gameplay loop for me to keep me coming back.

LEGO Worlds is a game full of wasted potential. It has a very robust creation tool, but it is completely overshadowed by a repetitive and uninspired gameplay looping, and a very bad performance overall.
If you love building Lego, and love games, you will love this. Even with the slightly choppy frame rate, this game is under appreciated, and

If you love building Lego, and love games, you will love this. Even with the slightly choppy frame rate, this game is under appreciated, and allows your imagination to go wild. This is easily one of the best video game sites I have ever played, and for a 2017 Switch game with only 59% on this website, that is quite a statement.

…

Expand

I like this game a lot because there are so many different worlds to achive you can create and you can explore so many things.

I loved LEGO's as a kid but we weren't fortunate enough to afford much outside of the colored blocks.. These days, I've been exposed to many

I loved LEGO's as a kid but we weren't fortunate enough to afford much outside of the colored blocks.. These days, I've been exposed to many of the LEGO games due to my son playing them. They are cute, fun, and have a lot of gameplay, but one thing that always threw me off was the fact that both you don't really build stuff outside of pressing a button to build pre-defined structures. Secondly it really turned me off that, even in the games where you play as a "good guy" you get rewarded for destroying everything to collect LEGO studs, which were then in turn used to unlock characters, levels, etc...

This all changed in LEGO worlds.. Frankly this is finally a LEGO game I can understand. While you can still collect bricks by destroying things, now it seems to have a bigger focus on discovering things, which can then be used to actually build stuff. Collect a new brick style, you can now use that brick to build anything you see fit. Find a LEGO set (or build) and now you can instantly build that item. In short , this game is allowing me to relive all my childhood dreams by building my own comprehensive LEGO set in game, then travelling around , discovering things, doing quests, and ACTUALLY BUILD using all the cool new pieces I've acquired.

So far I'm really impressed with how much content there is, as far as the types of bricks and sets I've been able to collect. The quests are fun enough to keep you busy, but in short this is the LEGO experience I have always dreamed of. My main hope is that they continue to add content, more "sets" to find, and more quests and things to do, because in my opinion, this is the ultimate, and what a LEGO game should have always been. There are online multiplayer options but honestly I haven't even dug into that yet since I'm having so much fun just running around, playing around and building.

My main hopes are they continue to:
* Add more bricks
* Add more sets (pre-fab builds)
* Physics please introduce at least gravity physics.. When I destroy the base of a large LEGO tower, it would add so much to the game to see it fall and crumble in accordance with the laws of gravity (This will also set LEGO worlds apart a little more from the Minecraft comparisons).
* Add more interaction with the various items in the game (currently there are many, but if there is a chair, I would like my toon to be able to sit on it, or drink from a bar)
* Extending the above interaction comment, it would be cool if some of the interactions were tied to mini games
* Add more questions/missions
* Enhance the AI a bit more, the ability to converse with the AI LEGOnians, making friends, enemies perhaps, and then bringing them with on questions

Just more of everything they've been doing, I hope they don't abandon this title, but instead continue to enhance it until all the bricks, builds are available and that most if not all items are able to be interacted with. I would gladly pay for DLC to facilitate this, and would MUCH prefer this over having to buy another stand alone title considering my goal is to "Collect all the things"

In short, this is a fantastic title, and having it on a portable system is just amazing. I had purchased it on the PC as well, but since I've gotten it for the Switch I've been unable to put it down. Keep up the good work team, and everyone else.... GO GET THIS GAME.

P.S. I recommend buying the digital version , that way it's always available in your system without switching disks, since it's good for short or long plays, it's great to have on hand without need to swap in and out a disk/cartridge.

Have fun!

…

Expand

Arghhhhhh! This game annoys me so much! not because it's a bad game, because it's not. But because it could have been a *much* better game, if

Arghhhhhh! This game annoys me so much! not because it's a bad game, because it's not. But because it could have been a *much* better game, if it had been given more love and care while it was being made. Lego Worlds is an extremely enjoyable experience, but for your first couple of hours, or even for just of you experience with the game, it will frustrate you endlessly, because you'll be able to tell how amazing this could have been, with only minimal more effort put into it. If you enjoy Lego games, or even just Lego in general, and are willing to work past some of the oversights, like the janky controls or poorly designed UI, you'll enjoy it, it's basically Minecraft with Lego after all, it's our collective childhood dream come true, but it also will pain you, because you'll constantly be thinking "oh that would be so much better if XYZ," or the like, and most of the problems aren't stuff that would require lots of attention! TT already have a great HUD for other lego games, even Lego sandbox builders (just play the level editor in Lego Harry Potter Y1-4) that would have worked much better then the clunky schemes they used here. The "story", if you can call it that (not a dig as such, it's a sandbox Lego game, it didn't need to be the last of us) feels so last minute and ham fisted, leaving you to have to ask why they even bothered with a story in the first place.
if you like Lego games, and see this on discount ($20 or less) get it. you'll have a fun few hours. and be able to think how amazing the game we could have got, and one day still may, could be.

…

Expand

Игра неплоха, но далеко не самая лучшая в серии игр лего. Слишком много муторного собирательства.

Игра неплоха, но далеко не самая лучшая в серии игр лего. Слишком много муторного собирательства.

A Minecraft-esque game that had potential but fell just short of greatness.

The story sucks, and is composed purely of tedious quests, manyA Minecraft-esque game that had potential but fell just short of greatness.

The story sucks, and is composed purely of tedious quests, many of which dole out either obscenely difficult challenges or miserly rewards.

Sandbox Mode is fun, but there's not enough unique content and it gets boring after a while. Each world only has 3 unique characters, and most things are given a theme swap.

If you want this game, wait to get it on sale. Don't pay full price for it.

…

Expand

From my 6-year old: "Never knew Minecraft was better. Lego movies are so good and lego games are so creepy."

There you go - right from theFrom my 6-year old: "Never knew Minecraft was better. Lego movies are so good and lego games are so creepy."

There you go - right from the customers mouth :) This game is a waste of money. Minecraft is just so much better.

…

Expand