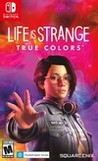 Summary:

A bold new era of the award-winning Life is Strange begins, with an all-new playable lead character and a thrilling mystery to solve!

Alex Chen has long suppressed her 'curse': the supernatural ability to experience, absorb and manipulate the strong emotions of others, which she sees asA bold new era of the award-winning Life is Strange begins, with an all-new playable lead character and a thrilling mystery to solve!

Alex Chen has long suppressed her 'curse': the supernatural ability to experience, absorb and manipulate the strong emotions of others, which she sees as blazing, colored auras.

When her brother dies in a so-called accident, Alex must embrace her volatile power to find the truth and uncover the dark secrets buried by a small town.

…

Expand
Developer:

Deck Nine Games

Genre(s):

Action Adventure

,

General

# of players:

No Online Multiplayer

Cheats:

On GameFAQs

Available On:

Stadia

Rating:

M
Please enter your birth date to watch this video:
You are not allowed to view this material at this time.
Life is Strange: True Colors - First Official Gameplay Trailer
Life is Strange: True Colors follows the tradition of the franchise's best games, bringing a rich and deep story, impeccable art and a perfect soundtrack. It is, in my opinion, the best port of 2021, and a game that nobody who likes the genre can miss.

Across its 10-15 hours, Life is Strange: True Colors tells an emotional story of a girl trying to find a new home while also reconciling with both her unique powers and her traumatic past. There isn't much in the way of puzzle-solving, but intrepid players will enjoy going back to completed chapters and scenes to make new choices and see what happens. It's easy to miss a conversation or an object with which you can interact, so it's worth being thorough. There are hidden memories to unlock in each chapter, too. Despite a few abrupt time skips and scene jumps, Alex's story is one worth hearing; it culminates in a captivating climax, even if the resolution pulls its punches a bit. Color me eager to see more Life is Strange titles come to the Switch in the coming months.

Life is Strange: True Colors is the best game in the series so far, without a doubt. The town of Haven Springs is full of excellent characters, with Alex Chen herself being one of the best protagonists we've seen in some time. The game does suffer from some pretty severe visual downgrades with the Switch release, and some of the additional minigames left us feeling a bit cold. Nevertheless, developer Deck Nine has crafted a fantastic narrative that you'll be eager to see through to the very end. Reduced visual fidelity aside, Switch is a great place to experience True Colors.

Life is Strange: True Colors is one of the better newer game ports in recent years on Nintendo Switch. In a lot of cases, there are big caveats to buying a newer third party game on Nintendo Switch. For Life is Strange: True Colors, there have been downgrades, but they are smartly done to preserve most of the experience and deliver an excellent portable experience. Life is Strange: True Colors has already seen further improvements following launch with a recent update. As the franchise's debut on the Switch platform, Life is Strange: True Colors is just about everything I wanted from a port.

Life is Strange: True Colors is a good narrative video game with simple mechanics that comes to Nintendo Switch with significant changes in its graphics. However, the great story, music, and design quality that the franchise has gotten us used to are still there.

Life is Strange: True Colors is a good adventure. Despite the fact that the graphics are not the best on Switch and it doesn't stand out especially in its story, it is entertaining and interesting from beginning to end. It is also replayable due to the different choices we can make throughout our journey.

Life is Strange: True Colors is an immersive experience that connects the user with its characters and successfully transports the player to the town of Haven Springs. This moving story about emotions, empathy, love and loss is built very solidly on a well written script, very well developed characters, an intriguing story and very moving moments. Unlike DONTNOD's Life is Strange 2 that starts in a forced and sudden way, True Colors takes its time, is patient and shows its nuances little by little, at the right moment to tell its story. Unfortunately, everything that makes Life is Strange: True Colors great is overshadowed by an overwhelming technical deficiency on the Nintendo Switch, something that leaves me with a bittersweet taste. It is a fine game that should not be played on the Nintendo Switch.
Everyone should take the time to play this game. I am a huge fan of the LIS series but this was my favourite. The attention to detail is

Everyone should take the time to play this game. I am a huge fan of the LIS series but this was my favourite. The attention to detail is fantastic, with the ability to interact with so many people and things. I enjoyed taking the time to explore the open world and found it very relaxing. The sound track was amazing and complemented the emotive nature of the storyline. I also think they did a great job of developing the characters, I actually had a few tears at points in the game because of how well written some of the narrative was. So yes 10/10 for me!

…

Expand

I am a big fan of that series. I enjoyed a lot playing 'Life is strange True Colors". The storytelling is nice and really exciting. It runs

I am a big fan of that series. I enjoyed a lot playing 'Life is strange True Colors". The storytelling is nice and really exciting. It runs beautifully on the switch.

…

Expand

Love this game so much that first played it was my favorite game in series. I don't hate it now, but I still got love this game.

While there are many excellent story-driven titles in the Switch eShop, the tendency is more usually on grand tales or bold accomplishments

While there are many excellent story-driven titles in the Switch eShop, the tendency is more usually on grand tales or bold accomplishments than fleshed out characters that feel authentic. True Colors still has a compelling story to tell but what struck me most about it was a weird feeling of authenticity to the key characters. Just something in the way they interact feels far less stiff and simplistic than the norm, and often the choices I'd have for responses to situations would feel sensible within the context of the current circumstances and characters. Certainly the discovery and exploration around your character's powers and then the process of trying to resolve the game's central mystery in this humble Colorado town are compelling, but without the depth of the characters being there I don't think the whole package would work as well. I've seen plenty of people bemoaning how the game's gorgeous visuals have had to be compromised on the Switch, and I suppose since this is a full-priced game if you have the option of playing it on another platform (and you don't mind the lack of the convenience of portability) that would be a reasonable choice. That said, it's still visually striking and the character models generally look great, so take those complaints with a grain of salt.

https://www.nindiespotlight.com/2021/12/mini-reviews-december-17th-edition.html

…

Expand

Lots of feels in this one. I enjoyed the journey.

Date Completed: 2022-05-04 Playtime: ~ 9h Enjoyment: 8/10 Recommendation: You probablyLots of feels in this one. I enjoyed the journey.

Date Completed: 2022-05-04
Playtime: ~ 9h
Enjoyment: 8/10
Recommendation: You probably know if you'll like it or not.

…

Expand

I ama huge fan of the first game and have to say that third entry in the title is weaker but is still an amazing game

I turned it off as soon as I saw Haven Springs. Graphics are absolutely abysmal on switch. Will grab and play on PC when it's on sale for a

I turned it off as soon as I saw Haven Springs. Graphics are absolutely abysmal on switch. Will grab and play on PC when it's on sale for a few $'s. I am slowly coming to realize the only publisher who understands how to program for switch is Nintendo. Will stick to exclusives on this platform going forward.

…

Expand