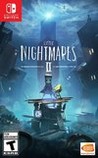 Summary:

Little Nightmares II is a suspense-adventure game in which you play as Mono, a young boy trapped in a world that has been distorted by a mysterious transmission from a distant signal tower. With Six, the girl in a yellow raincoat, Mono sets out to discover the dark secrets of The Signal

Little Nightmares II is a suspense-adventure game in which you play as Mono, a young boy trapped in a world that has been distorted by a mysterious transmission from a distant signal tower. With Six, the girl in a yellow raincoat, Mono sets out to discover the dark secrets of The Signal Tower and save Six from her terrible fate; but their journey will not be easy as Mono and Six will face an array of new threats from the terrible residents of this world. Will you dare face this collection of new, little nightmares? PLAY A DARK, THRILLING, SUSPENSE ADVENTURE: A host of brand-new residents lie in wait to haunt your steps and disturb your sleep. Outsmart the sadistic teacher, survive the bloodthirsty hunter and flee from many more terrifying characters, as Mono and Six journey through this world together. DISCOVER A FANTASTICAL WORLD CORRUPTED BY THE SIGNAL TOWER: Escape a world that's rotten from the inside. Your journey will take you from creepy woodlands to sinister schools on your way to the dreadful Signal Tower. Find the source of the evil that spreads through the TV screens of the world. AWAKEN YOUR INNER CHILD TO SAVE SIX FROM THE DARKNESS: Six is fading from this world, and her only hope is to journey with Mono to find what has afflicted her from the Signal Tower. In this world of unknown terrors, you are her only beacon of hope. Can you gather up the courage to fend off your tormenters, and work with Six to make sense of The Signal Tower?

…

Expand
Developer:

Tarsier Studios

Genre(s):

Action Adventure

,

Linear

# of players:

No Online Multiplayer

Cheats:

On GameFAQs

Available On:

Stadia

Rating:

T
Please enter your birth date to watch this video:
You are not allowed to view this material at this time.
LITTLE NIGHTMARES II – Official Launch Trailer
For a horror, this is an oddly beautiful game filled with gorgeous scenes and amazing detail. Even though it is a sequel, it gives it's own interesting storyline that matches the original without being a copy.

Following closely in the footsteps of its predecessor, Little Nightmares II is an indie darling hiding a triple-A development team under the floorboards. It takes the cream of cinematic interpretations of The Ring, Poltergeist, IT and even Jim Henson's Labyrinth and whisks them further into a butter of pitch-black imagination. It may not steer too far from the apple tree when it comes to evolving its gameplay, but what it does do is dim the lights even lower to carry on the momentum for another satisfying and nerve-wracking experience.

Little Nightmares II is more of what fans enjoyed in the first installment. It's a terrific blend of evenly spaced platforming combined with environmental object manipulation puzzles. If that wasn't enough there's even a dose of co-ed puzzle solving. The game especially shines during the tense, atmospheric real-time platforming sequences. With its forgiving checkpoint auto-saves even a tired, old gamer can succeed through the platforming sequences.

Little Nightmares II is an excellent follow-up to an already terrific game. While the changes it makes to the series' established formula, such as the dual protagonist story and the addition of combat, are a bit hit or miss, I still found it nearly impossible to put the game down during my six-hour playthrough thanks to its satisfying puzzles and unrivaled atmosphere. If you're a fan of the original game, then this is a game you won't want to miss. However, if the performance problems I mentioned have you on the fence (though honestly, they're not that bad), perhaps consider picking up the game on a more capable platform than the Switch.

Little Nightmares II successfully creates a series of titles that pair up splendidly. Through masterful environmental storytelling and world-building, Tarsier Studios steps up to the likes of Limbo and Inside to invoke a creepy, horror experience that will force its way into your memories. Even with some frustrating sequences and some perspective clunkiness, Little Nightmares II gets a helping hand with all the other ways it exemplifies the genre.

Despite its non-verbal nature (brilliant environmental details, sound design and music tell the story in place of words), Little Nightmares 2 is thought-provoking, tackling the potentially corrupting nature of what is beamed into our homes. If you were to nitpick, you could say that there's little motivation to revisit the game once it's run its course – but this gothic nightmare is a delight to inhabit.

The result is an engaging and well-produced adventure, but regularly frustrating, both narratively and playfully.
A great horror game ideal for people looking for something new
Compared to its predecessor Little Nightmares, a couple of new things areA great horror game ideal for people looking for something new
Compared to its predecessor Little Nightmares, a couple of new things are implemented here, such as being able to attack, which makes it more interesting from my point of view.
if you like puzzles or horror or both
don't hesitate to play this game
It is an experience that could fill a void of wanting to play a new game.
or at least that was my case.

…

Expand

I loved the game, the feel, the graphics, and the scare factor. They did a great job capturing so much of the original game. I did find this

I loved the game, the feel, the graphics, and the scare factor. They did a great job capturing so much of the original game. I did find this one a tad less intuitive than the first. The controls could get frustrating at points, but not enough to keep me from playing and seriously enjoying this game. I could play it several times over (and I have started it again), which shows you how unhindered I am about the controls.

…

Expand

An amazing sequel to the first game with a more intense vibe of creepy and many times disturbing....I'm saying that as a good thing. I love

An amazing sequel to the first game with a more intense vibe of creepy and many times disturbing....I'm saying that as a good thing. I love how you play as a team with two adorable kids, and the hat collection was a nice add-on. The few moments where you can wield a weapon to defend yourself is perfect in how it's balanced, not too intense but just enough to be exciting. I often hear complaints about the controls, but in my opinion they feel identical to the first game. Sure they can be a little tricky at times, but they're tolerable and don't affect how much you enjoy the game. I would have given a 10/10 if not for the length. The first Little Nightmares was longer by atleast an hour, maybe two. And the first one also came with a free DLC which added another hour. There is a DLC for this game, but they are charging another $6.99 for it on top of the original $39.99 for the base game. Considering the games high price tag, short playtime and lacking somewhat in replayability, it would have been more sensible to do the same as before and just add on the DLC at no cost. While it is a fantastic game that incredibly fun to play, I find the length a little disappointing and would have felt better about my purchase had the DLC been included for free. Knowing this now, I would have waited until it went on sale.

…

Expand

Enjoyed this one, really expanded on the ideas of the first. I think the original Little Nightmares suffered in comparison for me because I

Enjoyed this one, really expanded on the ideas of the first. I think the original Little Nightmares suffered in comparison for me because I wanted it to be more like 'Inside' This one, I can accept as being stronger in its own vision - the Resident Evil Village of platformers!

…

Expand

A must have for anyone who loves horror games. It's a good game but held back from greatness by a few flaws.

The visuals are top notch andA must have for anyone who loves horror games. It's a good game but held back from greatness by a few flaws.

The visuals are top notch and set an intense scary atmosphere. The puzzles are challenging without being overcomplicated or too simple. The check points are also plentiful making it easy to stop and jump right back into.

The main thing holding this game back is the controls. They're just like the first game. Sometimes when I jump and press grab the character does sometimes he doesn't. They're simply too inconsistent. If it wasn't for the clunky controls I would have given this game a 9 easy so minus 2 points for poor controls.

The Switch version is also littered with glitches like the characters spinning in place, random white tears, and objects not loading in when they should. The game feels rushed and like the developers didn't have time to fully test it. These aren't major glitches so minus 1 point.

Overall a good game and I'll be looking forward to a 3rd, hopefully with improved controls.

…

Expand

this game is so bad. the story is empty and the characters are not good. boring