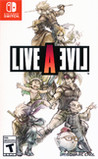 Summary:

Seven different stories featuring different protagonists, time periods, and gameplay styles await. In The Wild West, a wanderer with a bounty on his head fights for his life. In the Twilight of Edo Japan, a shinobi undertakes a secret mission. Experience these tales in any order you

Seven different stories featuring different protagonists, time periods, and gameplay styles await. In The Wild West, a wanderer with a bounty on his head fights for his life. In the Twilight of Edo Japan, a shinobi undertakes a secret mission. Experience these tales in any order you choose—the adventure is yours to control. What other stories will you uncover on the horizon...?

…

Expand
Developer:

Square Enix, historia Inc

Genre(s):

Role-Playing

,

Strategy

,

Turn-Based

,

Japanese-Style

,

Tactics

# of players:

No Online Multiplayer

Cheats:

On GameFAQs

Rating:

T
Please enter your birth date to watch this video:
You are not allowed to view this material at this time.
LIVE A LIVE - Imperial China Trailer
The intriguing and unique premise of Live A Live is a genuine hook for players from all walks of life. This game not only has a fantasy story worthy of a SNES era Square game but it also treads an extremely upto date line with it's cool turn based combat and choice/morality systems. Players will be blown away by the content on show in this awesome RPG and it cannot be recommended enough. A great game turned masterpiece with this fantastic remake!

I'll admit, this was an incredibly subversive game for its era, one that might not hit as well as it did for some compared to me. I'm able to appreciate it as both a game from the '90s and just a game. But I'm sure a lot of creatives in Japan were inspired by this, and those inspirations had to have bled into their work. You will have likely seen parts of its unique twists on the genres it plays with elsewhere, but I found that to be an endearing trait. It feels fitting that a compilation of clear passion and inspiration has trickled down to other games. The impact of Live A Live has seemingly never gone away, and that's beautiful.

Live A Live is a gem that has been sleeping in Square Enix's archive for years and is finally open to everyone. Whether you are just a newbie or a seasoned veteran to JRPG genre, Live A Live is a masterpiece that you should definitely not miss.

What makes Live A Live stand out is that if I hadn't been told that this game first released almost 30 years ago, I never would have guessed it. The clever concept, all tied together by a single antagonistic force, and the timeless stories work just as brilliantly in 2022.

It's hard for me to fault Live A Live too harshly for its ending, though. I'd have been perfectly satisfied if it had simply been seven separate stories, and each of these is well worth playing through even after all these years. There's so much creativity and joy present that anyone interested in class RPGs owes it to themselves to give it a try.

A great adventure that you really need to (re)discover!

Live A Live takes too long to settle into its RPG groove, making it a missed opportunity on too many fronts.
Juegazo con mayusculas y uno de los maximos exponentes de los JRPG en la Nintendo Switch.

Live a live may be my new favorite JRPG of all time. The game consists of 6 different stories from different time periods. Ranging from the

Live a live may be my new favorite JRPG of all time. The game consists of 6 different stories from different time periods. Ranging from the earliest days of man, to the far far future. While you may think that the short story structure wouldn't lead to an interesting narrative, the truth is the writing on the game truly separates it from most other games on the genre. You may not enjoy every section, but I'm sure almost everyone will enjoy at least a few.

…

Expand

One of the best JRPGs to ever do it but in HD-2D. The "censorship" is 2 of Shifu's lines being changed, and as someone who played the fan

One of the best JRPGs to ever do it but in HD-2D. The "censorship" is 2 of Shifu's lines being changed, and as someone who played the fan translation those lines change next to nothing. This is by far the best way to play this game.

…

Expand

First of all, this game is so unique in the extremely broad JRPG genre, and you really feel that from each chapter and that novelty never

First of all, this game is so unique in the extremely broad JRPG genre, and you really feel that from each chapter and that novelty never disappears. You are presented with 7 different characters all relating to a different time period. You can select from any of the 7 there is no set path in how you play this game, each story is self-contained, and you can save and exit out of them whenever you want! Each character represents a different genre, for example in the Present Day you take control of a fighter Masaru Takahara in a street fighter style RPG tournament and The Distant Future is kind of like a visual novel where you experience a story through the eyes of a little robot. There's almost something for everyone here.

The graphics in this game are stellar, it's easily the best-looking HD-2D game yet and Octopath Traveler & Triangle Strategy are already phenomenal looking games. Each story has been translated from the beautiful pixel art on the Super Famicom original perfectly to the home of HD-2D the Nintendo Switch. Every single environment is unbelievably gorgeous and stunningly detailed, characters look sharp, the colourful environments that blend so seamlessly with the 3D aspects. Rocks on cliffs, bamboo forests, the market stalls in a market and so many more. This game is just pure eye candy and, on an OLED, display it's even better than words can describe.

Yoko Shimomura returned to do the music for this game, and you can tell because these rearrangements do the originals justice and then some. From the beautiful and immersive sound of traditional Chinese instruments as you walk along a Chinese mountain to the modern instruments used in the near future helps emphasise each time period's feel and mood just perfectly. Each chapter is then topped off by a superb rearrangement of Megalomania that just completely hypes you up to take on the boss in front of you. This soundtrack is truly nothing short of a miracle!

Live A Live was honestly well worth the 28 year wait. This remake has the privilege to introduce a new audience to an influential and unique JRPG to the wider world and does so with flying colours! Playing and loving Live A Live as much as I have makes me that much more excited to get stuck into Chrono Trigger in future since both games were directed by the incredible Takashi Tokita and it makes me even more excited for the possibility of more classic NES and SNES Squaresoft and Enix JRPGs to be brought back into the spotlight in through the glory of HD-2D. If I was to give this game a numerical rating, it would be a 9/10. Dragon Quest III is looking to be the next remake and I can't wait for more information on that one!

…

Expand

Live A Live is a game I feel like I can recommend to just about anyone, even those who may not like rpgs. This game doesn't always even feel

Live A Live is a game I feel like I can recommend to just about anyone, even those who may not like rpgs. This game doesn't always even feel like an rpg, it is much more nuanced than that. It doesn't have the long grindy sessions other rpgs have and is almost designed for you to just enjoy yourself with someone new and different for a couple hours each night and I think that is really cool.

The game isn't the longest, but that is also a breath of fresh air to me. Some games feel long for the sake of being long but live a live doesn't overstay its welcome which helped me more consistently have fun and be surprised by the gameplay, story, and music. Live A Live is great, please play it. If you aren't sure about it you can even download the demo and see if it jives with you.

The Nintendo switch has no shortage of games. No shortage of RPGs. And no shortage of team asano games, but even still Live A Live feels like required playing.

…

Expand

Live a Live, e un opera realizzata da Takashi Tokita lo stesso autore che ha fatto Final Fantasy, Chrono Trigger, Live A Live e tanti altre

Live a Live, e un opera realizzata da Takashi Tokita lo stesso autore che ha fatto Final Fantasy, Chrono Trigger, Live A Live e tanti altre opere di Square Enix, ha avuto una visione all'epoca che quando a realizzato questo gioco, in modo che il giocatore di esplorare delle mini storie dedicate in varie epoche tra il passato , presente e futuro.

Nota bene: Specifico che il gioco non lo ho giocato la versione originale uscito originalmente su SNES (Super Nintendo) e Virtual Console come Nintendo WII, WIIU o 3DS solo Territorio Giapponese.

Il gioco presenta diverse storie disponibili, che tutte in realtà sono nove e tra cui sette capitoli più due extra tra cui si sbloccano Finendo tutte le storie disponibili, e nel gioco si può ottenere il Finale buono o quello cattivo, a seconda della situazione che si ritrova il giocatore.

Non farò spoiler sulle varie trame dei capitoli, in quanto per non rovinare l'esperienza altrui, posso solo dire le tematiche sono molte mature, e si ispirano ai film, e videogiochi, basta pensare sulla preistoria i film sui samurai, arti marziali, sul combattimento, guerra dei robot, fino ad arrivare al futuro fantascientifico, far west ispirato dai Film di Sergio Leone, e la tematica tra bene e il male sul medioevo.

Le trame sono ben scritte e caratterizzate che ognuna di esse narrano una storia molto profonda e cosi che si ispirano molto nei classici film del passato con mistura tra la narrazione Giapponese e quella nostra Europea in quanto si ispira fortemente alle tematiche Cinematografiche del periodo e videoludiche.

Il giocatore potrà scegliere queste storie che sono già giocabili e ognuna di esse sono ben scritte e caratterizzate, se avete già giocato la versione Demo, potete già importare il dato di salvataggio per potete continuare le storie che erano già disponibili fin dall'inizio, dalla preistoria al futuro prossimo, passando per il Giappone Feudale, e il Far West, fino alla Cina imperiale e il Presente e alla fine Il medioevo il capitolo che si sblocca all'ultimo che è il Finale vero e proprio del gioco.

LIVE A LIVE SCREEN 01

I dialoghi ben scritti anche al livello cinematografico e con un bel doppiaggio Inglese molto scorrevole, che si può seguire attentamente ciò che si prova sullo schermo.

La narrazione quella più semplice a quella più complessa è matura per coinvolgere il giocatore in ciò che sta succedendo sullo schermo.

Per esempio nella preistoria mi sono davvero tanto divertito in quanto la situazione è tragicomica, fanno dei versi e poi il protagonista si innamora di una cavernicola e di fa di tutti colori e le situazioni sono ben recitate e soprattutto una sorta di mini cortometraggi sperimentali ma nello stesso tempo di ottima fattura sul restauro.

Live A Live: analisi 1
Analisi sulle meccaniche di gioco

Il gioco presenta diverse meccaniche di ogni epoca faccio l'esempio sulla preistoria si usa la caccia il personaggio usa il fiuto per cacciare il cibo e localizzare i nemici, Il presente e una sorta di Street Fighter che dovete selezionare i lottatori per lo scontro, Il Ninja può usare lo stealth, il robottino può usare un attrezzo per forzare le porte, la lettura del pensiero, il crafting è presente solo in alcuni.

Il gioco sono presenti dei mini puzzle ambientali in quanto dovete risolvere alcuni enigmi che richiedono nei vari personaggi non spiego i dettagli in quanto c'è molto spoiler su questo e dico solo come consiglio prendete tutti gli oggetti e l'equipaggiamento perché vi servirà.
Analisi sul Battle System

Il combat system e quello tradizionale JRPG (Gioco di Ruolo Giapponese), tradizionale con sistema ATB (ACTIVE TIME BATTLE) sistema a turni che determina l'attesa di un personaggio o mostro, per attaccare. con elementi tattici.

Ogni personaggio ha le sue abilità, e si muovono a scacchiera, da destra a sinistra in alto e in basso, quando selezionate un'abilità vengono colorate in riquadri in base l'elemento che utilizzate dal blu, celeste rosso e cosi via, e colpirà solo nei punti prestabiliti, anche i nemici possono fare questo ma se volete evitare i loro attacchi c'è una riga visibile semi trasparente basta mettere in un punto non subirete danno.

Gli elementi come il fuoco e l'acqua, o status alterati, rimangono temporanei nel terreno e possono infliggere il danno alla posizione dove avete lanciato ma e valido solo per un turno massimo due, se per esempio un vostro compagno è KO dovete utilizzare gli oggetti specifici per fare recuperare la sua salute che appare un riquadro grande o piccolo ma non singolo, in modo di ripristinare la sua energia, se viene colpito nuovamente lo avete perso durante il combattimento.
Gli status alterati sono temporanei quindi dovete cercarvi di riparavi o utilizzare oggetti curativi o abilità specifici, per curavi subito, ma dopo avere finito lo scontro si recuperano tutte le loro forze.

…

Expand

this game is so boring. you have nothing very good to do here. very empty game