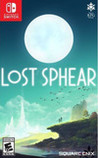 Summary:

As an ominous power threatens the fabric of reality, a young man chosen by destiny must arise to face a phenomenon never seen before. Enter Kanata, as he awakens from a devastating dream leading him to find his home, erased from existence. Awaken the power of Memory to restore the Lost and

As an ominous power threatens the fabric of reality, a young man chosen by destiny must arise to face a phenomenon never seen before. Enter Kanata, as he awakens from a devastating dream leading him to find his home, erased from existence. Awaken the power of Memory to restore the Lost and rebuild the world!

…

Expand
Developer:

Tokyo RPG Factory

Genre(s):

Role-Playing

,

Japanese-Style

# of players:

No Online Multiplayer

Cheats:

On GameFAQs

Rating:

E10+
Please enter your birth date to watch this video:
You are not allowed to view this material at this time.
Lost Sphear - Nintendo Switch Reveal Trailer
Ever wish you could bring a memory back to life? Tokyo RPG Factory has transplanted the essence of Chrono Trigger and other classic SNES JRPGs into a beautiful modern engine to revivify the Active Time Battle system for a new generation of players in the form of Lost Sphear.

Lost Sphear is a good game in which Tokyo RPG Factory has taken good notes on the features that were criticized in I am Setsuna. While it's true that it isn't a perfect game and even though it has improved aspects such as the combat mechanics or the greater variety in the surroundings, it continues to have room for improvement in others, such as the dungeons.

Lost Sphear is Tokyo RPG Factory's latest attempt to capture that golden age nostalgia, but its lackluster story and bloated systems aren't quite up to the task.

Lost Sphear is a good J-RPG but it feels way too generic to stand out amongst the field of available competitors.

Lost Sphear is a new game from Tokyo RPG Factory. It is decent but has some very old features and therefore 50 euros is way too much.

Aiming squarely at gamers' nostalgia for mid-90s roleplaying games and hitting nothing but a vast white void, Lost Sphear is a fun game bogged down by a muddle of throwbacks and a cacophony of unoriginal, competing ideas.

Lost Sphear is an RPG that's hard to recommend to everyone, offering a mixed and unbalanced experience. The combat is fast-paced, rewarding and challenging yet sometimes garish. The Spiritnite system is fantastic and yet the Vulcosuits feel undercooked. All in all, Lost Sphear offers an inconsistent experience that is ultimately brought down by an overwhelming sense of tedium and repetition.
This review contains spoilers

, click expand to view

. Buy buy buy buy this game. Great nostalgic experience. This game is good. Pros
+ Great story
+ Nice characters
+ Long campaign

…

Expand

While "I am Setsuna" was a solid game "Lost Sphear" is much more fun to play. Ok - in "I am Setsuna" i always saw "Final Fantasy X" in a much

While "I am Setsuna" was a solid game "Lost Sphear" is much more fun to play. Ok - in "I am Setsuna" i always saw "Final Fantasy X" in a much smaler space. While i loved "Final Fantasy X" felt like a ripoff. "Lost Sphear" goes different ways (something like "Dragon Quest 7", but not so close like "I am Setsuna" did with "Final Fantasy X"). And this game is perfect on the switch. Love to play it while break on work or in the evening while chilling in my bed. Yes the Gameplay is outdated - but really: who cares? It's what it want to be - an oldschoolish JRPG - and it is. The only thing where I clearly see a negative point is the price. you get a 20h game for 50 bucks is a little bit too much for this indie-feel title. But hey: as a gamer i've payed a lot more for 5h Triple-A titles. So its a fair trade in the end. If you love oldschool JRPGs like Final Fantasy, Chrono Trigger, Dragon Quest and so on - then you can buy it. If you're new in this type of games and really want to play - go for it (maybe on a sale). Ah i forgot to mention: the soundtrack is superb!

…

Expand

This game is super beautiful. It really rejuvenates the old school JRPG vibe that the 90s brought us, it is significantly better than I am

This game is super beautiful. It really rejuvenates the old school JRPG vibe that the 90s brought us, it is significantly better than I am Setsuna, and while still flawed, playing it on the go, and being able to pick up ad play and put down at any time really keeps the story alive.

…

Expand

I really think that Lost Sphear deserves more love. I really liked the story and after the first 10 hours the story shifts and it gets deeper

I really think that Lost Sphear deserves more love. I really liked the story and after the first 10 hours the story shifts and it gets deeper so for me the story was really good and enjoying. The combat was little frustraiting especially with the Vulcosuits, the bossfigths were challenging and enjoyable. Overall great game and I think its up there with "i am Setsuna"

…

Expand

I was honestly shocked when i came here and saw thw 69 critic review the game is a solid jrpg if you like them. You can move around in combat

I was honestly shocked when i came here and saw thw 69 critic review the game is a solid jrpg if you like them. You can move around in combat attack multiple enemies at once has a deep upgrade and combat system and the graphics look great. Boss fights are challenging like persona so its keeps things fresh id say a 7.5/8 is the correct score for the game cant wait to see tokyo rpg factories next project because this one has me hooked

…

Expand

I've never previously heard of this Setsuna game everyone refers to, and I haven't played it either, of course. So I'm looking at Lost Sphear

I've never previously heard of this Setsuna game everyone refers to, and I haven't played it either, of course. So I'm looking at Lost Sphear from a more neutral perspective, not a "I loved Sestsuna and can only compare Lost Sphear to it" perspective.

Lost Sphear just isn't that good. The story put me to sleep. I wanted to skip all the dialogue, which is rare for me; I'm a reader and I usually enjoy dialogue in games. It looks ok, but it's not terribly impressive. The biggest thing would be combat... people compare it to Chrono Trigger, but it's slower, less intuitive, and less fun in comparison.

I'd just wait to get Octopath Traveler instead later this year.

…

Expand

Does not compare to Setsuna. The story is poor, the gameplay is good but it does try to jam too much in and the weighting of the game feels

Does not compare to Setsuna. The story is poor, the gameplay is good but it does try to jam too much in and the weighting of the game feels bizarre. I went to the final boss levelled to the recommended amount with 8-9* upgraded equipment and it took me over 10 attempts to win- due to instant death. Whoever's idea that was needs to... well you know.

…

Expand