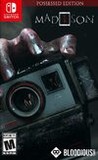 Summary:

What would you do if you woke up locked in a dark room, with your hands covered in blood? Play as Luca, and endure the brute torture of MADiSON, a demon that has forced him to continue a gory ritual started decades ago, making him commit abominable acts. Will you be able to finish this

What would you do if you woke up locked in a dark room, with your hands covered in blood? Play as Luca, and endure the brute torture of MADiSON, a demon that has forced him to continue a gory ritual started decades ago, making him commit abominable acts. Will you be able to finish this sinister ceremony?

…

Expand
Developer:

BLOODIOUS GAMES

Genre(s):

Action Adventure

,

Adventure

,

3D

,

Survival

,

First-Person

# of players:

No Online Multiplayer

Cheats:

On GameFAQs

Rating:

M
MADiSON is a genuinely terrifying psychological horror game and does its job very well, making it stand out in the genre on Nintendo's hybrid platform. Unfortunately, this is dragged down by the poor inventory system and unclear puzzle direction, causing far too much backtracking. Aside from these gripes, MADiSON expertly uses every tool at its disposal to unsettle you and create a horrifying experience I am keen to return to again.

If you're a fan of horror games that focus more on atmosphere and scares rather than combat, then MADiSON is a no-brainer. It's not the most original game and it mostly follows the lead of pioneers like the aforementioned Outlast or even Hideo Kojima's P.T, but that doesn't matter. What you've got here is an effective horror experience regardless, and one that you're going to enjoy from start to finish.

Unfortunately, the scariest thing about MADiSON on the Nintendo Switch is its poor performance which mars an otherwise adequate port of a solid horror title.

A fun game and concept with a specific audience. The issues with the brightness and layout knocked it down a few points. But the overall graphics and uniqueness still made MADiSON a fairly enjoyable experience.
El juego es absolutamente terrorífico, desde hace años que jugué el primer Outlast que no me sentía tan abrumado en un juego de horror. La

El juego es absolutamente terrorífico, desde hace años que jugué el primer Outlast que no me sentía tan abrumado en un juego de horror. La verdad lo recomiendo mucho, los sustos están garantizados, además de que tiene una historia bastante buena. Por otro lado es un juego que te va a hacer pensar mucho, ya que tiene muchos puzzles, algunos están bastante subidos de tono por su dificultad o no son tan evidentes de resolver, a mi me encantan este tipo de juegos pero entiendo que a muchas personas puede no gustarle. El sonido es fascinante, gran parte de la magia de Madison se debe a su extraordinario apartado de audio, un gran acierto. Donde si flaquea el titulo y más en Nintendo Switch, es en los gráficos, el juego se ve bastante feo, pero aun así no arruina la experiencia. Lo disfruté bastante, años sin asustarme tanto como con este gran juego.

…

Expand

Although the graphics aren't good enough as others platforms is by far the most scary game you can play at Nintendo switch.A must buy choice

Although the graphics aren't good enough as others platforms is by far the most scary game you can play at Nintendo switch.A must buy choice for horror lovers.

…

Expand

The game is extremely good I love it play it very often but on the nintendo switch the frame rate is catastrophic and the resolution also not the best

I played MADiSON on Nintendo Switch. While the horror game itself is pretty good, the Switch version runs at a very bad frame rate and at a

I played MADiSON on Nintendo Switch. While the horror game itself is pretty good, the Switch version runs at a very bad frame rate and at a very low resolution. Hopefully, the developer will release a patch in the future to fix these things. If you can, don't play this game on Switch but on another console for a better experience.

…

Expand