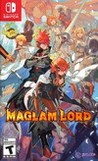 Summary:

The Demon King is an endangered species

Magic Sword Creation Action RPG! The hero was making a name for himself as the worst demon king. When they wake up from a long sleep, they are designated as an "endangered species"! Craft a magic sword with your friends and fight for a completeThe Demon King is an endangered species

Magic Sword Creation Action RPG!

The hero was making a name for himself as the worst demon king. When they wake up from a long sleep, they are designated as an "endangered species"!

Craft a magic sword with your friends and fight for a complete revival!

In order to avoid extinction, it is possible to "concatenate" with heroes and cooperators ...?

An exhilarating action RPG!

…

Expand
Developer:

Felistella

Genre(s):

Role-Playing

,

Action RPG

# of players:

No Online Multiplayer

Cheats:

On GameFAQs

Rating:

T
The story is charming, fun, and full of hidden depth at times with characters who can't help but grow on you and an enjoyable relationship building system. It's a shame that the action RPG elements are so simple and threadbare comparatively, but I'd still recommend the title to both Summon Night 5 fans and visual novel lovers in particular given how easy even the action RPG parts are to pick up. Unfortunately, fans of challenging action RPGs might have to look elsewhere. It is obvious that Felistella clearly knows how to spin a good tale if nothing else, and I'll continue to look back on Maglam Lord fondly as I prepare for an eventual second playthrough!

There's a place for this kind of game, though, and thanks to the great sense of humour, Maglam Lord remains a delight from start right through to its end. It's a kind of comfort food that operates within the expectations of the genre, and so, while someone who is not familiar with JRPGs will find it all confounding, if you do appreciate the nuances and of the genre it's going to entertain you a great deal.

Maglam Lord uniquely combines an action role-playing game with heavy visual novel and dating sim elements to create an experience that stands out from the JRPG crowd. While the action combat portions of the game are underwhelming and the graphics are outdated, the beautiful art direction, engaging narrative, and excellent cast markedly make up for it. You might initially play for the artwork, but you'll stay for the characters.

Maglam Lord had a lot of potential with its great character designs, music, and premise, but it is held back by lackluster combat and some poor design decisions.

Maglam Lord has a lot of potential, but you'll need to stick it out and try to squeeze some joy from its repetitive combat system and stale dungeon design. Along with its writing, an excellently drawn cast of characters — who can be recruited and romanced through the dating mechanic — offer shining moments in an otherwise unremarkable action-JRPG. The potential is certainly there for something special, and the game's visual cues for possible results of dialogue options removes much of the guesswork common in other games, but the execution falls flat in the combat department and holds back the enjoyable visual novel elements of this package from being as good as they could be.

When Maglam Lord is sticking to its visual novel elements, it's rather enjoyable. You can choose your reactions and responses, building relationships and going on dates with the various other characters. The writing is decent, and the sense of humor is fun. Unfortunately, this is only half of the game. The other half is a somewhat dull action-RPG where you wander through uninteresting levels and engage in combat that turns out to be lacking in engagement. There's an emphasis on grinding for materials to raise your strength, but nothing about the battles make this an enticing prospect. It's not a very long game, but it feels absolutely interminable at times. Not without its charms, but hard to recommend on the whole.

Maglam Lord has enough that some will thoroughly enjoy their time with it, particularly those looking for an enjoyable story and cast. However, it's brought down by uninspired missions and poorly realised combat. It's certainly not a bad title, and thankfully the issues that are there are such that they don't create an active barrier to progress, but the entertaining parts are steadily diluted enough that the experience as a whole misses out on being something to be fully celebrated.
Maglam Lord è un gioco particolare: c'è molta trama, tanti dialoghi, sembra quasi una Visual Novel, contiene un Dating Sim, ma il suo

Maglam Lord è un gioco particolare: c'è molta trama, tanti dialoghi, sembra quasi una Visual Novel, contiene un Dating Sim, ma il suo Gameplay è quello di un Hack n' Slash. E, detto senza peli sulla lingua, se volete un Hack n' Slash puro ne trovate tanti che sono enormemente superiori. Ma la sua trama bislacca, i battibecchi tra i personaggi e la sua comicità demenziale lo rendono un'esperienza unica. I combattimenti sono quasi uno scacciapensieri tra un episodio e l'altro del nostro manga preferito.

Il pacchetto è ben realizzato sotto tutti i suoi aspetti, ma devo avvertire che non è per tutti i palati. Se avete provato di cattivo gusto il pupazzo a forma di orso in Astral Chain, se la comicità giapponese di Dr Slump & Arale vi dice poco e non sapete cosa vuol dire Otaku, forse questo gioco non fa per voi.

Maglam Lord è un prodotto della cultura POP giapponese che pqube ha deciso di portare da noi. Quindi è indirizzato a coloro che apprezzano questa tipologia di prodotti. Detto questo è un prodotto quasi perfetto per un otaku o un Nippo-fan.

…

Expand