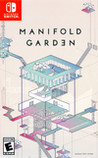 Summary:

Manifold Garden is a first-person exploration game. Rediscover gravity and explore an Escher-esque world of impossible architecture. Witness infinity in first person, and master its rules to solve physics-defying puzzles. Cultivate a garden to open new paths forward, where an eternal expanse awaits.
While the visual grandeur can sometimes overwhelm, Manifold Garden is one of the most mesmerising and jaw-dropping experiences I've had on the Switch. It manages to take well-known puzzle mechanics and galaxy-brain them into worlds and universes; an infinite meditation on infinity. Top-quality puzzles, unique, mind-blowing visuals, and gorgeous ambient music make this a wholistic, meditative experience, one which everyone should try. It is a work of art.

The game's creator, William Chyr, identifies primarily as an artist. And it takes an artist's touch to so masterfully combine gameplay, art direction, architecture, logic puzzles, spacial subversion and audio-visual elements into such a coherent package. I've a feeling Chyr's next project might manifest as an art installation rather than a game. If so, I'll be holding my breath for a fall as I step tentatively through the doorway.

Manifold Garden builds a compelling, meditative world, and easily stands on its own merit as a highly recommended first person puzzle. It is short but sweet, as they say, and paced excellently. Jumping off into the abyss, and thinking about how to solve the next puzzle will never fail to reward - it makes one feel clever and always fits within the framework of rules which were previously set.

Manifold Garden is a peculiar and attractive experience. In many ways, the game feels more like an audiovisual experience than as an interactive work and its art style and soundtrack definitely stand out as indispensable elements. At the same time, some of its puzzles turn out to be less enjoyable than they should, and the game's short lifespan and little motivation to pick up again after completed mean that even though it has outstanding qualities, Manifold Garden falls short of its potential.

Overall, Manifold Garden is a bit of a mixed bag. On the one hand, it has mesmerizing visuals, good puzzles, and a calming atmosphere. But there are a few negatives, like headaches, and music which lulls you to sleep. Priced at $19.99, I would recommend picking it up only if it's interesting to you and on sale.

The sublime power of Manifold Garden's visuals is never matched by its puzzles. Rather, the puzzles skitter across the surface of every new idea, dipping into each one just enough to suggest fascinating interactions and then move on at a brisk pace. Manifold Garden never dives into its concepts, or, perhaps, it only dives far enough to end up back where it started.

Manifold Garden comes to Nintendo Switch with a simply acceptable port, which contains several issues that will undoubtedly make us enjoy the experience much less. However, if you like puzzle games, we highly recommend this title.
Wow this game is amazing. Beautiful, original and just the right level of difficulty without being unfair. Been a long time since a game has

Wow this game is amazing. Beautiful, original and just the right level of difficulty without being unfair. Been a long time since a game has blown my mind, this one will stay with me awhile.

…

Expand

Infinitely looping space is a fascinating concept that Manifold Garden uses perfectly from the very start. This game is essentially a very

Infinitely looping space is a fascinating concept that Manifold Garden uses perfectly from the very start. This game is essentially a very light puzzle game, brought together with a haunting yet calming exploration game. While you have a clear goal for every single part of this game, the areas are just begging to be explored all the time, leading to a lot of time spent simply observing the world around you. I love the idea of exploring interesting worlds, and for me this game is a uniquely beautiful experience.

…

Expand

Very strange, very confusing, but once you get used to the game play and the world, you are in for a visual treat.
This game is a giantVery strange, very confusing, but once you get used to the game play and the world, you are in for a visual treat.
This game is a giant labyrinth with a few puzzles and the gravity will change to your desire making it possible to go to elevated places/ceiling/walls without stairs. But beware, you might also fall into the abyss and then you will end up on a copy of where you originally were, which is kinda the same place where you fell from. If you are confused, it's normal, but it will make sense once you play the game.
Sometimes, falling into the abyss is what will make your life easier...

…

Expand

Definitely the strangest gardening game I've ever played.

(Not worth $20, there are like 8 hours of playtime.)