Publisher:

Ubisoft

Release Date:

Oct 20, 2022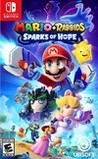 Summary:

Team up with Mario, Luigi, Princess Peach, Rabbid Peach, Rabbid Luigi, and their friends on a galactic journey to defeat a malevolent entity and save your Spark companions. Explore planets throughout the galaxy as you uncover mysterious secrets and compelling quests! * Build your dream team

Team up with Mario, Luigi, Princess Peach, Rabbid Peach, Rabbid Luigi, and their friends on a galactic journey to defeat a malevolent entity and save your Spark companions. Explore planets throughout the galaxy as you uncover mysterious secrets and compelling quests! * Build your dream team with three heroes from an eclectic roster of nine. * Take down all new bosses, along with some familiar enemies throughout the galaxy.
* Rescue the adorable Sparks throughout the galaxy, who provide distinct powers that will help you in battle.
* Unleash your heroes' skills but be strategic as you dash your enemies, team jump on your allies, and hide behind covers.

…

Expand
Please enter your birth date to watch this video:
You are not allowed to view this material at this time.
MARIO + RABBIDS SPARKS OF HOPE: Team Trailer
I don't give many games a score of ten. That is reserved for experiences that are so gripping and mechanics that change the landscape of a franchise. Mario + Rabbids: Sparks of Hope does just that. Every moment I wasn't playing Sparks of Hope, I was thinking about it. And for a studio to take a proven formula, shake it up, and try something new is risky but rewarding. I can't recommend this game enough.

Sparks of Hope is more colorful, more fluid, and just all-around more fun than its predecessor.

Mario + Rabbids: Sparks of Hope takes advantage of all the good stuff that always worked great, and expands it with a hefty amount of stuff new and improved. If you haven't played the first game, just start with the sequel. It's much better.

Sparks of Hope is an excellent sequel to Mario + Rabbids that improves everything compared to the first game, with some graphical flaws and some risky changes that have been very positive.

Mario + The Rabbids Kingdom Battle was a very good game, and Mario + The Rabbids Sparks of Hope is a very good sequel! We instantly find our bearings, as well as the improbable but effective cross between the colorful world of Mario and the delirious one of the Rabbids. However, the formula has been sufficiently renewed so that no repetition effect is felt.

Sparks of Hope is a fun strategy game that, despite getting bogged down by a lack of difficulty and poorly designed menus, is a blast to play thanks to its neat little puzzles and freeform battles.

Mario + Rabbids Sparks of Hopes doesn't quite live up to the high expectations set by its predecessor but its turn-based combat advances in a modern and fitting way, with a terrific orchestral soundtrack and fun new addition in Sparks that fans of the first game will still enjoy. It's good but it could have been great.
I'm impressed by the combat system. The movement mechanic in combat has huge potential!

Mejorando al anterior en todo, compra obligada para los fans de los SRPG en nintendo switch.

This game looks perfect!
Its like a masterpiece that it has many great features,characters and more!
I will forever remember it in theThis game looks perfect!
Its like a masterpiece that it has many great features,characters and more!
I will forever remember it in the bottom of my heart!

…

Expand

Un juego muy entretenido que mejora en muchos aspectos a su entrega original lo único que si me desagrado fueron sus jefes a diferencia de los

Un juego muy entretenido que mejora en muchos aspectos a su entrega original lo único que si me desagrado fueron sus jefes a diferencia de los de la primera entrega éstos se me hicieron vacíos y sin personalidad

…

Expand

+ nice graphics
+ Absolutely stunning soundtrack
+ Surprising story + Very well realized characters - Repetitive sidequests (little boring+ nice graphics
+ Absolutely stunning soundtrack
+ Surprising story
+ Very well realized characters

- Repetitive sidequests (little boring from time to time)

…

Expand

Overall I like the game, but am disappointed with several aspects. The 'real time' gameplay adds a new dynamic which is fun to explore. I am

Overall I like the game, but am disappointed with several aspects. The 'real time' gameplay adds a new dynamic which is fun to explore. I am really enjoying playing with Bowser and the characters from Kingdom Battle. I am not keen on the new rabbid heros.

For me, the story and plot has potential but is a bit weak compared to Kingdom Battle. In Kingdom Battle, each world had themed villains that were introduced in a fun way, the bosses were themed too. In Sparks of Hope, the worlds seem pretty much the same (I've just complete world 3). I like that it's set in Mario Galaxy, but it would have been fun to have a few more elements from galaxy to tie everything together.

I like the Sparks! They're cute and fun. Although some are little over powered.

Overall I find the game very easy (I have it on the hardest setting). I try not to heal too often to add some difficulty. On the topic of healing I find it annoying only rabbid peach can heal.

I think the worst thing about the game is Beep-o's voice. I have had to turn off the volume for voices as it was unbearably annoying.

…

Expand

This game is absolute trash compared to first one. Its development is lazy and feels like a game that was made as quickly as possible to make

This game is absolute trash compared to first one. Its development is lazy and feels like a game that was made as quickly as possible to make some cash on the back of the Mario name.
1. Poorly Optimised - Runs like absolute garbage. Constant stuttering and lagging. Constant.
2. Bland world's with none of the personality or character of the first game.
3. Would Beepo please shut up? Voice is very anoying and adds nothing to the game.
4. None of the comedy from the first game.
5. Same generic battlefields over and over and over. Battles leave the game world and are taken place on random battlefields that are more or less exactly the same.
6. Sparks replace secondary weapons. These are very generic and some are clearly far better then others.
7. Game is mindlessly easy and has some of the most pointless repetitive battles.
8. Many many many missing features from the first game.
9. Puzzles are boring and again make you complete pointless repetitive battles.
10. The loading screens. My god. Think 5-6 seconds of loading for everything you do. Open quest map, open hero screen, upgrade sparks, walk into any structure (even if it's just an empty room). Levels take 20 seconds plus to load in some cases. Game will have you looking at loading screens more then the game itself.

…

Expand