Publisher:

Nintendo

Release Date:

Jul 19, 2019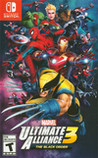 Summary:

The MARVEL ULTIMATE ALLIANCE series returns for the first time in 10 yearswith a new action RPGexclusively on the Nintendo Switch system!

Assemble your ultimate team of Marvel Super Heroes from a huge cast including the Avengers, the Guardians of the Galaxy, the X-Men, and more! Team upThe MARVEL ULTIMATE ALLIANCE series returns for the first time in 10 yearswith a new action RPGexclusively on the Nintendo Switch system!

Assemble your ultimate team of Marvel Super Heroes from a huge cast including the Avengers, the Guardians of the Galaxy, the X-Men, and more! Team up with friends to prevent galactic devastation at the hands of the mad cosmic tyrant Thanos and his ruthless warmasters, The Black Order.

In this new storyline, heroes and villains unite in a race across the Marvel Universe to find the Infinity Stones before Thanos and The Black Order use them to unleash cosmic chaos. From Avengers Tower to the X-Mansion and beyond, every stop on the dangerous quest to thwart Thanos results in unexpected collisions of fan-favorite characters and iconic locations. Get closer to the action by shifting the view to an over-the-shoulder "Heroic Camera" perspectivea series first that offers a more immersive way to play single-player or multiplayer on up to four systems. Play online*, offline via local wireless, or simply pass a Joy-Con controller to a friend, so they can join your team. With another pair of Joy-Con controllers (sold separately), four players can team up on one system! The drop-in/drop-out co-op possibilities let players create their own "Ultimate Alliance" at will.

* Marvel Dream Teams Assemble your dream team of Super Heroes from the Marvel Universe, each with their unique superpowers
* New Heroes The Guardians of the Galaxy, Falcon, Scarlet Witch and more join the "Ultimate Alliance" for the first time
* Original Story Super Heroes and Super Villains battle Thanos and The Black Order across the Marvel Universe in this new original story
* Local and Online Multiplayer The game can be played offline or online with up to 4 players on a single screen or using multiple systems
* Heroic Camera In addition to the series' traditional perspective, players can also select a dynamic, zoomed-in view, allowing for a more immersive play style for single-player or multiplayer when using multiple systems
* Multiple ways to play Play with the Joy-Con controllers or the Nintendo Switch Pro Controller (sold separately)

…

Expand
Developer:

Team Ninja

Genre(s):

Role-Playing

,

Action RPG

# of players:

Up to 4

Cheats:

On GameFAQs

Rating:

T
Please enter your birth date to watch this video:
You are not allowed to view this material at this time.
Marvel Ultimate Alliance 3 E3 2019 Trailer | Nintendo Direct 2019
Switch owners will find plenty of content to chew through, particularly with friends, and while it may be the gaming equivalent to a Hulk Smash, that isn't to say that it isn't a rollicking good time.

There is a lot of fan service in Marvel Ultimate Alliance 3: The Dark Order and that's a smart move from Koei Tecmo and Team Ninja. The game is tailored around the expectations of Marvel's fans, with tons of characters and references to both movies and comics. Sure, cameras are bad and graphic is not so good, but superheroes lovers, the only target of the game, will not care about that too much.

This is a wonderful example of a Superhero video game done right, with all the proper colorfulness and hectic combat one would expect in a game like this.

The game excels in many different areas, especially uniting a massive cast and bringing heroes to the roster that almost everyone can identify with. But that doesn't excuse annoyances and design choices that make appearances throughout the lengthy campaign.

Marvel Ultimate Alliance 3: The Black Order doesn't try to be more than it is, a fun romp with characters everyone has come to know over the past decade. While fighting with the camera can be frustrating at times, the game itself is extremely enjoyable especially if you're a fan of Diablo-style RPGs. Additionally, it serves as a great stepping on point for anyone unfamiliar with the franchise and is accessible to any and all fans.

If fans of the Marvel universe will find plenty of reasons to enjoy this experience, other players might frown at the game's occasionally lagging performance, its too simplistic combat system and lacklustre audio component, which is not to say this is not an enjoyable and interesting game.

Strong post-launch support like this only really matters if the game itself is worth playing, and we can't really say that about Marvel Ultimate Alliance 3. At its best, the game is a mediocre brawler, and at its worst, it is an incoherent mess with a nightmare camera, frustrating battles, and ugly graphics. Anyone hoping for a return to form for the franchise will be disappointed, to say the least.
The first game for a long time with NORMAL NICE AND BEUATIFUL FEMALE CHARACTERS.
There are no longer nice female characters even in MortalThe first game for a long time with NORMAL NICE AND BEUATIFUL FEMALE CHARACTERS.
There are no longer nice female characters even in Mortal Kombat 11.
Where are normal, nice, fine women in the last games?
I still believe in eastern game industry.
BTW game is nice to play, especially with friends.

…

Expand

I´m loving the game. Forgot to go to sleep this nite. Its even better then I was expecting. I think, this is one hell of a exclusive game for

I´m loving the game. Forgot to go to sleep this nite. Its even better then I was expecting. I think, this is one hell of a exclusive game for the switch!
https://youtu.be/AU6P6RbyjEU
10/10

…

Expand

This is an incredible game, really really awesome, the main problem with the critic is the fact that you need to be a true fan, the critic as

This is an incredible game, really really awesome, the main problem with the critic is the fact that you need to be a true fan, the critic as we know is full of posers so they don't give it a good rate because they dont understand the half of the universe.

…

Expand

Great game for Nintendo Switch. In multiplayer mode the game is very funny. Good Job

I would say this game isnt perfect for the hardcore action rpg games but it certainly does entertain ppl who love Marvel characters and its

I would say this game isnt perfect for the hardcore action rpg games but it certainly does entertain ppl who love Marvel characters and its universe. I personally love this game. It gets kinda repetitive but its really fun when it comes to actual playing part. Highly recommended!!!

…

Expand

After sinking more than 100+ hours into this game, I thought I would take this opportunity be self-entitled and write a review for anyone

After sinking more than 100+ hours into this game, I thought I would take this opportunity be self-entitled and write a review for anyone thinking of purchasing this game. Overall, I would say that this is a good game, not without a few teething issues early on with some bugs that could have been ironed out pre release (developers have their deadlines right), but nevertheless a great smash-em-up game.

The future of this game depends entirely on the developers next move regarding the introduction of DLC, new modes and new playable characters, to whether this game makes in into the amazing game it could be. Things I would like to see added: - NEW END GAME: whether it be endless mode, raid bosses, character prestige - you name it. The end game currently is minimal apart from grinding every character to lvl. 100 and seeking the best rainbow ISO8s. Give players some real grind to get into.

- NEW CHARACTERS: some are already planned I know but still.. get that roster growing (you have the licensing!)

- INSANE DIFFICULTY: just do it. - CLEAN UP THE MENU: especially ISO8 and character selection/character inventory. (On that note: cleaning up ISO8 is so boring and time consuming, maybe a select all option?!)

- COMMUNICATION: being switch exclusive, this already makes this game hard to bring out into the world, opening up voice chat would be a great way to bond the community that play this great game together. This game is calling out for expansion after a rocky but fun start and the ball is now in the developers court. However, overall, I would recommend buying this game, lots of nostalgic boss-beating for your buck!

…

Expand

Game is just too difficult for a casual gamer like myself which really blows because I'm a huge Marvel fan. Camera can also be your enemy

Game is just too difficult for a casual gamer like myself which really blows because I'm a huge Marvel fan. Camera can also be your enemy sometimes too.

…

Expand