Publisher:

Nintendo

Release Date:

Jul 19, 2019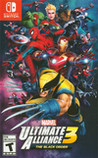 Summary:

The MARVEL ULTIMATE ALLIANCE series returns for the first time in 10 yearswith a new action RPGexclusively on the Nintendo Switch system!

Assemble your ultimate team of Marvel Super Heroes from a huge cast including the Avengers, the Guardians of the Galaxy, the X-Men, and more! Team upThe MARVEL ULTIMATE ALLIANCE series returns for the first time in 10 yearswith a new action RPGexclusively on the Nintendo Switch system!

Assemble your ultimate team of Marvel Super Heroes from a huge cast including the Avengers, the Guardians of the Galaxy, the X-Men, and more! Team up with friends to prevent galactic devastation at the hands of the mad cosmic tyrant Thanos and his ruthless warmasters, The Black Order.

In this new storyline, heroes and villains unite in a race across the Marvel Universe to find the Infinity Stones before Thanos and The Black Order use them to unleash cosmic chaos. From Avengers Tower to the X-Mansion and beyond, every stop on the dangerous quest to thwart Thanos results in unexpected collisions of fan-favorite characters and iconic locations. Get closer to the action by shifting the view to an over-the-shoulder "Heroic Camera" perspectivea series first that offers a more immersive way to play single-player or multiplayer on up to four systems. Play online*, offline via local wireless, or simply pass a Joy-Con controller to a friend, so they can join your team. With another pair of Joy-Con controllers (sold separately), four players can team up on one system! The drop-in/drop-out co-op possibilities let players create their own "Ultimate Alliance" at will.

* Marvel Dream Teams Assemble your dream team of Super Heroes from the Marvel Universe, each with their unique superpowers
* New Heroes The Guardians of the Galaxy, Falcon, Scarlet Witch and more join the "Ultimate Alliance" for the first time
* Original Story Super Heroes and Super Villains battle Thanos and The Black Order across the Marvel Universe in this new original story
* Local and Online Multiplayer The game can be played offline or online with up to 4 players on a single screen or using multiple systems
* Heroic Camera In addition to the series' traditional perspective, players can also select a dynamic, zoomed-in view, allowing for a more immersive play style for single-player or multiplayer when using multiple systems
* Multiple ways to play Play with the Joy-Con controllers or the Nintendo Switch Pro Controller (sold separately)

…

Expand
Developer:

Team Ninja

Genre(s):

Role-Playing

,

Action RPG

# of players:

Up to 4

Cheats:

On GameFAQs

Rating:

T
Please enter your birth date to watch this video:
You are not allowed to view this material at this time.
Marvel Ultimate Alliance 3 E3 2019 Trailer | Nintendo Direct 2019
Switch owners will find plenty of content to chew through, particularly with friends, and while it may be the gaming equivalent to a Hulk Smash, that isn't to say that it isn't a rollicking good time.

Marvel Ultimate Alliance 3 is comfort food. It retains the multiplayer dungeon crawling and love of the source material that made the two previous titles enjoyable, but it also elevates the action just enough to make it better and more entertaining than what came before. Not all of it works as well as it should, yet it's vision isn't compromised by the missteps it makes. You're going to have a good time when you play Marvel Ultimate Alliance 3. And sometimes, that's all you really need.

It all makes for a packed and enjoyable experience with plenty to offer for fans for Marvel and classic beat-em-ups. The roster of characters is vast and excellently portrayed, the story is fun and the moment to moment combat remains enjoyable throughout. Some uninspired level design, camera quirks and unfortunate design choices around character levelling keeps it from the upper echelons of the Switch library but grab a couple of friends and it's hard not to have a seriously good time with this one regardless of your level of affinity for the world of Marvel.

There is a lot of fun to be had in Ultimate Alliance 3. It isn't perfect, however, if you're a fan of the franchises it is based on you'll have a great time.

Marvel Ultimate Alliance 3: The Black Order doesn't try to be more than it is, a fun romp with characters everyone has come to know over the past decade. While fighting with the camera can be frustrating at times, the game itself is extremely enjoyable especially if you're a fan of Diablo-style RPGs. Additionally, it serves as a great stepping on point for anyone unfamiliar with the franchise and is accessible to any and all fans.

While Marvel Ultimate Alliance 3 is fun, I sometimes wished it pushed the envelope a bit more and tried something new. The game excels in multiplayer and playing your favourite characters from the Marvel Universe never gets old. Its combat is fun and gets better the more you upgrade your heroes. Its story is very cliche but that's expected. All in all its a fun pick up and play multiplayer brawler.

Strong post-launch support like this only really matters if the game itself is worth playing, and we can't really say that about Marvel Ultimate Alliance 3. At its best, the game is a mediocre brawler, and at its worst, it is an incoherent mess with a nightmare camera, frustrating battles, and ugly graphics. Anyone hoping for a return to form for the franchise will be disappointed, to say the least.
Metacritic needs to adopt verified reviews like Rotten Tomatoes. This thing is getting review-bombed by non Switch owners angry that its a

Metacritic needs to adopt verified reviews like Rotten Tomatoes. This thing is getting review-bombed by non Switch owners angry that its a Nintendo exclusive. This game is great. An old fashioned beat em up of non stop fun. If there's anything that could be considered bad about the game is that it feels like its a game fit for 10 years ago. Maybe even further back.

…

Expand

Really fun game! Great combat, dungeon crawling fun. All marvel fans will enjoy this great game.

This is an incredible game, really really awesome, the main problem with the critic is the fact that you need to be a true fan, the critic as

This is an incredible game, really really awesome, the main problem with the critic is the fact that you need to be a true fan, the critic as we know is full of posers so they don't give it a good rate because they dont understand the half of the universe.

…

Expand

Best Marvel Games i played it, Cool char & great story, recommended it

My favourite char male: Cap, Dr Strange, Spidey & Cyclops My favouriteBest Marvel Games i played it, Cool char & great story, recommended it

My favourite char male: Cap, Dr Strange, Spidey & Cyclops
My favourite char female : Scarlet Witch, Phoenix, and Captain Marvel

…

Expand

Jogo gostoso de jogar ainda mais se tratando de multiplayer, esperando pelos novos conteúdos da Season Pass

I really wanted to like this game. The whole marvel roster on one game! Sounds amazing, this game just doesn't deliver. It has a mediocre

I really wanted to like this game. The whole marvel roster on one game! Sounds amazing, this game just doesn't deliver. It has a mediocre story and has an atrocious battle system. I wanted to like this but those held it back from greatness. A very mediocre experience.

…

Expand

I loved the first two games. I even loved the old X-men games for the original Xbox they modeled MUA after. I'm a Marvel fanboy. But this game

I loved the first two games. I even loved the old X-men games for the original Xbox they modeled MUA after. I'm a Marvel fanboy. But this game blows, almost as much as the PS4 Avengers game. I quit playing on the Doc Oc fight, when I was done to only Wolverine and it was going to take an hour to beat him. I tossed down the controller and tried to let him finish me off. Instead, Wolverine's health regenerated faster than he could chip away at it. I couldn't die, but it would have taken an hour to win the fight. Even though I beat Sandman on the first try, I had the same feeling. Go shoot him with a gun for ten minutes (where you can't dodge his attacks so he just knocks you away constantly), then hit him for four seconds while he stunned, and then back to ten minutes of shooting the gun. Wash, rinse, and repeat about a dozen times. Snore. I never imaged Team Ninja would design such a dog **** combat system, but I guess everybody just phones in their work when they know Marvel fans are just going to buy anything with the logo on it (myself included, in this case, sadly). Marvel needs to get their **** together with video games, because they've dumped a ton of money on well-markets garbage heaps. Very disappointed.

…

Expand