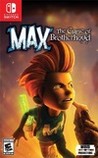 Summary:

When Max wishes for his annoying little brother, Felix, to be whisked away by unknown evil forces, he gets more than he bargained for. Armed only with a marker and a hope of undoing what he has just done, he sets out on a perilous journey across deserts, eerie lantern-lit bogs, ancient

When Max wishes for his annoying little brother, Felix, to be whisked away by unknown evil forces, he gets more than he bargained for. Armed only with a marker and a hope of undoing what he has just done, he sets out on a perilous journey across deserts, eerie lantern-lit bogs, ancient temples and lush green forests to get his younger sibling back. Along the way Max gains the power to manipulate his environment and overcome seemingly impossible obstacles.

…

Expand
Developer:

Stage Clear Studios

Genre(s):

Action Adventure

,

General

# of players:

No Online Multiplayer

Cheats:

On GameFAQs

Rating:

E10+
Overall, Max: The Curse of Brotherhood is a great game that feels like it's really found a home on Switch. I'm glad that Press Play was able to bring the title to Nintendo's latest console, as the form factor of Switch really meshes well with it. Whether at home or on the go, I found myself transfixed to The Curse of Brotherhood for long stretches, tackling each new puzzle and always thinking, I'll just do one more… but always instead ending up doing several, if not dozens, more.

Max: The Curse of Brotherhood is a triumph in design, both in terms of how stages are crafted and the way the smart puzzles contained within each world are put together. Held back by its control scheme in the past, the shackles have now been removed, making this the superlative edition thanks to the excellent touch screen system now employed on Nintendo Switch, leaving Cubed3 now hungry for an upgraded version of Max & the Magic Marker in the future.

Max: The Curse of Brotherhood is a game I hadn't expected to enjoy as much as I did. Its shallow story failed to hook me, and its initial levels had me wondering if that is all there is to the game. However, the more I played, the deeper and more enriching its mechanics became, and the more I looked forward to each successive puzzle. While a bit unrefined and lacking a coat of polish, Max: The Curse of Brotherhood is a challenging and entertaining experience for those looking to kill a few hours on their Switch.

A pleasantly challenging platformer with adorable charm and an entertaining story. It's a good step for younger gamers to take who might start to feel a bit old for Mario and want a challenge.

Max: The Curse of Brotherhood brings back this creative and interesting platformer full of puzzles for its premiere in the Nintendo Switch. While this edition brings nothing different compared to the original, those who haven't had the chance to play it earlier will find a captivating, varied and fun game that will keep the players around their consoles.

Those who previously complained about the title's lack of touch screen will be thoroughly satisfied this time around. Mind you, if you've played it already, there's not that much point grabbing it again. Despite the fact Max: The Curse of Brotherhood isn't a fantastic game, it is a great platformer/puzzler which does shine up nicely on the Switch.

As a platform game, Max: The Curse of Brotherhood doesn't present a huge innovation to the players. But the Nintendo Switch version of the game makes the game more playable.
its a good game it encourages you and youngsters to use their mind to and find a way to get pass obsticals while maintainga good theme and

its a good game it encourages you and youngsters to use their mind to and find a way to get pass obsticals while maintainga good theme and nice colorful graphics i dont know why this game isnt in top categories but it should be and comparing it with other pricey games this is alot better

…

Expand

Historia entretenida, buenas opciones de jugabilidad como el uso del táctil, que están bien implementadas, gráficos adecuados, buena fluidez y

Historia entretenida, buenas opciones de jugabilidad como el uso del táctil, que están bien implementadas, gráficos adecuados, buena fluidez y banda sonora aceptable. Replay value bajo, pues al terminar el juego no provoca seguir jugando, o por lo menos pasado un tiempo. Juego recomendado con un precio mas que justo, 15 dolares no es mucho, por eso recomiendo a los usuarios darle una oportunidad al juego.

…

Expand

Max: The Curse of Brotherhood has been out some time and this review is based on the Switch physical release. The game has lived up even after

Max: The Curse of Brotherhood has been out some time and this review is based on the Switch physical release. The game has lived up even after 5 years however the graphics in the cutscenes are a little outdated. An exclusive feature does come to the switch where you can use the touchscreen mixing the game up a bit and not just a direct port. The game can be a bit stressful but not terribly bad and does make me want to keep going and not put down the controller. The story is a little bit basic and can be a bit short.

…

Expand

I got this game on sale and finally got to play it.
I enjoyed the game as it was a side scrolling puzzle game. If you are expecting a gameI got this game on sale and finally got to play it.
I enjoyed the game as it was a side scrolling puzzle game. If you are expecting a game with power-ups and fighting enemies, this may not be the game for you.
Despite what some people may feel, I feel the graphics are great, I just feel the character models is a little dated but nothing can be classified as ugly. Alot of care went to the cut scenes. The voice acting is actually really good for an indie game.
My issue with the graphics and level design is, you cannot distinguish between what is a platform and what is cosmetic that the player cannot interact with
You gradually get new abilities in the game and the puzzles can be a head scratcher. The game does encourage you to try creative ways to get though.
The length is appropriate, especially for what I paid (about $7 USD) and highly recommended at that price.

…

Expand

Max: The Curse of Brotherhood has been brought to the Switch fantastically well and the fact it now has a physical release certainly means the

Max: The Curse of Brotherhood has been brought to the Switch fantastically well and the fact it now has a physical release certainly means the developers have done a great job of it. The game looks brilliant and still holds up against some of the other platformers we have today even after 5 years. There are a few graphics issues from time to time to contend with, but nothing major that will make you quit. The introduction of using the touchscreen for the magic marker is another great addition even though some people may find easier to use the buttons. Overall, this is a great game and most certainly one I would recommend putting on your 'to do' list.

…

Expand