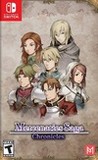 Summary:

Featuring Mercenaries Saga: Will of the White Lions, Mercenaries Saga 2: Order of the Silver Eagle and Mercenaries Saga 3: Gray Wolves of War, Mercenaries Saga Chronicles assembles the heroes from this fantastic series in one collection.
Developer:

RideonJapan,Inc.

Genre(s):

Strategy

,

Miscellaneous

,

Turn-Based

,

Compilation

,

Tactics

# of players:

No Online Multiplayer

Cheats:

On GameFAQs

Rating:

T
Mercenaries Saga Chronicles doesn't shine in any of its aspect, but the volume of its content and the almost total absence of contenders make it a good choice for strategy lovers.

There's so much raw content in this package that, as long as you're a fan of the standard tactics JRPG formula, you won't be able to help but get plenty of value out of this trilogy. And the standard tactics JRPG formula is so damn good that it's timeless. Making Mercenaries Saga itself functionally timeless.

Mercenaries Saga Chronicles will itch a scratch if you're looking for a solid strategy RPG experience. The gameplay is fun, easy to get into and accessible for anyone that's ever wanted to play a strategy RPG but didn't know what to begin with. Beyond the solid gameplay mechanics lies a very generic presentation and a list of other things that come as cheap, uninteresting, or uncreative. In general, the game doesn't have a lot of bad elements, but too many bland moments restrict it from becoming a truly memorable experience.

Mercenaries Saga Chronicles offers an awful lot of tactical turn-based strategy content for the asking price, but the dull storylines, repetitive gameplay, and absolutely identical nature of all three titles make us question the reasoning behind packaging them all together as a bundle. In their own right, each game will provide you with hours of well-designed battles, but we doubt many players will genuinely want to sit through all three games as they would be effectively playing the same game three times.

It may not be as daring as it needs to be in design, but Mercenaries Saga Chronicles will help to scratch that strategy itch until something else comes along.

Mercenaries Saga Chronicles should be commended for giving Nintendo fans (and Switch owners) the full trilogy to sink their teeth into, rather than picking one of the three games. It's a quality, welcome addition to the eShop.

Mercenaries Saga Chronicles brings a compilation of the first three games of the series to the Nintendo Switch and as far as tactical RPGs are concerned, they present an interesting and enjoyable gameplay with plenty of variety amidst the characters. Unfortunately the game does not leave its comfort zone and does not introduce any new elements that could make it stand out among its peers, with the aggravating factor that its plot is simply not compelling enough to command any interest among the players.
If you love Fire Emblem or Final Fantasy Tactics you will enjoy this game.
Lots of grinding and the story keeps you engaged and wanting toIf you love Fire Emblem or Final Fantasy Tactics you will enjoy this game.
Lots of grinding and the story keeps you engaged and wanting to see what comes next, so win win!
You have a switch buy this game, its price and 3 games in one is to good to pass up on.

…

Expand

I love this game, gameplay is simple but very depth and seriously invested. old but not obsolete

I'm really surprised at how deep and fun the combat is later on. Yes, it's rather simplistic at first, but you soon start to unlock more

I'm really surprised at how deep and fun the combat is later on. Yes, it's rather simplistic at first, but you soon start to unlock more classes and that's the best part of the game. There are some *really* overpowered attacks in the final classes, which is great, because many games try too hard to balance everything and unintentionally nerf all the fun as well.

Another great feature is the aggro system, which I don't think I've ever seen in a tactical game before. It allows you to focus on offense with your damaging characters more than they would be able to otherwise.

I would only recommend it to tactical RPG fans, but I'd highly recommend it to them. This is probably the best tactical RPG I've played since Final Fantasy Tactics.

…

Expand

For starters, there's a LOT of content in here. For the price per hour of gameplay it's hard to beat this trilogy. The games themselves are

For starters, there's a LOT of content in here. For the price per hour of gameplay it's hard to beat this trilogy. The games themselves are not bad; the stories of each are a little dry at times and some of the dialogue is corny but it's overall not horrible. The gameplay is a pretty standard SRPG with some cool character customization options later on. There's also a magic item "crafting" system that isn't too complex but helps to make use of less powerful items you find. There isn't a ton of variety in the gameplay though, and there's the necessity for a lot of grinding at the higher difficulties (not necessarily a good or bad thing, since some people play these games for the grind). The camera can be a bit frustrating at times since it's at an angle and you can't change your view. This can lead to some longer than necessary turns just trying to navigate your units around the camera angle.

I can't bring myself to give it an 8 or higher but I'd say it's worth a purchase. It's just kind of... average in all areas. Nothing really stands out enough to make this game "great." If you're looking for a cheap game(s) you can sink tons of time into though, this is definitely the pick.

…

Expand

Short Review:
7.5/10, forced to round down. With a large amount of content for its price and solid gameplay, Mercenaries Saga Chronicles isShort Review:
7.5/10, forced to round down. With a large amount of content for its price and solid gameplay, Mercenaries Saga Chronicles is definitely worth a look from those who enjoy the SRPG gameplay, but not if you're looking for interesting story and characters, or if you're looking to get into the genre.

Long(er) Review:
Mercenaries Saga Chronicles is a compilation of the Mercenaries Saga games. This marks the debut of Will of the White Lions, the first game in the trilogy, on consoles. The other two, however, are available on 3DS as well at the cost of $5.99 each.

Gameplay:
Mercenaries Saga presents solid SRPG gameplay. There's nothing astounding here, but nothing terrible either. It's simply solid. Grid-based movement, Final Fantasy Tactics-esque combat, so on and so on. It's very generic, but it holds up well. The only notable feature is that maps feature elevation advantages, which is something that I did quite like and isn't necessarily in all SRPGs. Overall, though, there is a large amount of content since it is a trilogy of games. There's easily enough content to get your money's worth in hours played.

Story:
One of the game's weaker areas. The stories are all very bland and really just a way to push more enemies into your path. There's no investment in the plot or characters, most of which are just generic templates. Definitely don't buy the game if you're looking for an engrossing story.

Graphics:
Serviceable, but not great. The tileset is the epitome of generic, but there's some good spritework in the game. Enemies and allies have well-made sprites that definitely add to the overall presentation. Generally, though, map tiles look generic and a little underwhelming.

Controls:
These can take a bit of getting used to. Joystick is pretty much unusable for movement, which isn't overly surprising in a grid-based game. D-Pad works well, but sometimes the camera angles can disorientate the user and cause a few bad inputs. Nothing serious, but something that occasionally occurs.

Overall, the game is a solid 7.5/10, but I can't bring myself to bump it up to an 8 for Metacritic. I simply can't recommend the game to those that aren't genuinely looking for an SRPG to play. It's not a great entryway, but it's a solid way to scratch the SRPG itch for cheap.

…

Expand

Decent ff tactics clone. If you want something cheap and has levels you can play on the go... this is it.

Control system of this game is not acceptable.
The game is "Quarter view". It means the war-field grid is twisted 45 degrees.
The problemControl system of this game is not acceptable.
The game is "Quarter view". It means the war-field grid is twisted 45 degrees.
The problem is.. the control space is also twisted 45 degrees...
If you press "up" button, the cursor goes to upper right direction.
(I can's sure it is upper left or upper right… But I'm sure that is not upside..).
If you press "left" button, the cursor goes to upper left direction
If yo press "up-left" direction... the cursor goes upper right (or upper left, by random)…

As you know, the game with poor control, is sucks.

…

Expand