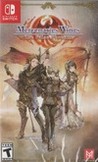 Summary:

Mercenaries Wings: The False Phoenix, blends turn-based strategy, old-school aesthetics and a tale of war, betrayal and magical forces!

Mercenaries Wings: The False Phoenix challenges your tactical nous across a lengthy and challenging campaign. The Kingdom of Dryden has an incredibleMercenaries Wings: The False Phoenix, blends turn-based strategy, old-school aesthetics and a tale of war, betrayal and magical forces!

Mercenaries Wings: The False Phoenix challenges your tactical nous across a lengthy and challenging campaign. The Kingdom of Dryden has an incredible history thanks to the story of a Phoenix facing down enemies generations ago; now, buoyed by that legacy, King Harold continually seeks conflict.

Follow the tale of a band of mercenaries, working for coin but then challenged to consider whether their actions, and those of King Harold, are what is best for the land. What follows is a story of war, betrayal, magical lore and redemption for a nation!

A tactical RPG in the finest traditions of the genre, Mercenaries Wings: The False Phoenix requires you to carefully utilise varied units and their abilities. Set Leaders to change the flow of battle, level up your units, change classes, manage equipment and make the key choices that will be the difference between victory and defeat!

An adventure that will take many hours to complete, Mercenaries Wings: The False Phoenix will challenge even the most careful strategists.

Features:

* An all-new standalone story in the Mercenaries series, this adventure offers many hours of entertainment.

* Carefully crafted tactical RPG action.

* Choose a Leader for each battle, level up units, change class types and pick the right equipment.

* Follow the twists and turns of the tale that includes war, magical beasts and leadership challenges!

* Featuring character illustrations by Kazama Raita!

…

Expand
Developer:

RideonJapan,Inc.

Genre(s):

Action

,

Strategy

,

Turn-Based

,

General

,

Tactics

# of players:

No Online Multiplayer

Cheats:

On GameFAQs

Rating:

T
Mercenaries Wings: The False Phoenix is a serviceable SRPG that brings little new to the table but might satisfy an old-school itch.

Mercenaries Wings: The False Phoenix is another small step forward as Rideon continues to slowly refine what is already a very strong base. It has great combat that incorporates ample customization and depth without being intimidating or getting bogged down with needless subsystems that ultimately add little. While the story may not match the heights of the genre, the characters are likable and it's well-paced to keep moving toward the next mission. Simply put, Mercenaries Wings is strategy RPG comfort food for any RPGamers hungry for a fix.

In the end, while I do see a number of downsides and flaws with Mercenaries Wings, it's still an enjoyable game. It just requires some polish to go from good to great. Its easy mode is perfect for those looking to enjoy the story or use it to get into strategy RPGs and the "normal" mode is great for anyone looking for a serious challenge. So, I'd recommend at the very least consider giving it a go if strategy RPGs are right up your ally.

If it were a launch title, we'd recommend tactics fans investigate Mercenaries Wings: The False Phoenix, at least until something better came along, but something better did come along – several things, in fact. If you're an insatiable tactics fiend who's munched through everything else, including the previous collection, this is stodgy, competent filler that should keep you going for a while; it's a supermarket meal deal or a plate of cocktail sausages. It's no-frills and fine, but with a veritable buffet of tasty, interesting alternatives, who wants a sausage on a stick? Perfunctory, cliched writing and a lack of niceties make it a tougher sell when there are literally hundreds of hours to be had elsewhere.

Mercenaries Wings: The False Phoenix is a fun, tactical game that is ultimately let down by its stereotypical, plain characters and a dull storyline. Fans who appreciate strategy should give it a try, but shouldn't get their hopes up for anything beyond the game being 'good'.

Mercenaries Wings: The False Phoenix falls into an ungrateful position. While there is nothing particularly bad about this game, it never manages to go so far as to stand out amidst its peers. Despite its good-looking artwork, this is a mostly generic effort when it comes to plot and dialogues and with a gameplay that has too many clichés and which does not add an in-depth dimension to the experience.

There's not much to engage the player here--almost everything about the game is completely average. I wouldn't say Mercenaries Wings is a bad game, it's simply difficult to recommend spending your time playing it when there other, more polished games. If you're an SRPG nut that's starved for new games then Mercenaries Wings might be the game you're looking for, but otherwise, I'd spend your time elsewhere.
this is an awesome game if you have a final fantasy tactics itch like i do. for under $15, your looking at about 40 hours of game play with 2

this is an awesome game if you have a final fantasy tactics itch like i do. for under $15, your looking at about 40 hours of game play with 2 story run throughs. the game isn't perfect. but, again, its $15 and from a small team. the story is sorta generic, but enjoyable, like anime has been lately. i hope to see this team go all out in the future with a $30 or $60 game with alot more content and branching skills.

…

Expand

TLDR - It's ok. Worth getting if and only if you're into tactical strategy games like FFT.

Pros: - It's a tactical strategy game on theTLDR - It's ok. Worth getting if and only if you're into tactical strategy games like FFT.

Pros:

- It's a tactical strategy game on the Switch. There aren't many.

- There are some awesome combos like getting your Berserker to low life for the massive attack boost, then keeping him alive with another character's immunity or covering skill.

- Crafting can make a character a bit op, but not so much that it destroys the fun.

- You can respec skills

- Combat is fun

Cons:

- The game doesn't warn you that your seemingly casual conversation choice halfway through the game decides on your path from that point on, including what characters will join you. I had to go back to choose the other path because I hated the characters in the first path I took.

- Can't create characters

- Hardly any new abilities

- Some of the music is too short for battles, leading to repeating too much

- Some terrible translation/dialogue like an officer saying "don't look a gift horse in the mouth." It doesn't work unless that character always talks like he's from the south for some reason... and he doesn't. It would still be out of place in this FFT/GoT-type medieval plot of betrayals and castles.

- Sometimes characters leave for several battles, and when they come back, they just get oneshot because they haven't been gaining xp. One of my guys is almost useless because of this.

Overall, I liked it, I'm just really disappointed that there's hardly anything new. I think it's time for these guys to come up with an entirely new game.

…

Expand