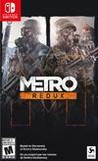 Summary:

In 2013 the world was devastated by an apocalyptic event, annihilating almost all mankind and turning the earth's surface into a poisonous wasteland. A handful of survivors took refuge in the depths of the Moscow underground, and human civilization entered a new Dark Age.

The year isIn 2013 the world was devastated by an apocalyptic event, annihilating almost all mankind and turning the earth's surface into a poisonous wasteland. A handful of survivors took refuge in the depths of the Moscow underground, and human civilization entered a new Dark Age.

The year is 2033. An entire generation has been born and raised underground, and their besieged Metro Station-Cities struggle for survival, with each other, and the mutant horrors that await outside.

You are Artyom, born in the last days before the fire, but raised underground. Having never ventured beyond the city limits, one fateful event sparks a desperate mission to the heart of the Metro system, to warn the remnants of mankind of a terrible impending threat.

But will they even listen? Rather than stand united, the factions of the Metro are locked in a struggle for the ultimate power, a doomsday device from the military vaults of D6. A civil war is stirring that could wipe humanity from the face of the earth forever.

Including the epic single-player campaigns of both Metro 2033 and Metro: Last Light, Metro Redux takes you on a journey from the forgotten catacombs beneath the subway to the desolate wastelands above, where your actions will determine the fate of mankind.

Metro Redux is the ultimate double game collection, including the definitive versions of both Metro 2033 and Metro: Last Light, now available on Nintendo Switch™

Newcomers to the series will get the chance to experience two of the finest story-driven shooters of all time in one vast package; an epic adventure combining gripping survival horror, exploration and tactical combat and stealth.

Those who favoured the more survival-horror oriented gameplay of 'Metro 2033' can play both campaigns in the 'Survival' Play-Style, a fraught, slow burn fight for survival. Those who enjoyed the more action-oriented gameplay of 'Metro: Last Light' can try the 'Spartan' Play-Style, providing Artyom with a powerful set of combat skills.

With the legendary Ranger Mode included to offer an extra layer of challenge and immersion, and all previous released DLC, Metro Redux offers 50+ hours of AAA FPS gameplay for an incredible price.

…

Expand
Developer:

4A Games

Genre(s):

Miscellaneous

,

Compilation

# of players:

No Online Multiplayer

Cheats:

On GameFAQs

Rating:

M
The first-person survival horror aspect of the game doesn't suffer at all on the Switch. From the visuals, audio, and inputs, everything feels and plays as if the series was made for the console. In fact, it's a testament that the Switch is more than the sum of its parts. Though there is a loss of some visual fidelity, and some sacrifice made while playing in handheld mode that comes in the form of battery life, Metro 2033 Redux and Metro: Last Light feel at home on this hybrid console.

Metro Redux is a top-notch first-person survival horror package that delivers countless hours of thrilling stealth combat all wrapped up in a superb story. These are two of the most atmospheric games you'll likely play set in a beautifully detailed depiction of post-apocalyptic Russia. 4A Games has delivered a port that stands shoulder to shoulder with Alien: Isolation as the very best we've seen on Switch so far – an almost flawless experience which should absolutely be right at the top of any FPS or survival horror fan's must-buy list. This is essential stuff.

Regardless of your feelings on the first two Metro games—which are quite good in their own right—this is a masterful portable collection handled with an expert hand by the games' original developers.

We couldn't have asked for better versions on Switch. Both games still hold up very well, and from a technical point of view they look incredible on Nintendo's console.

Well done 4A Games: both Metro 2033 and Metro Last Light (Redux version) are now perfectly enjoyable on the little-big Nintendo console.

This is a wonderful port that has a lot going for it, but it's still probably the worst version of the game unless you're determined to play in Handheld Mode despite the lighting issues that come with doing so, or you really love gyro controls. You'll still have a great time with the conversion, and I commend 4A games for translating these games so well, but you will be making a trade-off. If the Switch is your only option to play Metro Redux, though, I can recommend conversion without hesitation. There's nothing else quite like it on the system.

While the games themselves are fairly solid, nothing about them stands out quite enough to warrant purchasing them again unless you are a die hard fan of the franchise. Given that Metro Exodus only released last year and follows as a direct sequel to Last Light, your money might be better spent jumping into the latest entry in the series than revisiting something 10 years old.
Портативное Metro? Это де факто офигенно! 4A games довольно хорошо перенесли METRO Redux на Switch, 30 FPS, картинка как на Xbox и PS. Всё

Портативное Metro? Это де факто офигенно! 4A games довольно хорошо перенесли METRO Redux на Switch, 30 FPS, картинка как на Xbox и PS. Всё хорошо.

…

Expand

A nice package! Two games and all memory on cartridge! All games should come on cartridge. Really nice graphics and environment settings.

A nice package! Two games and all memory on cartridge! All games should come on cartridge. Really nice graphics and environment settings. 10/10 Excellent game for Switch!

…

Expand

Amazing story based game. The atmosphere is just unique. Well optimized on switch, better than most games so far. Actually maybe better

Amazing story based game. The atmosphere is just unique. Well optimized on switch, better than most games so far. Actually maybe better optimized on switch than on PC. I strongly recommend playing this game.

…

Expand

My french review below:
You can Follow me on Twitter : @NintendoLegacy1
Metro 2033 et Metro Last Night font partis des meilleurs FPS solosMy french review below:
You can Follow me on Twitter : @NintendoLegacy1

Metro 2033 et Metro Last Night font partis des meilleurs FPS solos narratifs de ces dernières années. Ce portage Switch s'adressera principalement à ceux qui ne connaissent pas la série mais même pour ceux qui ont déjà eu le plaisir d'y jouer sur consoles de salon, la possibilité d'y jouer sur Switch en mode nomade est un ajout non négligeable. Pour moins de 40 euros, vous aurez les deux versions définitives de chaque jeux, avec tous les DLC. 2 excellents jeux pour un très bon portage!

…

Expand

Great post-apocalyptic atmosphere. Fantastic graphics and stable frame rate even in handheld mode.

Cons: The game is too dark although theGreat post-apocalyptic atmosphere. Fantastic graphics and stable frame rate even in handheld mode.

Cons: The game is too dark although the graphics is great. It is a little bit hard to play and a lot of stressed situations even on Normal level although it is very linear. Wanted to quit it a few times because of this.

Metro Last Light Redux has more stealth possibilities and locations to use it if compare with 2033. More interesting places, tasks and stories then 2033. It is definitely a leap forward comparing with 2033.

Took around 30 hours for me to finish two games with some additional locations exploration.

Levels load time is ok. Got a few bugs in the game like stucked in the wall or dropped off of the game with some error message from Switch. The game will take ZERO additional space on your device if you bought a physical copy which is great as a lot of games like Assassin's Creed or Bioshock will download additional 5-10 GB of content. Great value.

…

Expand

This was my first time playing this game, straight away i was annoyed by the pointless cut scenes which in the beginning seemed longer then

This was my first time playing this game, straight away i was annoyed by the pointless cut scenes which in the beginning seemed longer then any of the first few chapters of game play. (I'm usually one who loves watching them but this was boring).

I also discovered a few bugs that where very annoying in the shooting range my gun glitched out and i was unable to shoot any target the gun wouldn't fire, I then had to talk to some character which wanted me to sit down however because of the bug in the shooting range i was unable to continue and sit down to progress to the next part. I noticed this happen several times, i had to restart me game for the last save and try again. Very annoying!

Thankfully the shooting aspect of this game is not bad. Character movement feels very sluggish and slow. When playing this on the switch you can tell its a 10 year old game maybe back when it was first released it was impressive. Those people who love resident evil and horror survivals I'm sure will get a good kick out of the game.

Currently at the price of $70 AUD i cannot recommend this game. Both games come on the same cartridge (no further download) was required which is great. I'll more then likely return this game and get my money back. If this goes on sale for $40 AUD i'd consider adding this to my collection. Not a fan of the over drawn out dialogue, short levels and sluggish movement controls.

…

Expand

i really dislike how the gameplay is through the story. the soundtrack really annoys me