Publisher:

Nintendo

Release Date:

Oct 8, 2021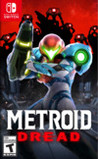 Summary:

Join intergalactic bounty hunter Samus Aran in her first new 2D Metroid™ story in 19 years. Samus' story continues after the events of the Metroid™ Fusion game when she descends upon planet ZDR to investigate a mysterious transmission sent to the Galactic Federation. The remote planet has

Join intergalactic bounty hunter Samus Aran in her first new 2D Metroid™ story in 19 years. Samus' story continues after the events of the Metroid™ Fusion game when she descends upon planet ZDR to investigate a mysterious transmission sent to the Galactic Federation. The remote planet has become overrun by vicious alien lifeforms and chilling mechanical menaces. Samus is more agile and capable than ever, but can she overcome the inhuman threat stalking the depths of ZDR?

Face off against unrelenting E.M.M.I. robots

Once DNA-extracting research machines, the imposing E.M.M.I. are now hunting Samus down. Tensions are high as you evade these E.M.M.I. to avoid a cruel death while finding a way to take them down. Find out what turned these robotic wonders into the scourge of ZDR and escape with your life.

Feel Samus' power grow as you gain maneuvers and abilities

Acquire new and familiar abilities as you traverse the many environments of this dangerous world. Parkour over obstacles, slide through tight spaces, counter enemies, and battle your way through the planet. Return to areas and use your new abilities to find upgrades, alternate paths, and a way forward. Explore the sprawling map, evade and destroy E.M.M.I. robots, and overcome the dread plaguing ZDR.


…

Expand
Please enter your birth date to watch this video:
You are not allowed to view this material at this time.
Metroid Dread - 5 Minutes of Off-Screen Gameplay
Metroid Dread is an achievement in every dimension we use to look at it. This exquisite work brings the Metroid formula up to our day, yet it doesn't compromise on what made Metroid such a colossal name in gaming. With brilliant level design, marvelous looking visuals, frantic and demanding combat, long lifespan and replay value, perfect performance on any screen, an overarching plot that binds everything together, and pretty much everything else that goes along, Metroid Dread is an instant classic and one of the finest pieces ever crafted for the Nintendo Switch.

Probably the game that I have enjoyed the most in this 2021 and one of my favorites from the wide catalog of the Nintendo Switch. MercurySteam did it and Samus is back better than ever.

Metroid Dread is a truly exceptional return to the spotlight for the franchise and Samus Aran.

A continuation of Samus' story from Metroid Fusion, Metroid Dread excels as a hybrid of both classic and modern Metroid gameplay. The exploration and combat are top-notch, with satisfying boss fights complete with stunning graphics and mid-action cutscenes. It's only a few nitpicks that prevent Dread from being a masterpiece, but that still means that it's a must-have for Metroid fans. The future holds a lot of promise for Samus Aran.

Metroid Dread for the Nintendo Switch is a worthy holder of the title "Metroid 5." Its sprawling world begs you to explore every inch of it, and while it keeps Samus Returns' control elements, they feel much better on the Switch. This is a proper Metroid 5, and that's more than enough to make it an Editors' Choice pick for Switch games.

An intoxicating power climb, top-notch level design and a fear-inducing hook make this an incredibly compelling and long overdue side-scrolling Metroid sequel. It struggles with sticking too closely to the roots of its decades-old predecessors and could definitely learn a thing or two from contemporary Metroidvanias, but it's a blast all the same.

Metroid Dread can't commit to giving players an action-packed power fantasy or a suspenseful adventure against the odds. It's quick, short, and snappy -- all things that can be good when used right, but not at all what Metroid Dread set out to deliver.
Muy bueno me tiene fascinado todo perfecto espero que salgan muchos mas y que no haya que esperar 19 ańos mas

Wow, what a hell of a game. Have always loved Metriod since 1989 on the NES. Weather its Prime or side scroller, i love them all. Graphics

Wow, what a hell of a game. Have always loved Metriod since 1989 on the NES. Weather its Prime or side scroller, i love them all. Graphics are just top notch. Cut scenes to gameplay its a pretty game. The controls are great and the story is pretty good so far(just beat 4th boss) so i have more to play. But from what i have played i love. Brings in oldskool gamers to modern perfectly. You will die a few times before u get farther but its worth it. Great job NIntendo!

…

Expand

this is the best 2D Metroid made, the exploration and the combat is fluid, a little short but is ok

This review contains spoilers

, click expand to view

.

The EMMi that follows your in certain zones just makes Metroid so much more fun. I was on edge from start to finish! Amazing Game! Everything I wanted and everything I got was so much more! Thanks NINTENDO & Mercury Steam!

…

Expand

The Metroid we all have been waiting for 19 years. Feels like a tribute to Fusion rather than a sequel and that's a good thing. The EMMI

The Metroid we all have been waiting for 19 years. Feels like a tribute to Fusion rather than a sequel and that's a good thing. The EMMI phases work quite well.

…

Expand

This is the near perfect entry in the Metroid series that offers the challenge of the original games, and fun gameplay as well, and it

This is the near perfect entry in the Metroid series that offers the challenge of the original games, and fun gameplay as well, and it certainly is worth playing while waiting for the announcement for Metroid Prime 4!

…

Expand

Super Spiel an sich, aber durch die emmis nervt es mich so sehr das ich kein bock hab ab der Hälfte des Spiels weiterzuspielen und dadurch

Super Spiel an sich, aber durch die emmis nervt es mich so sehr das ich kein bock hab ab der Hälfte des Spiels weiterzuspielen und dadurch kann ich auch nicht mehr Punkte geben . Ohne emmis wäre es eine 10,so halt eine 0. gibt besseres auf dem Markt, für weniger geld

…

Expand