Publisher:

Nintendo

Release Date:

Oct 8, 2021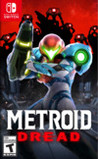 Summary:

Join intergalactic bounty hunter Samus Aran in her first new 2D Metroid™ story in 19 years. Samus' story continues after the events of the Metroid™ Fusion game when she descends upon planet ZDR to investigate a mysterious transmission sent to the Galactic Federation. The remote planet has

Join intergalactic bounty hunter Samus Aran in her first new 2D Metroid™ story in 19 years. Samus' story continues after the events of the Metroid™ Fusion game when she descends upon planet ZDR to investigate a mysterious transmission sent to the Galactic Federation. The remote planet has become overrun by vicious alien lifeforms and chilling mechanical menaces. Samus is more agile and capable than ever, but can she overcome the inhuman threat stalking the depths of ZDR?

Face off against unrelenting E.M.M.I. robots

Once DNA-extracting research machines, the imposing E.M.M.I. are now hunting Samus down. Tensions are high as you evade these E.M.M.I. to avoid a cruel death while finding a way to take them down. Find out what turned these robotic wonders into the scourge of ZDR and escape with your life.

Feel Samus' power grow as you gain maneuvers and abilities

Acquire new and familiar abilities as you traverse the many environments of this dangerous world. Parkour over obstacles, slide through tight spaces, counter enemies, and battle your way through the planet. Return to areas and use your new abilities to find upgrades, alternate paths, and a way forward. Explore the sprawling map, evade and destroy E.M.M.I. robots, and overcome the dread plaguing ZDR.


…

Expand
Developer:

Mercury Steam, Nintendo

Genre(s):

Action

,

Action Adventure

,

Platformer

,

Open-World

, ,

Metroidvania

# of players:

No Online Multiplayer

Cheats:

On GameFAQs

Rating:

T
Please enter your birth date to watch this video:
You are not allowed to view this material at this time.
Metroid Dread - 5 Minutes of Off-Screen Gameplay
LEVEL (Czech Republic)

Feb 18, 2022

Quotation forthcoming.

Metroid Dread is a triumphant return for both Samus Aran and developer MercurySteam. This is a super-slick, hugely entertaining and exquisitely designed entry in the Metroid franchise that plays better than anything we've seen from the series so far. With a bunch of fantastic new abilities, super tense and enjoyable stealth sections, plenty of great big boss fights and a story that fans will definitely enjoy, we can't really see how this one could have been any better. Best Metroid game ever? This could be the one.

Metroid Dread is the comeback we have been dreaming about for years. There is some room for improvement, but overall it's an incredibly solid game and a must-buy for any Metroid (or metroidvania) fan.

A continuation of Samus' story from Metroid Fusion, Metroid Dread excels as a hybrid of both classic and modern Metroid gameplay. The exploration and combat are top-notch, with satisfying boss fights complete with stunning graphics and mid-action cutscenes. It's only a few nitpicks that prevent Dread from being a masterpiece, but that still means that it's a must-have for Metroid fans. The future holds a lot of promise for Samus Aran.

Metroid Dread for the Nintendo Switch is a worthy holder of the title "Metroid 5." Its sprawling world begs you to explore every inch of it, and while it keeps Samus Returns' control elements, they feel much better on the Switch. This is a proper Metroid 5, and that's more than enough to make it an Editors' Choice pick for Switch games.

An intoxicating power climb, top-notch level design and a fear-inducing hook make this an incredibly compelling and long overdue side-scrolling Metroid sequel. It struggles with sticking too closely to the roots of its decades-old predecessors and could definitely learn a thing or two from contemporary Metroidvanias, but it's a blast all the same.

Metroid Dread can't commit to giving players an action-packed power fantasy or a suspenseful adventure against the odds. It's quick, short, and snappy -- all things that can be good when used right, but not at all what Metroid Dread set out to deliver.
Wow, what a hell of a game. Have always loved Metriod since 1989 on the NES. Weather its Prime or side scroller, i love them all. Graphics

Wow, what a hell of a game. Have always loved Metriod since 1989 on the NES. Weather its Prime or side scroller, i love them all. Graphics are just top notch. Cut scenes to gameplay its a pretty game. The controls are great and the story is pretty good so far(just beat 4th boss) so i have more to play. But from what i have played i love. Brings in oldskool gamers to modern perfectly. You will die a few times before u get farther but its worth it. Great job NIntendo!

…

Expand

Es un juego exelente que continua de una muy buena maera la saga de metroid que bo tenia una entrega desde hace un buen tiempo

Definitely one of the easier Metroid games but it's still a blast. Worth the wait as it done everything right. They heard the problems with

Definitely one of the easier Metroid games but it's still a blast. Worth the wait as it done everything right. They heard the problems with their previous game and fixed it while retaining everything that made it good. Unless the metroidvania isn't your cup of tea, you can't go wrong with playing this great game. The only thing I didn't like was the constant cutscenes being thrown at, but it's not as bad as a Sony first party game still.
I also have to give MercurySteam massive credit for making this game so beautiful despite the Switch's underpowered hardware. When I found out that it ran 1080p 60 FPS with such detail on Samus and the world, I just refused to believe it and thought there would be a catch. We need more studios like them on the Switch's platform.

…

Expand

Um dos melhores games da série. Jigabilidade excelente e um final digno da história de Samus.

Sublime game. Respectful with the past while always feeling new is something very hard to achieve, and this game does it. Know days the usual

Sublime game. Respectful with the past while always feeling new is something very hard to achieve, and this game does it. Know days the usual problem with triple A companies and their games is that they tend forget that games must be fun and amusing, and Nintendo usually delivers here. Metroid Dread is atmospheric, intense, well rounded and very very very enjoyable game, while having 0 performance issues or graphical bugs, just pure fun. This is all i can ask for a game, for me, game of the year without any doubt and an easy recommendation . I just hope Mercury Steam receives the respect and praise they deserve, probably their best work to date.

…

Expand

"Metroid Moments" have been eliminated from the equation in the newest instalment of the series. Besides some of the bumbling critics and

"Metroid Moments" have been eliminated from the equation in the newest instalment of the series. Besides some of the bumbling critics and players, who aren't very good at video games to begin with, everybody will find that every single section of the game flows smoothly back and forth between locations. The designers knew exactly where to put doors and blocks for you to find them after getting new power-ups without ever shoving them right in your face. I have limited experience with Metroid games, so it's not as if I knew what to look for already. It was so difficult to put the controller down as I kept wanting to get the next power-up, then beat the next boss, then find the next area, and repeat.

Credit isn't given enough to the enemy designs in this game and how well Mercury Steam and Nintendo did with them. Regular enemies, the E.M.M.I., the mini bosses, the bosses, and then on top of all that, they found a completely sensible way to make the easy enemies on past locations more difficult to face when you return later in the game. It impresses me to thing about how much perfect planning must have gone into this game to make it as fun as it is to run and gun, discover and adventure in Dread.

It sounds like I'm praising this as the perfect game right? So why a 9/10? Well, it's 2021 and video game writers should be putting a little more effort into making the story something we can connect with an understand. The story in Dread was interesting when mentioned, but rarely ever progressing. I suppose it's difficult in a 7-9 hour game to pack more than 30 minutes of story content into it, so I'm not even sure myself how this could've been improved.

Another thing to mention about 2021 is that the video game industry has made it acceptable to release broken and unfinished games and sell them at a $60 price point. Nintendo still has you to falter and accept this low standard, and it has to be commended how hard this game was worked on to make such a complicated formula accessible to everybody immediately at launch. One of the Switch's best library additions to date.

…

Expand

One of the better Metroid titles, as someone who adored fusion the movement and gameplay in dread, is far improved in most aspects and Samus

One of the better Metroid titles, as someone who adored fusion the movement and gameplay in dread, is far improved in most aspects and Samus was portrayed much better than in Metroid Other M. There are plenty of badass moments for you and her, but don't think it'll be easy.

…

Expand