Publisher:

Nintendo

Release Date:

Feb 8, 2023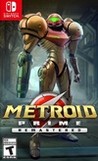 Summary:

Intergalactic bounty hunter Samus Aran receives a distress signal from a wrecked frigate in orbit around planet Tallon IV. Upon investigation, the frigate reveals itself to be a Space Pirate research vessel home to terrifying genetic experiments using the mysterious Phazon substance. There,

Intergalactic bounty hunter Samus Aran receives a distress signal from a wrecked frigate in orbit around planet Tallon IV. Upon investigation, the frigate reveals itself to be a Space Pirate research vessel home to terrifying genetic experiments using the mysterious Phazon substance. There, Samus encounters her nemesis, Meta Ridley, whom she pursues to the surface of Tallon IV. It's up to her alone to explore the planet's interconnected regions, investigate its dark secrets, and end the intergalactic threat posed by Phazon.

Experience this critically acclaimed first-person adventure like never before with remastered visuals, audio, controls, and more.

…

Expand
Please enter your birth date to watch this video:
You are not allowed to view this material at this time.
Metroid Prime Remastered – Out now! (Nintendo Switch)
This title is arguably the best-looking game on the Switch and captures the magic of the original all over again. Metroid Prime Remastered reminded the world why people consider this one of the greatest games ever made.

Metroid Prime Remastered is an amazing return of Metroid Prime and one of the best video games released for Nintendo Switch. Its masterful remaster takes an already amazing game and enhances every detail for modern audiences. Its amazing graphics, improved environmental and character details, smooth gameplay presentation and modern control scheme make Metroid Prime Remastered perfect for anyone wanting to get into the series or longtime fans looking to get back into its high point. There's really nothing bad to be said about Metroid Prime Remastered. It's one of the best remastered games Nintendo's ever done and at $40, it's an absolute steal for the high quality experience you're going to get. Don't hesitate for a moment, go out and buy Metroid Prime Remastered.

A perfect remaster of a perfect game. The graphical upgrade is stunning and the game feels more like a total remake than a remaster. Metroid Prime is finally available in HD and is an essential buy for all Switch owners.

Metroid Prime Remastered is a perfect example of how we should deal with classic games to remaster. Almost every aspect of the game including visual, control and convenience have been improved. The only drawback of this surprise present for those who long awaited Metroid Prime 4 is that now they are going to need much patient for the 2nd and 3rd title to be remastered.

Metroid Prime Remastered modernizes a classic, keeping everything good about it and fixing some of the few things that wouldn't make sense to modern players. While a few late game design choices stop it from being near perfect, there are precious few better games you can play on a Nintendo Switch in 2023. New players should run to pick this one up, and those who haven't touched it in twenty years won't find a better way to revisit this classic.

Metroid Prime Remastered is an amazing update to a classic game. Despite some remaining issues like clunky combat and platforming, the new control scheme and visual updates make this a must-play in the Switch's library, even for those who didn't enjoy the original. This is how you update a game for modern audiences.

Metroid Prime Remastered is a faithful beat-for-beat recreation of the GameCube classic with a comprehensively polished visual makeover. It remains a solid adventure shooter, even if its straightforward approach to player progress is a little unexciting these days. I've certainly not hated my time with it, though I do hate its refusal to properly credit the team that worked on the original...Maybe it's the industry's attitude toward attribution that could use a remastering.
In an age where there are numerous remasters and remakes, none quite give the same level of love and attention that Retro Studios has done

In an age where there are numerous remasters and remakes, none quite give the same level of love and attention that Retro Studios has done with Metroid Prime Remastered.

Between the graphical overall, updated soundtrack, and modernized controls, Metroid Prime Remastered still captures the original game in all of its glory, now with a fresh coat of paint and supported on official hardware. If you're a fan of the original, then this game will still surprise you. Playing through the game again with the updated visuals somehow enhances scenes and environments. What was once polygonal and shadowy is now *very* detailed and *very* frightening. Definitely a must buy.

…

Expand

It doesn't need any change in the plot or in the gameplay because it was a masterpiece even in its Gamecube version. Just perfect.

Nintendo really just shadow dropped one of the most acclaimed games from the gamecube era with a complete visual overhaul, new models and

Nintendo really just shadow dropped one of the most acclaimed games from the gamecube era with a complete visual overhaul, new models and textures, absurd amount of controls customization, colour blind support, Gamecube controller support and is chargin only 40 usd for it ?
Colour me impressed.
In comparison with the lackluster "remaster/HD/deluxe" editions like skyward sword, pikmin 3, mario kart 8, this feels like a remake. The game looks like Prime always did in my memories.
This level of care, love and effort is rare to see in the gaming dev atmosphere nowadays. Retro studios really put all the work into making this version the MUST GO to play this masterpiece

metroid fans eatin' good

…

Expand

It´s Metroid Prime!

This remaster is almost felt to be a remake, more of this please Nintendo!

Easily a 10/10.

Metroid Prime set the roots for Metroid 3D and was way ahead of its time on the GameCube. Most Games nowadays reallyEasily a 10/10.

Metroid Prime set the roots for Metroid 3D and was way ahead of its time on the GameCube. Most Games nowadays really struggle in performance or quality on the Nintendo Switch but not Metroid Prime Remastered. What every magic Retro Studios used shows us that it is possible to put a Game on the Nintendo Switch which feels like plays like butter. Not only did they design entirely new assets , landscapes and models but the price for this game is also a banger. Shadowdrop, fair and nice price and a game which is not a "HD Port" but a handcrafted masterpeace. Retro Studios once more showed that we can trust them in the Metroid Prime Series without a doubt.

Well done Retro Studios!

…

Expand

Impressive work by Retro studios, it looks like the visuals have been completely rebuilt for this game.

Не знаю с чего и начать, игра просто, даже не стоит упоминания о себе, я прекрасно понимаю что критикам нужно на что-то жить и нинтендо

Не знаю с чего и начать, игра просто, даже не стоит упоминания о себе, я прекрасно понимаю что критикам нужно на что-то жить и нинтендо продавать свой свищ, но продавать игру разработанную Retro Studios и изданную Nintendo для Nintendo GameCube 19 ноября 2002 года, она и свое время никого не поражала. Тухлый шутер спиноф некогда крутой метроидвании, в данном амплуа себя показывает лишь блеклой пародией. Конкурирую с в жанре шутеров, она проигрывает практически всем игра вышедшим за последние 20 лет. Гейм дизайн двигался, и не малыми шагами, скажу я Вам. Игра имеет проблемы и очень серьезны:
- истории нет от слова совсем;
- главный герой просто 0, никто и нигде (немая Самус молчит всю дорогу, абсолютно не повествуя игру);
- возрождение противников на пройденных локах, а возвращаться нужно и это бесит
- бектрекинг тебя постоянно долбят, вернись обратно, и не раз;
- шутерная механика, просто никакая, игрна не создавалась изначально мастерами шутерного дела, а студией казуальщиков которым от силы 2д или карточные мобильные помойки варить
- баланс оставили прежним, затянутые и однотипные локации в которых приходится по долгу убивать однотипных врагов
- ценник, просить те же деньги за игру 20-ти летней давности, просто свинство.

…

Expand