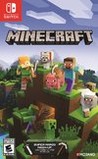 Summary:

The game involves players creating and destroying various types of blocks in a three dimensional environment. The player takes an avatar that can destroy or create blocks, forming fantastic structures, creations and artwork across the various multiplayer servers in multiple game modes.
Please enter your birth date to watch this video:
You are not allowed to view this material at this time.
Minecraft Servers - Halloween Spectacular Trailer
On a console seemingly packed with intense, time-consuming games like Zelda: Breath of the Wild and Shovel Knight, Minecraft: Nintendo Switch Edition feels like a breath of fresh air. With its endless possibilities and freeform gameplay structure, it can be as casual or intense as you want it to be. Coupled with the ability to undock and take it on the go without having to submit to finicky touch-screen controls, this might just be the best version of Minecraft on the market, and it is undoubtedly one of the best games currently available on the Switch.

Minecraft: Nintendo Switch Edition is arguably one of the, if not the best way to enjoy the game. The only thing missing is some online features that would make the game all the better with some friends online.

Minecraft is truly a success on the Nintendo Switch that boasts accessible controls and a glorious interactive environment that will keep players attention for hours upon hours.

Ultimately, the Switch Edition provides players with the most complete and best portable version of this addictive and popular game. The new content alone isn't worth the asking price, but if you want to get your 'craft on while on the move, consider the Switch Edition.

Nintendo Force Magazine

Jun 23, 2017

It's still Minecraft, and after all these years it's held up, especially when you can pop your Switch out of the dock and bring it wherever you want. [Issue #28 – July/August 2017, p. 17]

Minecraft Nintendo Switch Edition borrows the best of the handheld versions and the possibilities of its console siblings, making it a superb version a game that almost everyone can enjoy even if you have player dozens of hours in the past. Touch screen controls and the fact of being able to play wherever you are makes the difference here.

Minecraft Switch Edition is a strange animal, largely focused around a competent, if simplistic survival game and supplemented with worldbuilding that you can share with maybe one friend who also owns this edition of the game. Stripped of the game's best aspects and with a limited amount of skin packs, much of Minecraft's appeal is lost. Split-screen co-op and portability options do what they can to entice an audience, and may attract some eager to expand their Nintendo Switch library.
A great port, I really enjoy having Minecraft on the go.
It's a bit of a shame that Nintendo does not officially offer Trophys /A great port, I really enjoy having Minecraft on the go.
It's a bit of a shame that Nintendo does not officially offer Trophys / Achievements, but the game solves it well.

Technically all is fine. World size is more than enough for exploring, the limited drawing distance for mobile is acceptable, as the game runs smoothly with 60 frames per second all the time.

Local multiplayer is a great addition, but of course that only makes sense on a TV, the Switch display is a bit small for it.

If you don't have Minecraft yet or want a version for on the go: do grab it, it's a great port and deserves love.

…

Expand

Two words: Better together.
Pretty solid version of Minecraft, already played it for 60 hours in a few weeks.

Minecraft on Switch displays a great balance between functionality and portability. It's more powerful (map is much larger) than on other

Minecraft on Switch displays a great balance between functionality and portability. It's more powerful (map is much larger) than on other portable devices such as iPad, PSV while it's portable and you can play it anywhere you want compared to the powerful consoles such as PC, Xbox and PS4. So people please stop whining about how this version is no better than the console version. Can you even play a solid (not the trimmed down version on iOS or PSV) Minecraft on subway with Xbox or PS4?
In general, this Switch version makes me want to play Minecraft much often than before and I think it's a a great for Nintendo Switch. The only cons for now is its relatively high price compared to other platforms (though it included some nice DLC texture packs and Mario mode).

…

Expand

The Minecraft store barely works a quarter of the time, and the game takes for frigging ever to sign you in to Microsoft and load your

The Minecraft store barely works a quarter of the time, and the game takes for frigging ever to sign you in to Microsoft and load your character skins. Step it up.

…

Expand

Minecraft has been an amazing game for years. The reason its so much fun and has been played almost non-stop since 2009 is because it has so

Minecraft has been an amazing game for years. The reason its so much fun and has been played almost non-stop since 2009 is because it has so many things to do. You can play through survival mode where you are free to explore these randomly-generated, one of a kind, infinite, sandbox worlds and must gather resources to build up your inventory. The game doesn't feel pointless because there are many goals that you can accomplish. If survivals not your thing, you can play creative mode. In creative mode, you can build cities and more with an unlimited inventory in your hands. You are free to build without any disturbances and are able to fly around. Overall this is a wonderful sandbox game that I see myself keep coming back to for non-stop fun.

…

Expand

This Switch version Minecraft is a pale wish copy of the famous best-selling video game on the planet. Freezes and bugs to all go, not to

This Switch version Minecraft is a pale wish copy of the famous best-selling video game on the planet. Freezes and bugs to all go, not to mention the accessibility of this title with The Nintendo Switch Online + A Microsoft account, with an interface as if I opened a virus ... But Minecraft remains and will remain a safe bet for always!!!

…

Expand

Minecraft for the switch is awful. I hate it so much. If i want to play minecraft i will play in on my PC. My children feels the same! 0/10 so

Minecraft for the switch is awful. I hate it so much. If i want to play minecraft i will play in on my PC. My children feels the same! 0/10 so bad!!!!! I dont like it.

…

Expand