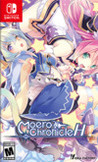 Summary:

Io is a simple young man with only one problem – he can't talk to women! Any attempts at conversation are destroyed by his perverted mind, except when he talks to Lilia, his best friend and a Monster Girl. However, that becomes the least of his problems when he's tasked with going to the

Io is a simple young man with only one problem – he can't talk to women! Any attempts at conversation are destroyed by his perverted mind, except when he talks to Lilia, his best friend and a Monster Girl. However, that becomes the least of his problems when he's tasked with going to the dangerous region of Monstopia. There, Monster Girls have begun rampaging, causing wanton pain and destruction. Have the Monster Girls simply gone mad, or is there an even greater evil afoot…? Find out in this moe-filled dungeon RPG.

…

Expand
Developer:

Silicon Studio

Genre(s):

Role-Playing

,

Japanese-Style

# of players:

No Online Multiplayer

Cheats:

On GameFAQs

Rating:

M
A fun dungeon crawling dating sim, with more sexual tension than we ever thought a single Nintendo system could withstand. It appears Nintendo Switch really is an amazing milestone console in the rich Nintendo history. Where were we... Oh, yeah. A fun game!

Moero Chronicle is so completely unabashed about its fan service and endless innuendo that it's oddly charming, in its own way. There's absolutely no way that people who don't enjoy fan service for the sake of fan service will get anything out of this game. The dungeon crawling is executed well enough, but it's traditional to a fault.

If you've been craving a first person dungeon crawler on the Switch, Coven is definitely a much better game but if you already played that, this is worth looking into if you're after fan service.

Moero Chronicle Hyper definitely has an audience, though it's a very niche one. This sort of dungeon crawler can be massively addictive, and it's always good to see someone have the balls to bring a game like this over from Japan uncensored. That being said, there are lots of things wrong with this. Characters designs are lacking; the levelling and skill unlocking systems are flawed; and the story is utterly bland. Many flawed elements, but for the centre of the Venn diagram where "Pervs," "JRPG fans," Etrian Odyssey dungeon crawling fans, all overlap, there are going to be some absolutely overjoyed gamers.

Moero Chronicle Hyper lives up to it's name. It is a hyper-actualized fantasy of sex and sex objects and sex acts and anything sex related. Unfortunately, in the pursuit of raunchiness, the game fails to deliver anything that's truly charming or engaging. Beyond some goofy monster designs, it's a terribly average game all around, hampered even further by a translation that desperately needed more time in the oven.

Moero Chronicle H generally gets the basics right, but that foundation is undercut by repetition, a lack of nuance in the combat, and a botched translation that makes it tough to care about anything that's going on. It delivers a ton of fanservice, and the core is at least competent, but it doesn't even attempt to reach beyond such an unambitious goal.