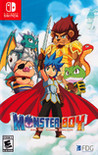 Summary:

A legendary game series returns with an all-new adventure and in HD/ Monster Boy is a colorful side-scrolling action adventure created in cooperation with Ryuichi Nishizawa, the creator of the famous Wonder Boy in Monster World series.

Monster Boy is being created to bring back theA legendary game series returns with an all-new adventure and in HD/ Monster Boy is a colorful side-scrolling action adventure created in cooperation with Ryuichi Nishizawa, the creator of the famous Wonder Boy in Monster World series.

Monster Boy is being created to bring back the enjoyment of the classic games that shine by simplicity. Exciting gameplay, upbeat music and smooth graphics. You'll need to overcome huge bosses, find hidden passages, discover powerful equipment and use all your wits and skills to remove a powerful curse.

Transform into 6 different creatures, each with their own skills and abilities. Take advantage of all the unique powers to open new paths and advance in an epic story.

We put all our passion into Monster Boy to create a truly enjoyable love letter to gaming from the 80's and 90's - will you join us and celebrate together with us?

Features:

* Switch between up to 6 playable characters: Each character feels different and all of them keep the gameplay fresh and exciting.
* Unlock new paths and secrets with special equipment: Look for magic weapons and equipment that gradually open up the world.
* Over 15 hours of epic adventure: Explore the new 'Monster World' in a huge interconnected environment.
* Soundtrack from Japanese superstar composers: Yuzo Koshiro, Motoi Sakuraba, Michiru Yamane, Keiki Kobayashi and Takeshi Yanagawa
* Full HD graphics at 60 frames per second: The game supports 1080p/60fps (docked) and 720p/60fps (portable mode)
* HD Rumble support: Feel the action with high performance HD Rumble support

…

Expand
Developer:

FDG Entertainment

Genre(s):

Action Adventure

,

General

# of players:

No Online Multiplayer

Cheats:

On GameFAQs

Available On:

Stadia

Rating:

E10+
Please enter your birth date to watch this video:
You are not allowed to view this material at this time.
Monster Boy and the Cursed Kingdom - Official Trailer | E3 2018
So overall Monster Boy and the Cursed Kingdom is a retro inspired platformer and shows the genre at its finest. Not to mention it feels right at home on the Switch despite being a multiplatform release. If you've never played a Monster Boy game but have been looking for anything to scratch that Metroid or Castlevania itch then this is for you. And if you're a Monster Boy fan wondering if this installment is any good then you should probably already own it. But if you don't then take it from me you won't regret your time with Cursed Kingdom.

Monster Boy and the Cursed Kingdom is one of the best surprises of 2018. A great adventure that everyone should play.

Monster Boy and the Cursed Kingdom is not on the budget side of the indie spectrum, but what Game Atelier and FDG Entertainment have released is far from a cheap experience. The beautifully hand drawn art style, rocking soundtrack, rewarding boss battles, excellent progression system, and thrilling adventure, offers the very best of what makes a great action-adventure platformer, and turns it into a must own for anyone interested in the genre.

A great neo-retro game that manages to be fresh and a perfect homage to some old classic like Wonder Boy.

Monster Boy and the Cursed Kingdom appears to have been well worth the wait. [Issue #38 – March/April 2019, p. 71]

With a lovely hand-drawn aesthetic and a modern, meticulous take on old-school design, Monster Boy is a smart and delightful game, both a fitting tribute and an exemplary example of the new breed of side-scrolling adventure games.

It's a beautiful throwback adventure that is, overall, quite enjoyable once it picks up steam, but its problems are hard to ignore. Simply put, the janky hit detection from decades-old games is a flaw that breaks up the flow of otherwise smooth controls, forcing the player to spend their first few hours with the least enjoyable transformations, leaving a poor first impression.
Played it until the 100%. This game is so fantastic I had to buy it day-1 on PC to 100% it again. Monster Boy is one of my favorite

Played it until the 100%. This game is so fantastic I had to buy it day-1 on PC to 100% it again. Monster Boy is one of my favorite Metroidvanias of all time so don't miss this adventure-filled pure gem!

…

Expand

As a long time fan of the Wonder Boy/Monster World series, I was surely not going to miss the first official new entry in the series in

As a long time fan of the Wonder Boy/Monster World series, I was surely not going to miss the first official new entry in the series in decades, but Monster Boy has blown away my expectations. While it does manage to tickle all the nostalgia you would expect, with tons of references to the past games both big and small, classic music tracks, familiar enemies, etc, I'm also really impressed with what a great game it is on its own merits. This one packs a ton of mechanics -- almost everything from the past games and then some -- and exploits them all with a lot of polished and clever level design. Dungeons are packed with puzzles, and they're well designed and smart, but never frustrating. While Metroidvania comparisons are apt, this game is really almost like a side-scrolling Zelda, with a focus on clever puzzles and simple hack-and-slash combat. It's similar to other WB-influenced games like Shantae, but honestly, this game is better than the Shantae series.

…

Expand

A superb Metroidvania style platformer and an absolute blast for fans of Wonderboy. This was a long time coming. The devs knocked this one out

A superb Metroidvania style platformer and an absolute blast for fans of Wonderboy. This was a long time coming. The devs knocked this one out of the park!

…

Expand

I wanted to love this game more than I did. I still had a good time with it but I can't say it's a must-play. I keep seeing people call this a

I wanted to love this game more than I did. I still had a good time with it but I can't say it's a must-play. I keep seeing people call this a MetroidVania and I don't think that's quite right... The structure is actually much closer to a Zelda game than a MetroidVania. There's a village in the middle of the map and you venture out in different directions to tackle a long list of self-contained dungeons. You constantly acquire new gear and monster-transformations that allow you to traverse new areas and solve more puzzles. There are secrets everywhere and the main quest could take you upwards of 20 hours to finish. That somewhat makes up for the 40 dollar price tag but compared to some indie games, Monster Boy falls short. Blossom Tales is a better Zelda clone, with a grander sense of adventure and Hollow Knight is a far better MetroidVania with better combat and infinitely superior level design and both games are much cheaper than Monster Boy. It delivers some good puzzles and platforming but the linearity and weak combat dragged it down for me.

One major flaw that almost ruined the game for me is the health system. It is just impossible to get your health back. Enemies will drop health occasionally but it's nowhere near enough to compensate for the damage they'll do to you. The platforming and puzzles can also drain your health in a hurry. You can buy and upgrade shields and armor but it never seemed to make much of a difference. By my count, there are 3 ways around the health system. You can go back to a store to purchase a health potion, which is often very out of your way and will waste a lot of time. However, you actually keep all of your progress when you die so you can usually just brute force it until you win (frustrating), or kill yourself after using your potion to get it back (tedious and immersion-breaking). All 3 of these strategies are a pain in the butt and easily could have been remedied by enemies simply dropping more health. I'm all for challenge, I already recommended you play Hollow Knight instead of this game. The important difference is that this game's challenge comes from tedium. Another user review mentioned the Volcano dungeon and this was the exact moment where the game fell apart for me too, almost entirely because of the health system.

I know it seems ridiculous for me to spend half my review talking about health but it really turned the game into a slog in the second half and made me question how good the first half had actually been. It never stops your progress outright but it's always a lingering annoyance. Monster Boy is a Nintendo-style side-scrolling adventure that has a lot going for it but can never quite reach the heights of the big N.

…

Expand

If you love platforming and '90s nostalgia then this game should be on your radar.
If you are anyone else be cautioned this game is hard.If you love platforming and '90s nostalgia then this game should be on your radar.
If you are anyone else be cautioned this game is hard.
"This is my revised review as I have since finished it"
The game starts off pretty tough once you turn into your first monster, but if you can whether the storm for about half the game there is something addicting, at least addicting enough to want to finish.
I truly hated this game for the first half of the game, but after collecting items and upgrading equipment it started to become kind of fun. There are still moments where it really ticked me off and I wanted to smash the controller, but I stuck through and glad I did.
My advice if you're interested in this game, that would be don't take the video reviewers at there word, when they say this game is great, it's not great, well at least not great if you only have a passing interest in platforming, otherwise they're probably right.
While I enjoyed it at the end I still don't agree with all the praise, It really becomes frustrating unless you're really a die hard platformer gamer. This should have been pointed out, I don't know how or why it wasn't.
At the end The game made me much better at platformers so That's pretty cool. Because of that and The surprising amount of fun I was having after I unlocked most of my forms and upgrading my equipment, I'm bumping up my original score from a "4" to a "6 out of 10". Slightly above middle of the road depending on what kind of gamer you are. If you want a challenge this game will challenge you, if you want to relax this game will not be you're go too for such.
At the end of the day I'm glad I purchased it, I beat my first platformer and now im much better at them.

…

Expand

I found this game very underwhelming, though it should be said that I'm not a follower of the whole game series (although I did play Wonderboy

I found this game very underwhelming, though it should be said that I'm not a follower of the whole game series (although I did play Wonderboy on the Amiga 500 back in the day). I found it slow paced, really imprecise and boring combat, dull and "blocky" platforming, the whole package is just very ... it's for kids and/or fans, basically.

…

Expand

I'm not sure why this game is so highly rated. The platforming is frustrating. Not hard, just frustrating. The art is nice, but the

I'm not sure why this game is so highly rated. The platforming is frustrating. Not hard, just frustrating. The art is nice, but the animation is terrible. The controls are sluggish. And it doesn't bring anything new to the metroidvania genre. Why is the map not visible at the same time? Why is it such a pain to switch gear? I really wanted to like this game, but I just can't.

…

Expand