Publisher:

Capcom

Release Date:

Aug 28, 2018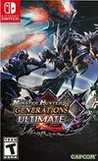 Summary:

This critically acclaimed action RPG series makes its debut on Nintendo Switch. Take on epic hunts on the go or from the comfort of your own home! Choose from 14 different weapon types, mix and match them with unique Hunting Styles and Hunter Arts, or even play as an adorable but ferocious

This critically acclaimed action RPG series makes its debut on Nintendo Switch. Take on epic hunts on the go or from the comfort of your own home! Choose from 14 different weapon types, mix and match them with unique Hunting Styles and Hunter Arts, or even play as an adorable but ferocious Felyne in Prowler Mode! Featuring the largest cast of monsters for any game in the series, from returning fan favourites to mysterious never-before-seen monsters. You can join up to three other players for co-op multiplayer action, either online or in person using local wireless. Join the hunt in Monster Hunter Generations Ultimate for Nintendo Switch.


…

Expand
Developer:

Capcom

Genre(s):

Role-Playing

,

Action RPG

# of players:

Up to 4

Cheats:

On GameFAQs

Rating:

T
Please enter your birth date to watch this video:
You are not allowed to view this material at this time.
Monster Hunter Generations Ultimate - Nintendo Switch Announcement Trailer
Once you get past its daunting and archaic systems, Monster Hunter Generations Ultimate continuously challenges you with the most thrilling gameplay and rewarding loop few games can match. Meanwhile, veterans will also feel at home - 'G rank' awaits you!

Monster Hunter arrives on Nintendo Switch with an installment practically unsurpassed. Perhaps we miss more changes or a more remarkable graphic face washing, but it's undeniable that hunting, in the old fashioned way, is better than ever.

Challenging, profound, literally monstrous from every point of view: Monster Hunter Generations Ultimate opens a new hunting season on Nintendo Switch.

The Switch version comes to the West with more content than the original with a discreet but effective adaptation.

When you add all of the sensibilities of the Nintendo Switch to the mix, you've got yourself a robust little JRPG to sink your teeth into.

Quickly speaking, the game is very good even if it needs a bit of patience due to a slow start. The game brings a true sensation of hunting and all the satisfaction involved after learning it's ropes. Monster Hunter Generations Ultimate, unfortunately, also brings dated graphics and long loading times.

Generations Ultimate is a greatest-hits collection that doesn't go out of the way to re-contextualize why the hits are so great in the first place. While it still provides the thrills that made Monster Hunter huge, it's hard to argue the series isn't ready for something else.
Quite possibly THE best Monster Hunter to date which is a major step up from World both in challenge and longevity. While World's agenda was

Quite possibly THE best Monster Hunter to date which is a major step up from World both in challenge and longevity. While World's agenda was to introduce Monster Hunter to newer players, GU's agenda is punch them in the face and say "you don't know jack" and really treat players both new and old to a revitalizing experience that promises difficulty right out of the gates. While many players who have just came over from World are going to wonder why things are so different, it's because the training wheels are off and you're going to be playing Monster Hunter at it's finest. No glowflies, no running and chugging; every move you make will matter. So saddle up because Generations Ultimate is in town and it's taking no prisoners

…

Expand

Yet one of the best games I have ever played. I'm very picky in general and this game really got my attention. I'm giving 1000 out of 1000.

I started playing Monster Hunter with Monster Hunter World, but I instantly fell in love with that game (500 hours and counting). The first

I started playing Monster Hunter with Monster Hunter World, but I instantly fell in love with that game (500 hours and counting). The first and most important thing to say about Monster Hunter Generations Ultimate (MHGU): It's an older game, that has been released in Japan quite a while ago, but has now been released to the west because of the success of MHW. Always keep that in mind, as you can "feel" that the gameplay is a little "old fashioned".

That being said, MHGU (also referred to as MHXX when talked about by people that played the JP version) is an amazing game. The sheer amount of content is mind-boggling. It really is too much to cover here, so just my highlights:

Prowler - If you ever wished to play as your little Palico friend in MHW, rejoice about the "15th weapon" in MHGU: the Prowler. Yes, you can play as a Palico. Bonus: You can also have two Palicos with you all the time, and have a list of hireable Palicos to choose from.

Hunter Arts & Styles: Although the weapons themselves have less moves than they have in MHW, the fact that there are hunter arts and hunter styles more than makes up for this. You can play every weapon in one six styles (Guild, Striker, Aerial, Adept, Valor & Alchemy), which removes some moves, adds some others, or totally changes you play the weapon. Hunter arts on the other hand are additional moves you can activate separately, akin to "abilities" in a classical RPG.

The sheer size of the game: MHW has 34 monsters to hunt, MHGU has a whopping 94! And every monster brings it's own unique set of armour and weapons with it. So yeah, if that's not enough content to last a lifetime, I don't know what is.

The best recommendation I can give is this: There is a demo on the eShop that let's you hunt 3 monsters (beginner, intermediate and advanced) with all weapons, styles and a pre-defined set of arts.MHGU plays a little differently to MHW, so it's best to just check out if you still like "the feeling of it". I know I will not put this game down for a long time.

…

Expand

If you're looking for a title on Nintendo switch that you can easily invest dozens of hours into fighting epic monsters in the this series

If you're looking for a title on Nintendo switch that you can easily invest dozens of hours into fighting epic monsters in the this series version of a love note to its fans before World, then i cant recommend this game enough to you. Only thing that brought the score down for me was there was confusion with the armor and weapon leveling system. To a point o felt like I wasnt making progress.

…

Expand

This game is simply great. It takes many of the best parts of the older games and mashes them together into one game in a way that just works

This game is simply great. It takes many of the best parts of the older games and mashes them together into one game in a way that just works well. I currently have about 20 hours of playtime and have barely touched the surface of this game, you can expect to probably spend hundreds of hours in this game.

…

Expand

首先吧,作为世界入坑的新人玩gu确实觉得各种系统细节都很麻烦,不只是老生常谈的换区或者动作僵硬,从技能点机制,装备页面的系统,到素材收纳、任务接取都感觉到各种不舒适。但是一旦玩进去就上瘾了,除了怪物装备全家桶以外,实际上很多地方的限制也增加了游戏性,技能点不够就只能抠门的算,装备五花

首先吧,作为世界入坑的新人玩gu确实觉得各种系统细节都很麻烦,不只是老生常谈的换区或者动作僵硬,从技能点机制,装备页面的系统,到素材收纳、任务接取都感觉到各种不舒适。但是一旦玩进去就上瘾了,除了怪物装备全家桶以外,实际上很多地方的限制也增加了游戏性,技能点不够就只能抠门的算,装备五花八门不看攻略怎么选好自己的装备,打不过怪要怎么利用道具。世界毕业大部分无脑黑龙套确实少了点意思(当然这点在黑龙前应该不是问题)道具利用在世界也是淡化了的。
gu打完下来仍然很爽,打了好几把终于打过超特后成就感爆棚,放在现在也是相当值得玩的好游戏

…

Expand

I don't understand how so many people can say how great this game is, compared to Monster Hunter World this Game feels extremely unpolished.

I don't understand how so many people can say how great this game is, compared to Monster Hunter World this Game feels extremely unpolished.

I know this Game has a lot of Content and for me it seems this is the only thing this Game suceeds.

The Graphics are Awful, i'm not a Graphics person but this awful Graphics and only 30 fps?
And why, cause it's a 3ds port and they didn't make any changes on this regard.

And the Gameplay feels extremely awful compared to Monster Hunter Worlds where it's a lot of fun to Fight.

And i know a lot of people like this about Monster Hunter but after only 1 Hour of playing the Game throws at me way to hard Monsters for a rather bad player like me, why isn't there something like increase in the Monster strength so new players like me can learn how to play this unique Game.

If u want to play Monster Hunter and ur not Familiar with the Game start with Worlds, it is really doing a lot of things better than previous entries.

…

Expand