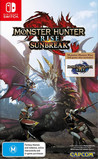 Summary:

Monster Hunter Rise: Sunbreak is an expansion to the original Monster Hunter Rise. Featuring improved gameplay and nimble-feeling additions to combat mechanics, unique new monsters and hunting locales, and a new difficulty level in the form of Master Rank quests. As the hunter who saved

Monster Hunter Rise: Sunbreak is an expansion to the original Monster Hunter Rise. Featuring improved gameplay and nimble-feeling additions to combat mechanics, unique new monsters and hunting locales, and a new difficulty level in the form of Master Rank quests. As the hunter who saved Kamura from calamity, you must now journey to the far-off reaches of Elgado, an outpost near a Kingdom beset by a sinister new nemesis—the elder dragon Malzeno! Kamura Village is finally at peace, having fought off an onslaught of monsters attacks known as the Rampage. That hard-earned peace is disrupted by the unexpected appearance of the wolf-like monster Lunagaron in the Shrine Ruins. In the Shrine Ruins, the hunter meets Fiorayne, a knight of the Royal Order. Fiorayne asks for the hunter's help in investigating why monsters from the Kingdom are becoming violently aggressive and invading other territories, including Kamura. United in mission, they set off for the far-off outpost of Elgado.

…

Expand
Developer:

Capcom

Genre(s):

Role-Playing

,

Action RPG

# of players:

Up to 4

Cheats:

On GameFAQs

Rating:

T
Please enter your birth date to watch this video:
You are not allowed to view this material at this time.
Monster Hunter Rise: Sunbreak - The Three Lords Trailer
Monster Hunter Rise: Sunbreak is, quite honestly, everything that I could have asked for. Between the new and returning monsters, wonderful new hunting locales, and a delightful bevy of tweaks and additions, you really can't consider Rise to be a complete game anymore without Sunbreak. It truly is an already great game's even better half.

Monster Hunter Rise: Sunbreak offers just more of the same at first glance. New monsters, a new difficulty, new maps and a new campaign to follow. Those who dare to sink their teeth into this behemoth of a game will quickly notice however, that there have been tweaks and changes to not only empower the players even further by reducing busywork and introducing new, flashy skills, but more critically empower the monsters. This adds some much-needed challenge to the game, even if the overall difficulty is still on the lower end of what fans of the series have come to expect. The follower quests need to be especially highlighted as a clever and fun replacements for the unpopular rampage quests.

If Monster Hunter Rise was (for me) the best Switch game of last year, the Sunbreak expansion brings enough additions to breathe fresh air into the game, with new monsters, new maps, new abilities, new ranks, and the promise of adding hundreds of hours to your hunting time.

Monster Hunter Rise Sunbreak elevates the possibilities of the base game with an expansion packed with content and improvements that further sharpen the refreshing gameplay we already knew. Despite the fact that there could be more monsters and it lacks the grandiloquence of Iceborne, this expansion is a must buy for any hunter.

Monster Hunter Rise: Sunbreak is more of the same but better. If you enjoyed the base game, you're going to love this new expansion of the adventure. The story may be a small excuse for us to get to know the new beasts, but the new rank along with the new abilities and upgrades, take the battles against monsters to another level. All a gift for hunters eager to continue hunting monsters.

All told, Monster Hunter Rise: Sunbreak is more of the same core experience, complete with the best gameplay the series has ever seen. While it cuts out one of the base game's unique modes and features, follower quests are a fantastic addition for offline play. The story could use some better pacing, but the mission structure continues to be spread out very well with new and returning monsters becoming available at a relatively decent pace — aside from the post-game grind to the final monster. Regardless, Sunbreak is an astounding expansion and a must-have for any hunter for both Offline and Online play.

This is an expansion that offers a number of small but noticeable adjustments that make life as a hunter, if not easier to survive, then at least easier to deal with. We get new monsters, new areas, and a lot of new equipment to play with. A solid expansion with new content.
I'm not finished yet, but so far it is better than rise. Some of the monsters are absolutely insane.

The game continues on doing what it did but with much more content now, which just makes sense because Rise is a very good game.

A really funny and good expansion too the base game. It´s a bit expensive but worth the price.
I recommend it for every Monster Hunter Fan.

Honestly, I had high expectations for the base game Rise. After I beat it really quickly, I felt unmotivated to do anything else. It still

Honestly, I had high expectations for the base game Rise. After I beat it really quickly, I felt unmotivated to do anything else. It still didn't scratch that itch that World gave, let alone Iceborne. However, just like Iceborne, Sunbreak expanded in a better way.

The combat is more versatile now with the addition of switch skills. It's basically switching your weapon's playstyle with more silk skills and/or regular moveset. It's made Switch Axe a blast to play.

People need to remember that even with Iceborne, the game got better overtime with more features like the Guiding Lands, Safijiva, or Fatalis. As it is now, you can get an enjoyable several dozen hours or so of monster hunting entertainment before the next update because let's face it there are many good games to play right now.

…

Expand

Sunbreak added less monsters than Iceborne did to World but that is to balance out that base Rise had started more monsters. Joyed they remade

Sunbreak added less monsters than Iceborne did to World but that is to balance out that base Rise had started more monsters. Joyed they remade Jungle for Sunbreak, though for me to give them a higher score they could have included 1 more map and added more brute wyverns, as there are only 2 at the moment, Barroth and Anjanath. Overall framerate performance is lower than base Rise though, and Sunbreak is more prone to fps drops especially when looking at fire animations, talking to the smithy, looking at the moving train or fiery chimneys in town fighting with particle heavy monsters such as Teostra. I prefer the OST and theme of added monsters in Sunbreak as they removed the vocals, and overall the remaster and composition of the new monster themes are top notch, especially with Astalos.

…

Expand

La debacle en cuanto a dificultad de la saga Monster Hunter toca techo en esta expansión. De ser un juego hardcore en el que tenias que

La debacle en cuanto a dificultad de la saga Monster Hunter toca techo en esta expansión. De ser un juego hardcore en el que tenias que aprenderte las mecánicas de cada monstruo, farmear y llevar ítems y administrarlos bien, saber que un error te costaba morir y perder media barra de vida a tener todas las facilidades para poder convertir a los pobres monstruos en unos sacos de ostias. Ya sucedió en Word, en este se ve acentuado. Y tiene pinta de que va a ser la tónica de aquí en adelante. Otra saga de juegos que el mainstream me ha quitado.

…

Expand