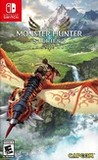 Summary:

Monster Hunter Stories 2: Wings of Ruin offers both RPG and Monster Hunter fans a unique new experience with a rich storyline featuring charming characters, challenging quests and friendly encounters with familiar monsters from the Monster Hunter series. Assuming the role of a young Monster

Monster Hunter Stories 2: Wings of Ruin offers both RPG and Monster Hunter fans a unique new experience with a rich storyline featuring charming characters, challenging quests and friendly encounters with familiar monsters from the Monster Hunter series. Assuming the role of a young Monster Rider who can use a Kinship Stone to form strong bonds with monsters, players can gain experience and improve their skills to form deeper connections with these wonderful creatures. When ready, players can embark on memorable adventures filled with dramatic events and heartwarming friendships as the epic tale unfolds.

…

Expand
Developer:

Capcom

Genre(s):

General

,

Role-Playing

,

Japanese-Style

# of players:

No Online Multiplayer

Cheats:

On GameFAQs

Rating:

E10+
Please enter your birth date to watch this video:
You are not allowed to view this material at this time.
Monster Hunter Stories 2: Wings of Ruin - Trailer 2
Overall, Monster Hunter Stories 2 provides a great way to hunt alongside favorite monsters from the franchise in a charming world with an interesting story to discover.

Monster Hunter Stories 2: Wings of Ruin is the perfect JRPG for Monster Hunter fans and those looking to dive into a memorable adventure with gorgeous visuals on Nintendo Switch.

This colourful RPG is a constant delight with some fantastic monsters to find, deep mechanics, an interesting story, and some great characters along the way. The game is rewarding for both Monster Hunter fans and anyone looking for a new adventure, Monster Hunter Stories 2 might just be the best monster-catching game on the Nintendo Switch.

Despite a few things holding it back, I fell in love with Monster Hunter Stories 2: Wings of Ruin, and it's all I want to play now.

From its setting to world building and especially the battles with monsters, this is truly an RPG that stays true to what Monster Hunter is all about. While the story is definitely on the light side, exploring the beautiful world with your favorite Monsties is an experience packed with content that any Monster Hunter fan will love.

Monster Hunter Stories 2: Wings of Ruin is a top-notch spinoff that cleverly distills the complexities of Monster Hunter into a friendlier RPG. Rewarding combat and a thoroughly entertaining story make up for repetitive map design and a stuttering frame rate. For those who found Monster Hunter Rise too intimidating, this is a better way to get a grasp on the basic ideas in a less demanding, turn-based format.

Ultimately a Monster Hunter game for people who don't like Monster Hunter, Wings of Ruin offers enough spectacle to keep players engaged before surprising them with unexpected depth in combat and customisation. It's let down by repetitiveness in exploration and a slower pace, and Switch players will see how much it strains the hardware, but it's still a good time for JRPG fans.
I've put about 30 hours into the game, A little more I think, I kind of blitzed through the campaign. Not because I didn't enjoy it, I just

I've put about 30 hours into the game, A little more I think, I kind of blitzed through the campaign. Not because I didn't enjoy it, I just wanted to see everything else the game has to offer, and so far, I haven't been disappointed at all. Its worth every dollar you put into it and more, and after I finish playing a few other games, I'm sure its going to be one of the 2 switch titles (the other one being monster hunter rise) to keep me coming back to my little console.

…

Expand

I loved it played the first stories loved that one as well when I heard the sales didn't do good I was hoping we would get another but when I

I loved it played the first stories loved that one as well when I heard the sales didn't do good I was hoping we would get another but when I so the announcement for this I flipped out ever since I got it I haven't been able to stop playing they improved upon almost every mechanic in the first one the graphics looks amazing and the scaling of the characters give it a mature look the only downside to this game is that they removed the color feature from the last game and they made it a bit easier although I might be the only bothered by that other then those two loved the game and hope we get an expansion like the mainline games or even a stories 3 in the future

…

Expand

Put about 10 or 11 hours into this game so far and i must say it is really a great game. Looks great and Has lots of hours too put into it i

Put about 10 or 11 hours into this game so far and i must say it is really a great game. Looks great and Has lots of hours too put into it i can tell. Never was a huge Monster Hunter fan, But this is a great RPG. Great Job Nintendo!

…

Expand

Incredible game! Super fun! Now I'm in the end game and seems to have a lot to do!

Great classic turn-based rpg based on Monster Hunter franchise. If you like Pokemon this is the way better!

Llevo 23 horas jugadas. El juego en sí está francamente bien, es entretenido, sin un nivel de complejidad exagerado, requiere un poco de

Llevo 23 horas jugadas. El juego en sí está francamente bien, es entretenido, sin un nivel de complejidad exagerado, requiere un poco de planificación y táctica pero es lo que se esperaba lógicamente. En Nintendo switch no está bien optimizado y es muy frecuente encontrar zonas donde los FPS se resienten bastante y va a tirones. Afortunadamente por norma general es más que jugable pero esto le resta un puntito, otro puntito que pierde a mi parecer es en la falta de doblaje al castellano, sé que es algo habitual en Nintendo, pero por lo que cuestan estos juegos y las ventas que tienen en el mundo hispanohablante no tiene justificación y por ultimo el tercer punto que le quito y sitúo mi nota en un 7 que es buena nota es la repetitividad excesiva en combates y en guardias de monstruos que son clones unos de otros, le falta un poco más de mimo en términos generales. A pesar de todo es un juego divertido y recomendado.

…

Expand

After the masterpiece that was MH Rise, performance of this game is unacceptable. None of the day one patches did anything and the game still

After the masterpiece that was MH Rise, performance of this game is unacceptable. None of the day one patches did anything and the game still has a lot of framerate issues. Normally I am not the kind of person who cares about frame rate drops here and there but this game is constantly having performance issues in all of my playing sessions. Even with all the performance issues some sick **** degenerate at capcom decided to uncap the frame rate for some reason and even the normal 30fps gameplay looks off because of it. User score of 8.8 is WAY too high for game like this. There is a lot of potential for this game but at its current state go play it on PC.

…

Expand