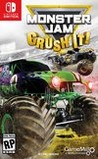 Developer:

GameMill Entertainment

Genre(s):

Racing

,

Arcade

,

Automobile

# of players:

No Online Multiplayer

Cheats:

On GameFAQs

Rating:

E
The original idea of Monster Jam: Crush It! is good, but it misses the mark in many aspects and it lacks more content, such as a greater variety of stages and different modes of play. It's barely replayable which is due to the fact that it doesn't offer incentives that make its duration less than enough.

Monster Jam: Crush It! is a disappointment that takes many inspirations from great games yet doesn't quite nail any of them, resulting in an unsatisfying experience with monstrous control.

Overall Monster Jam: Crush It is a hot mess of a game that is coming to eShop in a state that's simply baffling. While on paper the license mixed with the various modes sounds like a lot of fun, the execution of not just the graphics but the overall gameplay makes it feel more like a game from a previous generation and I'm not only talking about the previous one. It's really hard not to believe that this has been slapped together and is being sent out to market to simply ride on the assumption that Monster Truck fans, and more likely their parents, will buy it on sight. That's a shame and especially when you throw the $40 asking price onto the package Crush It is a disappointment.

Whether you're a monster truck nut or not, you should avoid Monster Jam: Crush It! at all costs. It lacks a lot of polish, has a lackluster presentation, poor controls and no semblance of progression that can in any way be construed as satisfying. It feels like a slapdash attempt at riding the wave of Switch goodwill, but doesn't join the growing list of games on the system that are worth playing.