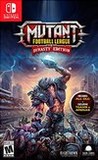 Summary:

Mutant Football League is an action packed, arcade style football game with intense online multiplayer action, deep strategy, and deadly humor.
Developer:

Nighthawk Interactive

Genre(s):

Sports

,

Team

,

Football

,

Arcade

# of players:

2

Cheats:

On GameFAQs

Rating:

M
Digital Dreams Entertainment plays a dirty game of football with Mutant Football League: Dynasty Edition for the Nintendo Switch; but the use of vulgarities, complete lack of concern for player safety, and hard-hitting defenses make it a blast to play. There is something strangely satisfying about mutilating an opposing QB and then murdering a referee. If Madden is the NFL, then one could say that Mutant Football League is arena football. It's unconventional but it is entertaining and it's the best football game for Switch.

I primarily played the Nintendo Switch version of Mutant Football League, and the quick matches are a perfect pairing for portable play.

Mutant Football League is a nice alternative for those that are put off by the Madden juggernaut. Dynasty Edition adds some minor features, but it's an affordable package which can easily appeal to fair-weather as well as lapsed football game fans. Digital Dreams delivered on their crowdfunding campaign and then some. Now who do I have to speak with to get a Mutant Hockey League?

Mutant Football League is the only football game on the Switch this year, and we're lucky it's a fun one despite all its warts. If you can handle its quirks, and want a football game that doesn't take itself too seriously, this one is for you. It also helps that it's half the price of that Madden guy's game, if you're counting.

It just feels like there are a lot of missed opportunities in Mutant Football League: Dynasty Edition. The gameplay certainly works, but there's really nothing all that spectacular about it.

If you take out the game's Dirty Tricks, on-field murders and hazards on the turf, Mutant Football League is a pretty faithful football game at its core. With EA's Madden franchise absent on Switch, MFL is the only game in town for fans of American football. Despite the game's crude commentary, it can be an enjoyable experience, and there is a lot to enjoy from the game's terrific presentation. Those who dread skill being undermined by luck may find the game a tad bit frustrating, however.

It's a crying shame - not to mention an almost unbelievable situation - that Mutant Football League: Dynasty Edition is currently the only American football game on Switch; Nintendo fans certainly deserve much, much better. Due to the annoying 'dirty tricks' system and unpredictable field changes, the experience leads to many cheap situations which, while mixing things up, don't make the game fun to play. It has the over-the-top aggression of its spiritual forerunner - 1993's Mutant League Football - and a sizable amount of content, but it's simply not an enjoyable experience after a few games, even when a second person is involved.
First of all, it's the best American football game on the Switch... *badum chh*

It's arcade football comparable to NFL Blitz but with a bitFirst of all, it's the best American football game on the Switch... *badum chh*

It's arcade football comparable to NFL Blitz but with a bit more depth - but not much. There is an involved franchise mode, season, playoffs, online, and exhibition. For what it costs, there is a ton of content. More DLC is incoming as well.

It compares favorable to the PS4 version. It is in lower resolution, but honestly it's not noticeable unless you are intentionally comparing it side-by-side. I love this game.

Here are two recommendations:

#1: turn the game speed on "fastest." Anything below that feels too slow. Fastest seems just right for arcade football.

#2: turn off "Dirty Tricks." It's cute, but also infuriating. Lose it.

…

Expand

Exactly what i wanted in the game. I don't care much for Football games, but I do enjoy the Blitz, and this game quite a lot. It reminded me

Exactly what i wanted in the game. I don't care much for Football games, but I do enjoy the Blitz, and this game quite a lot. It reminded me of the old Sega game. Plenty of teams to play around with, and the enough dirty tricks, etc to keep you happy. Very fun.

…

Expand

I absolutely love this game! The commentary is crass and obnoxious... exactly how a Mutant Football League play-by-play should be. The blood

I absolutely love this game! The commentary is crass and obnoxious... exactly how a Mutant Football League play-by-play should be. The blood and gore can be tuned up or down to your liking as well as adult commentary "beeped" for younger audiences.

The only thing missing, which would definitely make me give it a 10 is custom Team Building and Paint Schemes, Replay, custom controller inputs and cross-play! Because there's no cross-play, I bought the game for PC (via Steam) and Nintendo Switch.

The difference in controller assignments sometimes messes me up since they are different between consoles. It would be nice to be able to assign buttons so that they would be the same across platforms.

BTW - this is better than ANY Madden game could ever be! Just my opinion. ;)

…

Expand

Mutant Football League is the definitive spiritual successor to the original Mutant League Football on the Sega Genesis. If you're a fan of

Mutant Football League is the definitive spiritual successor to the original Mutant League Football on the Sega Genesis. If you're a fan of MLF or even NFL Blitz, you will love this game.

Designed by Michael Mendheim, creator of the original game, MFL boasts countless throwbacks to the Genesis classic while also bringing many new features to the table. Yes, you can still kill players to knock them out of the game--permanently. And yes, you can still bribe (and murder, if necessary) referees. But there's more. One of the most significant additions is a vile, vulgar, utterly hilarious commentary team voiced by none other than Tim Kitzrow, whose iconic work in such arcade games as NBA Jam and the aforementioned NFL Blitz speaks for itself.

If you've never played the Sega Genesis game and aren't sure what to expect, here's a quick rundown:
Mutant Football League is a violent, fast-paced, 7-on-7 American football game in which over a dozen teams comprised of skeletons, robots, superhumans, orcs, and aliens quite literally fight it out for victory. Fields are littered with deadly hazards like mines and buzzsaws and teams can even call "Dirty Trick" plays like "Shotgun," which makes the quarterback whip out a literal shotgun. There's also plenty of post-play fighting, so don't be surprised if a linebacker elbow-drops your star quarterback right to the morgue well after the whistle is blown!

Offline you can play against the AI in one of several different modes, ranging from a one-time exhibition game to a full-fledged 13-game season (playoffs included, if you qualify for them). There's also local multiplayer/couch co-op, meaning you and up to three other people can play with or against one another. Online play is currently limited to 1v1, but the developers hope to expand on it in the near future.

The game looks and feels surprisingly polished and is incredibly fun to play. The controls are responsive and intuitive and the AI can put up one heck of a fight. There's also a nice variety of teams and fields/stadiums. Additionally, there are plenty of options that allow you to drastically alter the experience. Don't like losing players permanently? Turn on resurrection, and they'll be restored the very next down. Don't like trick plays? Turn them off, and you'll never be crushed by a gigantic defender ever again!

The Dynasty Edition ups the ante with Dynasty mode, MFL's take on franchise mode, as well as several brand new teams, stadiums, and species. Dynasty mode is an incredible addition to the game that adds tons of replay value and delivers an experience unlike any other I've seen in a sports game. The premise is simple, yet brilliant: You must develop a pathetic team into Mayhem Bowl champions within three years, else you'll be fired. You can improve your team by trading for top players, signing free agents, or simply bolstering the players you already have by improving their attributes via XP earned during games.

Coming from the PC version of the game, the Switch port is admittedly a little rough around the edges. The graphics are a bit muddy and the frame rate seems to hover around 30, which is lower than I'd like to see for a game as fast-paced and arcadey as this. Additionally, there have been reports of the game hard-crashing, particularly when playing Dynasty mode. Although I haven't experienced these crashes myself and the developers are working hard to address them, it's something you should be aware of.

Bottom line: Mutant Football League is fast, and it is violent. It will make you laugh, and probably even cry (losing a star player early in the game is never an easy pill to swallow). And although the Switch port is far from perfect, the game is still an absolute blast to play and the ability to take it on the go and play it literally anywhere is just plain awesome and helps make up for most of the aforementioned technical issues. As I said at the very beginning, if you're a fan of the original Mutant League Football or even NFL Blitz, you will love this game. Don't pass it up!

…

Expand

A great arcade football game. Definitely the best option for football on the switch (albeit the only option). It's arcade nature makes it

A great arcade football game. Definitely the best option for football on the switch (albeit the only option). It's arcade nature makes it easier to understand than Madden and the dirty tricks add a fun spin on the game.

…

Expand

The game would be some much more fun if it wasn't for ridiculous spikes in difficulty. Once you hit the 4th quarter of a match and are winning

The game would be some much more fun if it wasn't for ridiculous spikes in difficulty. Once you hit the 4th quarter of a match and are winning the AI will throw every cheap trick at you in the book to make sure you don't win. Make an amazing play? the AI bribed the ref which will overturn your entire play and penalize you for it. Quarterback makes a great throw? The A.i. will kill your QB so you have to use a reserve one for the rest of the game. Defense sacks the QB? The AI will blow up and kill off a good portion of your defense immediately making you use lower stat players for the rest of the game. Its extremely frustrating and will make you rage heavily. Oh by the way this is all on easy difficulty by the way. I can only imagine how much more ridiculous the game gets on normal.

i only recommend this If you used to play Mutant League Football or Mutant League Hockey on Genesis back in the day and can manage to get past the frustration.

…

Expand