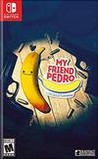 Summary:

My Friend Pedro is a violent ballet about friendship, imagination, and one man's struggle to obliterate anyone in his path at the behest of a sentient banana. The strategic use of split aiming, slow motion, and the ol' stylish window breach create one sensational action sequence after

My Friend Pedro is a violent ballet about friendship, imagination, and one man's struggle to obliterate anyone in his path at the behest of a sentient banana. The strategic use of split aiming, slow motion, and the ol' stylish window breach create one sensational action sequence after another in an explosive battle through the violent underworld.

Unleash a torrent of destruction with an incredible level of control over both your weapons and your body. Twist and turn through the air while aiming both hands at priority threats or line up a perfect ricochet to drop an unsuspecting gangster from behind.

Break up the high octane running and gunning a bit with dynamic sequences like a thrilling motorcycle chase or slow it all down and take a moment to think through a series of clever (and possibly fatal) physics-based puzzles.

…

Expand
Developer:

DeadToast Entertainment

Genre(s):

Action

,

Platformer

,

2D

# of players:

No Online Multiplayer

Cheats:

On GameFAQs

Rating:

M
Please enter your birth date to watch this video:
You are not allowed to view this material at this time.
My Friend Pedro - 14 Minutes Of S-Rank Gameplay | PAX West 2018
Because it's a) from Devolver and b) insanely violent, I can imagine that My Friend Pedro will get at least a few Hotline Miami comparisons. And while there's certainly a hint of that game here, make no mistake: My Friend Pedro is its own beast — one that's gloriously over-the-top, full of well-designed levels and good controls, and, above all else, ridiculously fun.

There's so much to love about My Friend Pedro that it's often hard to find something to complain about, so I'll just end this gushing little review on an extremely high note: Out of all the Nintendo Switch games I've played so far this year, I think I've found my favorite. I have plenty more banana-related adventures to pursue -- and bullets to waste.

Like the John Woo movies that it successfully emulates, My Friend Pedro is all about the action – and that action is excellent. The slow-motion gunplay, fantastical stunts, and score-attack-driven mechanics all work together to create one hell of an adrenaline-filled ride, even if it doesn't give you much reason to come back to it once that ride is over.

My Friend Pedro is a hyper-violent ballet that you control. DeadToast Entertainment takes players on an incredibly fun ride with the game's enjoyable combat system. All good things come to an end though, and this one ends just a little too soon.

My Friend Pedro is a wild action-packed ride, where there is no such thing as too excessive. With hours of unleashing hell on a bunch of ne'er-do-wells is good and all, managing to do it while obtaining an S grade is a tougher task. Pedro might not be a grand narrative experience, but it brings everything else to the party. Some of the one-off levels might not work so well, but they are far outnumbered by those that do. If you've enjoyed the trailers or enjoy run based puzzles solved by shooting people, then My Friend Pedro is for you.

While a few finicky mechanics and a lack of content outside the campaign keep this from getting a universal recommendation, $20 still gets you a memorable experience and offers a deliciously fun twist on the sidescrolling shooter formula.

My Friend Pedro seems like it should be wall-to-wall adrenaline-fueled gunplay and spectacle — and it is at times — but it's too frequently dulled by stretches of tedium, switch-flipping, misplaced platforming and visually bland environments. With that banana on board, it could (and should) have been so much more.
I really dont expect anything of this game, and the other day i play with a friend, its cool!

The game is fun. Real fun.
Max Payne in 2d meets John woo films.
Worth the price 20 or less easy.

Awesome game. Would rate it 10, but its a bit too short and some platform sections are rather annoying. Other than that another great devolver game.

This is a good game but my only problem was the health going down to quickly

Fun and crazy insanity makes you feel like your in a action movie being a badass. If you like what you see from this game you will 100-percent

Fun and crazy insanity makes you feel like your in a action movie being a badass. If you like what you see from this game you will 100-percent enjoy this game.

…

Expand

Deveras divertido, mas a história é bem ruinzinha e definitivamente não vale o preço atual

Thought I would really enjoy My Friend Pedro but ended up only getting half way through.

Game(s) like: Max Payne, Superhot Pros: -Thought I would really enjoy My Friend Pedro but ended up only getting half way through.

Game(s) like: Max Payne, Superhot

Pros:
- Awesome concept

Cons:
- Not enough challenge, I was just coasting through levels without much tactics
- Not enough enemy variety or puzzles

…

Expand