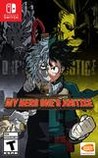 Summary:

Your fight for Justice starts now.

Whether you want to see the destruction of humanity or believe heroes should defend those in need, fight to prove your justice in My Hero One's Justice. The popular weekly Shonen Jump manga series comes to life, as players experience the abilities of fanYour fight for Justice starts now.

Whether you want to see the destruction of humanity or believe heroes should defend those in need, fight to prove your justice in My Hero One's Justice. The popular weekly Shonen Jump manga series comes to life, as players experience the abilities of fan favorite characters such as Izuku, Deku, Midoriya, Katsuki Katchan Bakugo, All Might and many more in this arena brawler, where you'll get to choose between hero and villain in your path to justice. Utilize Quirks and call upon your sidekicks to activate powerful attacks where your environments are at your disposal in total field destruction.

Features:

* Based on the hit weekly Shonen Jump manga series.

* Heroes or Villains -- Choose between fan favorite characters like Deku, All Might, Tomura, and many more in your path to justice.

* Total destruction -- The environments are at your disposal as players can destroy their surroundings in fierce battles.

* Unleash Superpowers -- Utilize each character's quirks to plant explosive attacks.

* Gorgeous and faithful Anime-style graphics.

…

Expand
Developer:

Bandai Namco Games

Genre(s):

Action

,

General

,

Fighting

,

3D

# of players:

2

Cheats:

On GameFAQs

Rating:

T
Please enter your birth date to watch this video:
You are not allowed to view this material at this time.
My Hero One's Justice - Release Date Trailer
If you're a fan of My Hero Academia, I still highly recommend this game, and if you're not, this one might change your mind, if the tiniest bit. After all, what game doesn't have its quirks?

My Hero One's Justice stays faithful to the source material and offers a wealth of quality content. The story may be a bit convoluted for those who haven't seen the anime but the depth of combat nuance will keep most fighting game fans happy.

My Hero One's Justice is packed with things to do and looks good while doing them. The battles themselves are fun and frenetic with the characters playing well against each other. This is probably the best arena battle game to date from any anime. Plus Ultra.

I had a lot of fun with My Hero One's Justice. There's something about the game's simplicity that felt refreshing in not needing to completely commit myself into learning the ropes. It's a fun fighter to take on the go, too, allowing for players to split the Joy-Con for a quick, convenient throwdown. It may not have the most robust features in a fighting game, and there is a lot here that could be improved upon, but, despite this, the easy to learn gameplay system and over-the-top combat results in an entertaining score-settler regardless of whether you're a fan of the series or not.

My Hero One's Justice will keep you entertained for hours, but it is by no means an essential anime fighter.

My Hero One's Justice is a fun and direct game that will delight fans. It is a good fighting game with a lot of unlockable content. However, it can be improved in various aspects such as its gameplay or its technical specifications.

While My Hero One's Justice certainly looks the part - with all the crash, bang and wallop you'd expect from a game based on such an outlandish anime - it proves to be more style over substance. If the likes of Blade Strangers and SNK Heroines: Tag Team Frenzy have got you in the mood for easy-to-pick-up fighters, this title will easily fit that mould, but for everyone else, it's a disappointing use of a franchise brimming with quirky (no pun intended) potential.
My Hero One's Justice is a really fun fighting base on one of the most popular manga/anime show My Hero Academia with unique controls, cool

My Hero One's Justice is a really fun fighting base on one of the most popular manga/anime show My Hero Academia with unique controls, cool characters, excellent music, polish combats, a pretty good story mode, & some other fun modes, but despite how the audio is only Japanese and no option for English, Spanish, French etc.

…

Expand

This game is amazing,the gameplay is entertaining,the roaster has different characters for every type of fighting,the online is not laggy,the

This game is amazing,the gameplay is entertaining,the roaster has different characters for every type of fighting,the online is not laggy,the customization is fun to change your character and the story mode is fun and fast.

…

Expand

empezare diciendo que me decidí por la versión de switch sobre la de PS o XBOX por que desde mi punto de vista los juegos de pelea son mejor

empezare diciendo que me decidí por la versión de switch sobre la de PS o XBOX por que desde mi punto de vista los juegos de pelea son mejor en una portátil para los viajes o reuniones con los amigos, ahora si vamos a mis primeras impresiones.

el juego gráficamente esta muy bien ya que verdaderamente parece la animación del anime dentro del juego. los controles responden bien pero si se juega con los joycons separados es muy molesto ya que al ser un juego tan frenético aprietas mas de dos botones y afecta bastante. durante los combates el juego se mueve bien pero como han tanto frenetismo y el escenario se destruye se tiende a ver una caída de FPS y dientes de cierra por varios lados pero nada que te haga perder la emoción. en cuanto a cuestión de potencia de esta versión veo que la pantalla de carga es un poco lenta y presenta un pequeño retraso en la selección de personajes (me refiero a que si jugador 1 cambia de personaje la pantalla recibe como una especie de lag que hace que el jugador 2 no pueda mover su seleccionador, eso en lo personal es un problema algo grave).

en cuanto el juego (aquí ya no importa en que versión sea ya que calificare contenido): tiene si bien los personajes mas característicos hasta el momento de la serie, el roaster esta muy limitado. son aproximadamente 15 personajes los cuales siento que son pocos pero eso si cada uno es diferente al otro. la cuestión de combo y los controles son muy sencillos (un botón para golpes, un botón para salto, uno para agarre y uno para técnicas, dos botones para dos ayudantes, uno para defensa y uno para realizar un run) los combos son casi automáticos lo cual lo hace muy fácil de manejar. algo que de igual manera no me gusto es que aveces la cámara rota de una manera muy estrepitosa en cuestión de segundos por lo que tiendes a marearte por el mismo movimiento. los escenarios son varios por lo que puedes jugar en diferentes temáticas y diferentes estrategias (por que diferentes estrategias??? por que en algunos escenarios puedes caerte de ellos y eso representa un KO automatico, en otros escenarios cuentas con muebles, rocas u objetos donde puedes subirte y esquivar algunos ataque pero estos objetos se pueden romper durante el combate).

en lo general es una buena adaptación del anime a un videojuego. tiene varios modos de juegos como son la historia, misiones, 1 vs 1, árcade, online y personalización. recomendable pero puede que si quieres mejor calidad en gráficos las versiones de PS4 y XBOX suenan a mejor opción. en lo personal le echare unas buenas horas de juego con mis amigos y mi novia que es fan de esta serie.

…

Expand