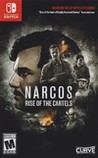 Summary:

Welcome to Colombia, 1980's -- the fires of El Patron's empire have been lit, its influence spanning borders, and expansion unabated. Influence and corruption is rife; cops, guards, politicians and those in between are falling into the pocket of the Medellín Cartel, and after years of

Welcome to Colombia, 1980's -- the fires of El Patron's empire have been lit, its influence spanning borders, and expansion unabated. Influence and corruption is rife; cops, guards, politicians and those in between are falling into the pocket of the Medellín Cartel, and after years of production, America is finally taking notice.

Narcos: Rise of the Cartels tells the story of the hit Netflix TV series, of the rise and fall of El Patron. Choose your side and ally with the DEA or conversely side with the Narcos. Explore recognisable locations from the show and take a role in pivotal world-altering events and battles that will define and shift the war on drugs.

Form your team from a variety of class-specific roles, join leading characters, upgrade your skills and take part in brutal turn-based combat, where your actions will have consequence. Plata o Plomo?

…

Expand
Developer:

Kuju Entertainment

Genre(s):

Action

,

Strategy

,

Turn-Based

,

General

,

Tactics

# of players:

No Online Multiplayer

Cheats:

On GameFAQs

Rating:

M
Overall, Narcos: Rise of the Cartels offers some unique strategy mechanics to help distract you from the game's slow nature.

Considering how integral the back-and-forth tussle between El Patron and DEA is to the show, recreating such a violent game of chess in 'tactics' form seems like a match made in heaven. But even with some welcome gameplay twists – namely those real-time Kill Shots and Counteractions – the slow nature of its single-unit turn mechanic and the totally unremarkable AI makes this generous offering of missions far less exciting than it should be. As a genre, a turn-based tactics setup really suits the cat and mouse nature of this real-life-inspired cartel war; it's just a shame certain elements let it down.

Narcos: Rise of the Cartels was shaping up to be a fascinating advert for Netflix's hit series, but the overall quid pro quo bend of strategy ultimately makes it the shallowest of tie-ins. This is one Search Bloc party that you can count me out for.

There's simply no reason to play something so utterly bereft of thought as Narcos.

The only silver lining of Narcos: Rise of the Cartels is that the game itself is such a disappointment in what it sets out to do that few people will play it in the first place.
Good game overall. I really didnt have an issue withs much of the game. Game plays fine and if u like the show, you will most likly enjoy

Good game overall. I really didnt have an issue withs much of the game. Game plays fine and if u like the show, you will most likly enjoy this. I dont know what people were wanting from this and what they wanted it too be.

…

Expand

In a nutshell, XCOM with a Latin American drug war wrapper.

Pros: 1. Graphically, it's pretty solid. 3D isometric with rotatable fieldIn a nutshell, XCOM with a Latin American drug war wrapper.

Pros:
1. Graphically, it's pretty solid. 3D isometric with rotatable field of view during the combat phase, and the story interludes are interesting enough to sit through and watch instead of skipping ahead.

2. Sound. Again solid. Latin American background music plays during the combat phase. The voice acting is pretty decent.

3. Play. It plays similar to other X-Com games with some notable exceptions (below). You either are a fan of the play style or not.

Cons:

1. Lack of 2 player competitive - DEA agents vs. Narcos seems to be tailored towards 2 player competitive action.

2. Lack of destructible backgrounds (building walls, etc.) is disappointing.

3. Unlike other X-Com style games (Mario vs. Rabbids, Mutant Year Zero), in this game each turn only allows one character to perform an action (unless a character ability is used to grant additional actions). It makes sense from a game balance sense - a squad of 5 characters all having first action has a massive advantage when they are first to act.

The problem is strategically it makes sense (for the player) to probe and retreat using one or two team members leaving the others behind. There is no overriding sense of team strategy. This can make for prolonged (though successful) missions. A time / turn limit on mission objectives would speed up the action (see Mario vs. Rabbids) by forcing the player to engage on multiple fronts to finish a mission.

Though I agree that movement / firing should be restricted to one player per turn from a game play balance standpoint, I don't understand why the other characters aren't able to heal / reload weapons / activate special abilities / or just plain rest when they are not moving / firing. Again, this would speed up the action.

Final thoughts:

In the vast wasteland of real time strategy games for the Switch, this stacks up pretty well with the other two titles I mentioned above (Mario vs. Rabbids, Mutant Year Zero). The game action does play slower than the other two and so the score reflects that.

…

Expand

It is a game that for those who, if they follow each movie or series, for example on Netflix, will get their attention a lot, for those who

It is a game that for those who, if they follow each movie or series, for example on Netflix, will get their attention a lot, for those who like it, I like the games, it may be better, bad or not so good, it is history...

…

Expand

I've been playing for a day and I've already found fails in it.

First the AI of the enemies attack without logic, they sacrifice themselvesI've been playing for a day and I've already found fails in it.

First the AI of the enemies attack without logic, they sacrifice themselves for killing a unit knowing that the unit will cost a lot and there you lose money unnecessarily, in addition, the overexploited aim of the AI, if they shoot one of your units if or if they take as much life as possible which makes it difficult to keep all your units alive


Second, there are times that they go through walls, cars, posters, among other things.

The voices, I really don't like these very over-acted, I don't like them.

The story seems to be fine, it seems complete also the selection of missions in my opinion is fine.

The characters or their variants are very minimal which makes it repetitive and boring, changing sides is boring having to exit the game to load the game and select side, it would be better than they had put it without having to go to the main screen.

I wish I had read reviews of this game earlier before buying it.

…

Expand

After playing for several hours, I want to ask a couple of questions. Serious questions.

For example, why when my commando shootsAfter playing for several hours, I want to ask a couple of questions. Serious questions.

For example, why when my commando shoots point-blank from an automat at an unprotected enemy (he only has trousers and a Hawaiian on him) he receives the maximum available damage 3-4, rather than instantly dying (6 dammage)?

Why do soldiers sometimes run through walls?

Why is there such a strange balance in the game? For example, a shot from a grenade launcher directly at the enemy does as much damage as a shot from a automat. Once again, a grenade crashes into an adversary in a Hawaiian shirt, immediately explodes, and he does not care - he continues the battle, losing about 2/3 of his health. But a shot from a shotgun point-blank - deals damage more than a direct hit by a grenade. Why am I firing form grenade launcher at opponents hiding behind a car, and the car doesn't explosion?

Or a wonderful decision in mechanics that one soldier from my squad walks, and then one enemy soldier. Sometimes it turns out that the same soldiers move 5-6 in a row.

And there are a lot of such trifles in the game. Problems with balance and elaboration of details, problems with mechanics and so on.

I cannot say that the game is bad, but it cannot be called good either. She is nothing

…

Expand

Nintendo me averguenza que permita la publicación de estos juegos, no me sorprendería que para colmo esté en inglés.
No lo se, es como siNintendo me averguenza que permita la publicación de estos juegos, no me sorprendería que para colmo esté en inglés.
No lo se, es como si esta empresa se burlara de los latinoamericanos, se cagan en toda la cantidad de nintenfermos fanboys latinos que luego están defendiendo a capa y espada. Ignoraré que esto existió probablemente pero aquí dejo mi opinión, que sepa Nintendo, que me dará aún más orgullo haber estado pirateando o emulando sus consolas o jugando el excelente Super Mario 64 para PC con upgrade gráfico SGI.

…

Expand