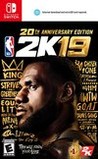 Summary:

NBA 2K celebrates 20 years of redefining what sports gaming can be, from best in class graphics & gameplay to groundbreaking game modes and an immersive open-world "Neighborhood." NBA 2K19 continues to push limits as it brings gaming one step closer to real-life basketball excitement and culture.
Please enter your birth date to watch this video:
You are not allowed to view this material at this time.
NBA 2K19 - Soundtrack Curation Trailer
While the heavy emphasis on microtransactions is still front and centre in NBA 2K19, progression has been improved enough to make this a far more attractive prospect for both rookies and seasoned vets. With a vastly superior MyCareer story, a revamped social hub, a suitably tweaked MyGM mode and all the presentation-focused bells and whistles you expect from the premiere basketball sim, NBA 2K19 continues to cement itself as one of the Switch's strongest sports offerings. If you needed any more proof that Madden, NHL and the like can work on Nintendo's hardware, this is it.

Despite its issues, NBA 2K19 is by far the best installment in the franchise's history. No matter which team I play as, no matter the late-game situation, it does a tremendous job of pulling me in. Its presentation enriches me with tons of basketball info and insight, plus its gameplay makes me more anxious for the actual NBA season to start (in a good way). There are still improvements that can be made for next year's game, but 2K Sports and Visual Concepts shows their dominance while also celebrating 20 years of NBA 2K basketball.

You can do pretty much whatever you want, whether it's play every game with your favorite team, sim seasons and be a manager, invent your own team, bring in legends to the modern NBA, or play through cinematic stories. It's a lot to take in and sift through, but if you have a passing affinity for basketball, a mode is likely here for you. NBA 2K19 is a top-tier sports game, even on the Switch. It's just a shame the microtransactions are ever present.

Jeuxvideo.com

Sep 29, 2018

NBA 2K19 has a better career system than previous entries in the franchise with improved defense mechanisms and more intelligent gameplay. Beside some deja-vu feelings about the content, it delivers a great experience.

Basketball lovers will enjoy a title where realism is extreme. The improvement in the strategy will make us feel that each match is unique and its countless game modes will not allow us to get bored. However, its story is mediocre and it has very obvious script problems. In addition, the online connection, very poor, and microtransactions, almost essential, tarnish the quality of a great game.

Micro-transactions and a very flat career mode kind of spoil what is the best basketball game this year.
This port is honestly one of the best ports on the Switch from a third party. I have this both and Switch and PS4 and 95% of the time can't

This port is honestly one of the best ports on the Switch from a third party. I have this both and Switch and PS4 and 95% of the time can't tell the difference. Great port although 2k more of the game should be on the cartridge as its a 28.6gb download with the cartridge. Huge improvement from last years 2K18, and if your Basketball fan its a must buy. 10/10 Amazing Port

…

Expand

Absolutely amazing port. Why I purchased this game for PS4 Pro, Xbox One, and the Switch, is a long story which I won't go into now. Though

Absolutely amazing port. Why I purchased this game for PS4 Pro, Xbox One, and the Switch, is a long story which I won't go into now. Though the important piece of information is, that after trying them all. The Switch version is the version in which I will be spending all of my time. No the graphics aren't quite up to par with the other systems, but it's portability, and similar breadth of scope as the other consoles makes it the winner for me.

The fact that this is nearly feature complete compared to the other consoles and it runs as well as it does, I'm REALLY hoping to see more next year. Thank you Take Two! This is an amazing game, and bringing it to this platform takes it to a whole new level.

Best port, way to go 2k sports!

…

Expand

Still a little bit of input lag in some areas, but substantially improved compared to 2k18 on the Switch. Areas where they previously just had

Still a little bit of input lag in some areas, but substantially improved compared to 2k18 on the Switch. Areas where they previously just had an overload of features, they have cut down for an increase in performance. In addition, the improvements made in gameplay, updates to rosters, rating etc. made this one worth the grab for a basketball fan such as myself. While I wouldn't normally rate it a 10, I've given it this score to offset all the trash user scores as usual...

…

Expand

I am not a big NBA/basketball fan, but without Madden or a proper MLB game on Switch, I turned to NBA 2K19. The game looks great, it plays

I am not a big NBA/basketball fan, but without Madden or a proper MLB game on Switch, I turned to NBA 2K19. The game looks great, it plays great, and it is an awesome NBA game. I really have no negative things to say, the microtransactions dont impact the game at all. MyLeague is the best part of the game. I might actually start to watch NBA, you never know.

…

Expand

NBA 2K19 is the best port on the Nintendo Switch today, however the game has its faults. Prepare to get very frustated with the online

NBA 2K19 is the best port on the Nintendo Switch today, however the game has its faults. Prepare to get very frustated with the online requirements for most modes. It´s a shame that such a great game has to mostly rely on being connected to the internet all the time. MyPlayer requires a persistant internet connection or else you can lose your progress. I lost count on how many times I finished a game and got kicked out of the mode while losing my progress (one time it happened at the end of game 7 of the finals and had to replay de game again).

…

Expand

if you think nba 2k19 is awesome for the iPhone/iPad pc xbox one ps4 or switch well it is not! its awful don't you dare buy this **** and do

if you think nba 2k19 is awesome for the iPhone/iPad pc xbox one ps4 or switch well it is not! its awful don't you dare buy this **** and do not buy 2k20 they are they worst trash game ever made stay away from this piece of trash.

…

Expand

En el videojuego de 2K19 se observa lo mismo que en el del año pasado. Todo se logra con microtransacciones a pesar de que se paga como un

En el videojuego de 2K19 se observa lo mismo que en el del año pasado. Todo se logra con microtransacciones a pesar de que se paga como un triple A. En vez de vender el producto con todo incluido te obligan a pagar para no tener que jugar por horas, que a la larga se hacen semanas. Aun con la edición de aniversario lo que te venden no es la experiencia de juego, sino la emoción de comprar por partes todo el contenido. Incluso, uno de los productores del equipo de desarrollo dice que la gran mayoría de jugadores de videojuegos no tienen paciencia para jugar y por eso ponen las microtransacciones. Sin embargo, en Steam para PC el NBA 2k18 tiene una clasificación de mayormente negativos.

In English
In the video game of 2K19 the same thing is observed as in the one of last year. Everything is achieved with microtransactions despite being paid as a triple A. Instead of selling the product with all-inclusive you are forced to pay for not having to play for hours, which eventually become weeks. Even with the anniversary edition, what they sell to you is not the gaming experience, but the excitement of buying all the content in parts. Even one of the producers of the development team says that the vast majority of video game players have no patience to play and that is why they put microtransactions. However, in Steam for PC the NBA 2k18 has a rating of mostly negative.

…

Expand