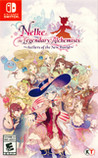 Summary:

Nelke & the Legendary Alchemists: Ateliers of the New World set in the Atelier universe celebrates the series' 20th Anniversary; allowing players to experience the beloved series' characters with an exciting new town building focus. Nelke & the Legendary Alchemists: Ateliers of the New World

Nelke & the Legendary Alchemists: Ateliers of the New World set in the Atelier universe celebrates the series' 20th Anniversary; allowing players to experience the beloved series' characters with an exciting new town building focus. Nelke & the Legendary Alchemists: Ateliers of the New World puts players in the shoes of Nelke von Lestamm, a young noblewoman who has always been fascinated by the ancient legend of the Sage of Granzweit; a tale of the Granzweit Tree which is said to bestow great power upon those whom discover it. As she grew up and learned her skills were not in alchemy, she studied hard to become a government official and help those around her. The day Nelke is set to graduate the academy, however, her life changes forever as she hears a rumour that the tree can be found within her father's lands near the small village of Westwald. Her father grants her permission to search for it on one condition - that she becomes governor of the area and develops Westwald into a prosperous city.

…

Expand
Developer:

Gust

Genre(s):

Role-Playing

,

General

# of players:

No Online Multiplayer

Cheats:

On GameFAQs

Rating:

E10+
The bright, charming, and community-focused story, in a world without a great evil or catastrophe to reveal the ugliness of humanity, means that Nelke, like every other Atelier title, is the perfect foil to the unrelenting angst and anger of so many other games out there.

Whether you are a true fan of the Atelier franchise, or just like RPG's and town simulation games, this will surely satisfy your thirst. It has enough gameplay elements, with depth, to make any gamer have enough content to last them for a while. The story and voice acting made the already in depth gameplay systems even better. This game is a must buy for any RPG or town simulator fan, especially as the Nintendo Switch lacks in town simulation games.

The Atelier franchise celebrates its 20th anniversary bringing back familiar faces from previous games in a city-run spin-off with a slow pace that will not please everyone, but that will convince fans of the most famous alchemists of the video game industry.

While it may be quite a departure from a standard Atelier game, Nelke & The Legendary Alchemists is a valiant attempt to diversify the series. It may not appeal quite so much to fans of traditional JRPGs, but there's certainly enough here to enrapture Atelier fans along with newcomers who enjoy the townbuilding genre. As long as you can get past the frustrating first hour, Nelke & The Legendary Alchemists: Ateliers of the New World opens itself up to be a rewarding and engaging experience that's surprisingly hard to put down.

Nelke & the Legendary Alchemists can be a disappointment to the series' fans, as it left behind its main focus (RPG) to embrace the management of a city, with simple and route mechanics. What's worst is that even if it includes most of the main characters from the series, it doesn't use them in all of its full potential.

With less fighting and exploration, but more management, Nelke & the Legendary Alchemists: Ateliers of the New World takes some risks. Which is a good thing, but some fans may be displeased.

Nelke doesn't feel like a celebration of Atelier, but closer to a cash-in.
I get that this game has a lot of problems but as a long time fan it was really good to see all the old characters of the series in this game.

I get that this game has a lot of problems but as a long time fan it was really good to see all the old characters of the series in this game. Felt , Logy , Sterk , Rorona seeing them in a game made me feel very nostalgic. I enjoyed this game.

…

Expand

You can see all those previous main characters from Atelier series in one game and that's enough.

Están todos los personajes de anteriores juegos... pero es todo lo que ofrece, un juego específico para fans, sin reto alguno, gestión de

Están todos los personajes de anteriores juegos... pero es todo lo que ofrece, un juego específico para fans, sin reto alguno, gestión de recursos mascadito... muy muy fácil, la historia esta demas, nada memorable, me lo pille rebajado, a precio completo no lo vale ni de broma.

…

Expand