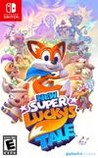 Summary:

The adventure of a young fox who embarks on a journey through the unknown and becomes a hero.
Developer:

Playful Corp.

Genre(s):

Action

,

Platformer

,

3D

# of players:

No Online Multiplayer

Cheats:

On GameFAQs

Rating:

E
Obviously, New Super Lucky's Tale isn't about to displace Mario when it comes to being the best 3D platformer the Switch has to offer — but with no word of exaggeration, I wouldn't put this one too far behind it, either.

From beginning to end, New Super Lucky's Tale is a much more streamlined experience than the original. Any qualms I had with the original game have been rectified in this reimagined edition for Nintendo Switch. The game is oozing with charm and keeps you coming back. It's a fun-filled experience that shouldn't go unplayed by 3D platformer fans.

Easy enough for newcomers to just pick up and play, and providing just enough fun and familiar challenge for veterans of the genre.

New Super Lucky's Tale is an extremely polished director's cut of a solid 3D platformer. I loved seeing its final incarnation finally see the light of day. I am glad more people can experience it now, but I do wish Playful would update the other versions, and perhaps even bring it to PS4 to complete the circle. Still, Switch owners looking for a solid, albeit simple platformer have yet another title worth checking out.

New Super Lucky's Tale improves many things from the original, but it also does some things worse. It's a nice platformer, quite enjoyable on Nintendo's hybrid console, so give it a try if you like the genre.

New Super Lucky's Tale is an excellent 3D platformer for kids who are getting to grips with right stick camera controls. Gamers seeking a challenging 3D adventure will be left wanting. The light visuals and professional-looking bouncy animation are very appealing, and it all manages to scale beautifully from the Xbox One to the Nintendo Switch. The gameplay is deeper, the playability made tighter, and the levels are re-worked to accommodate Lucky's new mobility. The visuals make the expected compromises that come with Switch conversions; lower resolution and a reduction of frame rate from 60 to 30. Yet, it is all worth it for a more finely crafted experience. Lucky himself might be unlucky to be such a boring character, but he is fun to play as, and gets to run around in charming worlds.

Though it packs plenty of charm and heart, New Super Lucky's Tale isn't quite ready to be in the leagues of the platforming greats just yet.
I LOVE THIS FANTASTIC GAME, LOVE LUCKY !!! PC/XBOX: It is gorgeous, much better than the old version; best gameplay, best difficulty, best

I LOVE THIS FANTASTIC GAME, LOVE LUCKY !!! PC/XBOX: It is gorgeous, much better than the old version; best gameplay, best difficulty, best graphics !!! HIGHLY RECOMMENDED !!! A +++++ I'm hoping for a sequel, maybe even a Christmas-themed version! Finally a breath of fresh air beyond the usual and repetitive Super Mario.

…

Expand

This game is a charming, gorgeous, and overall fun platformer with a surprising amount of variety. It is both relaxing and engaging to play. A

This game is a charming, gorgeous, and overall fun platformer with a surprising amount of variety. It is both relaxing and engaging to play. A feat which very few games are able to achieve.

I am not in the camp of those who complain about this game's difficulty level as I don't mind having a few games in my catalogue which are light-hearted and don't demand too much from me.

New Super Lucky's Tale is seamless fit for the Nintendo Switch. My only complaint would be if Playful Studios never makes a sequel...

…

Expand

This game is a charming, beautiful, super fun 3d platformer and I am enjoying every second of it. Easily one of my favorite switch games.

Short, but wholesome and fun experience. You can really feel the love this game was made with. The character controls are fluid and precise,

Short, but wholesome and fun experience. You can really feel the love this game was made with. The character controls are fluid and precise, which is really important for a platformet game. Level design is great, as it makes you want to explore and look behind every corner. Each level is connected to a hub, called world. You will travel through multiple worlds, each having unique environment with rich and vibrant colors, looking on par even with Mario Odyssey.

The game varies its gameplay through different level types and mini-challenges. One time you will play 3D platformer level, another time it's a 2D one. Next level is a sidescroller, after that comes labyrinth. It really keeps the game from getting stale.

On the other hand, mini-challenges that each world presents you with are fun the first time you play through them, maybe even second one, but soon you will find out they don't really change that much, each of them being variation of previous one with little to no innovation. And you need to complete them all to 100% the game, making it just feel like a chore, especially when you have to go into loading screen to do them, as the loadings are unfortunately rather long. It's a pitty as some of these challenges provide, shockingly, challenge and could be really great if not for the repetitivness. Especially so when you get to the last series of mini-challenges the game provides, unexpectedly showing whole new type that introduces you to smaller and enviromentally bland, but ultimately harder and faster paced levels. If this type of challenge was installed through the whole game, I wouldn't mind.

Speaking of challenge, the game is rather easy, only with couple of exceptions. It's not necessary a bad thing, depending on what you are looking for.

I didn't encounter any major bugs or hiccups. Framerate was stable most of the time, having noticeable drops during some occasions, but it didn't really ruin my experience or anything.

When I was thinking about score, I would really love to give it 10 out of 10, but I just can't. Main issue being the repetitive challenges. They luckily don't take much of your time, but the devs showed they can make them more fun and varied.

Final score: 9/10

…

Expand

Muito bom a história a jogabilidade só peca que tem alguns bugs mas é completamente jogavel

This game is definitely a step up from its original release back in 2017. Not only has the gameplay improved, but the graphics, story, and

This game is definitely a step up from its original release back in 2017. Not only has the gameplay improved, but the graphics, story, and presentation has also improved. The only negative I have to say about this game is that the game is pretty short. It took around 3 hours to beat the main game and an additional hour to 100% complete it. I'm just hoping that a sequel comes out pretty soon.

…

Expand

bad soundtrack. this game is not creative it all, the storyline is not good too