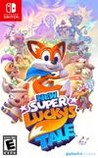 Summary:

The adventure of a young fox who embarks on a journey through the unknown and becomes a hero.
Developer:

Playful Corp.

Genre(s):

Action

,

Platformer

,

3D

# of players:

No Online Multiplayer

Cheats:

On GameFAQs

Rating:

E
Lucky's move to Switch is a lovingly-crafted adventure that exudes creativity and fun, and if it's any indication of what to expect from future outings from this delightful little fox, count me in for the long haul.

Cute and charming are perfect words to describe this game. The sign of a good platforming game is one where players want to explore and collect all the items that are found around each level. I found myself wanting to do this and more. New Super Lucky's Tale delivers a platformer for the whole family to enjoy by being easy to play, visually appealing and introducing a new and clever mascot to the Nintendo faithful. I sure hope we get to see more of Lucky in the future.

New Super Lucky's Tale is a solid port of an underrated platformer with a greatly improved camera. It's a little on the short side and may not provide much of a challenge to more hardened gamers – and if you already own it on Xbox One there really isn't enough new here to warrant a second purchase – but what makes it worth a look is its uncanny ability to make you smile, and this is something that can't be overlooked, especially in modern times.

New Super Lucky's Tale is the definitive version of the game. It's still a stripped back platformer, but new content and a revamped camera make it well worth a look.

An enjoyable throwback to a bygone age of 3D platformers.

With tight controls and a good amount of entertaining content for completionists, New Super Lucky's Tale justifies its $39.99 launch price for genre enthusiasts. But uneven level design holds this adventure back from true greatness. Check out the demo to get a feel for it.

Though it packs plenty of charm and heart, New Super Lucky's Tale isn't quite ready to be in the leagues of the platforming greats just yet.
This review contains spoilers

, click expand to view

.

This is for me new Tails Adventure! This game is rlly good. If i say is rlly good, its rlly good.

…

Expand

Summary: one of the nicest surprises of the year Playful Studios has really succeeded with a fantastic concept. Platform action game at its

Summary: one of the nicest surprises of the year Playful Studios has really succeeded with a fantastic concept. Platform action game at its best. Highly recommended for families with children. If you like Super Mario Odyssey or Splatoon 2, you will love this game! The whole gaming experience is magical. You don't want it to end and the only big minus is that the game is too short and a bit easy. The fact that the camera controlling is not always following proper and that the loading times can be long is a minor minus.

…

Expand

This game is a charming, beautiful, super fun 3d platformer and I am enjoying every second of it. Easily one of my favorite switch games.

This game is so fun! I don't have an xbox and had never heard of the original game, but after seeing some positive reviews from a couple

This game is so fun! I don't have an xbox and had never heard of the original game, but after seeing some positive reviews from a couple switch youtubers that I follow, I downloaded and played the free demo from the nintendo e-shop and then immediately purchased the game when the demo was over with. I'm not even a big 3-D platformer type of gamer but man this game is fun and it's great to see a cute, cheerful, tongue-in-cheek game in my library. It has a ton of replayability and I honestly can't put it down. From what I understand, it's very much its own game in terms of improvements and new features & less of a port of the xbox game. It looks absolutely gorgeous and has so much personality. Welcome to the Switch, Lucky, I hope we see some more of ya.

…

Expand