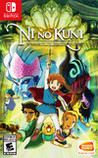 Summary:

Ni no Kuni: Wrath of the White Witch Remastered. Journey back to the other world in Ni no Kuni: Wrath of the White Witch. LEVEL-5's classic tale returns better than ever. Join Oliver as he embarks on an adventure through a world inhabited by new friends and ferocious foes alike in the hopes

Ni no Kuni: Wrath of the White Witch Remastered. Journey back to the other world in Ni no Kuni: Wrath of the White Witch. LEVEL-5's classic tale returns better than ever. Join Oliver as he embarks on an adventure through a world inhabited by new friends and ferocious foes alike in the hopes of bringing back his mother after a tragic incident. With a copy of the Wizard's Companion in his hand and his trusty friend Drippy by his side, he will travel across this rich fantasy world to tame familiars, take on enemies, and overcome the countless challenges that stand between him and his mother's salvation.

Features:

This charming tale unfolds through the use of animation storyboarded and created by the legendary Studio Ghibli and music composed by the renowned Joe Hisaishi. Ni no Kuni: Wrath of the White Witch combines beautiful animated visuals, masterful storytelling, and a sweeping score to create an epic role-playing adventure like no other.

* TAKE THE OTHER WORLD WITH YOU - Take Ni no Kuni: Wrath of the White Witch wherever you go on Nintendo Switch
* ALL-STAR PRODUCTION - LEVEL-5's mastery of the RPG genre is combined with Studio Ghibli's world-class animation and
music composed by the renowned Joe Hisaishi
* CAPTIVATING STORY - A charming yet tragic tale unfolds through the use of animation storyboarded and created by Studio
Ghibli with English and Japanese voice-overs
* ROLE-PLAYING MASTERY - A rich mixture of familiar RPG elements, expertly crafted and designed, and featuring dozens of
locations to explore, hundreds of creatures to battle, and a wealth of quests and secrets to uncover
* DYNAMIC COMBAT - Switch freely between characters and familiars in an exciting battle system that combines real-time and
turn-based tactical elements

…

Expand
Developer:

Level 5, Engine Software

Genre(s):

Role-Playing

,

Japanese-Style

# of players:

No Online Multiplayer

Cheats:

On GameFAQs

Rating:

E10+
Please enter your birth date to watch this video:
You are not allowed to view this material at this time.
Ni No Kuni PS4 Remastered Breathtaking Gameplay | E3 2019
It's rare to find a game that's as visually appealing as this one, and if that means going through a bit (okay, a lot) of grinding to see all this game has to offer, it may just be a price worth paying.

Ni No Kuni is a timeless masterpiece of a JRPG. The only reason to not own it is if the JRPG genre is just not your cup of tea. But if it is, you've got up to 100 hours of engaging game ahead of you, and those hours will not be forgotten.

The remaster is a great reminder of the potential that the series had and hopefully any future iterations of Ni no Kuni return to this winning formula and bring back the story, cinematics, and combat system that all come together to help make Wrath of the White Witch a modern classic.

Despite the many technical differences between each gaming platform, Ni no Kuni: Wrath of the White Witch, on Switch, hasn't any issue that could make you want to play it on another console.

The arrival of this remastered version of Ni No Kuni: The Revenge of the Celestial Witch on PC, PS4 and Switch is good news. It's a joy to (re)explore the landscapes of 'The Other World', and to admire the artistic direction of Studio Ghibli. We sometimes forgot we were in front of a game, and not in front of an anime, yet the gameplay from Level-5 is as deep as it sounds. The possibility of having your pets fight offers multiple combinations. Whether you are a fan of JRPGs or Ghibli in general, you have no excuse not to dive into an adventure to help Oliver save his mother!

Ni no Kuni: Wrath of the White Witch has gained the reputation of being a top-tier RPG and among the favorites of all time for some. While it certainly does a lot right, I think a few things hold it back from being truly amazing. The battle system, while fun, can become frustrating at points with the AI-controlled party members. Constantly switching between characters during regular battles wasn't something I found to be as enjoyable as doing it for boss fights, but not doing so resulted in low MP. With a pretty high encounter rate, this caused more than a few issues. That's not to say Ni no Kuni isn't entertaining; it just feels a bit imperfect. Regardless, exploring the different sights within the stunning world and interacting with its fascinating characters helped to overcome the shortcomings.

Much as it pains me to say, Ni no Kuni — an otherwise masterpiece — is not worth your time on the Nintendo Switch. Its issues are simply too frustrating to work around or forgive. The game is in dire need of patches that overhaul how the game performs on the handheld. I was hoping with talk of a new game in the series and this Switch port that the future of the franchise would be positive. For right now, I'm just disappointed that Nintendo fans have gotten the short end of the stick.
Simply put: One of the best RPGs EVER
Beautiful art design (courtesy of the incredible Studio Ghibli) it looks incredible on the Switch! ASimply put: One of the best RPGs EVER
Beautiful art design (courtesy of the incredible Studio Ghibli) it looks incredible on the Switch! A truly gorgeous anime come to life!
Amazing soundtrack (courtesy of some prestigious royal symphonic orchestra)
Deep gameplay with many layers
I wish all games were this skillfully ,carefully and thoroughly crafted.
Excellent character design with many memorable enemies and boss battles
If you love RPGs i highly recommend this game!

…

Expand

Um dos melhores RPGSg ja feitos, a altura dos classicos . Jogabilidade fluida, trilha sonora impecavel e graficos lindissimos. Um titulo mais

Um dos melhores RPGSg ja feitos, a altura dos classicos . Jogabilidade fluida, trilha sonora impecavel e graficos lindissimos. Um titulo mais que necessario para quem tem um nintendo switch.

…

Expand

Exactly as expected but better than ever is how I'd describe the portable Switch version of one of, if not the best, JRPG's ever made.

The switch version is a 'must-get' for JRPG fans. Don't let the early reviews fool you on how it crashes on the Switch. I played it on day one

The switch version is a 'must-get' for JRPG fans. Don't let the early reviews fool you on how it crashes on the Switch. I played it on day one and finished the game in a month with ZERO crashes. Despite being a PS3 game and having not much upgrade on the graphics, it was still a game worth playing and collecting for its 80-100 hours of content, that is if you try getting to 100% completion.

The story is a heartwarming tale of a boy adventuring into a magical world trying to do everything to get his mother back to his life, then later unfolds to something so much deeper and much darker. The story can hook any player from start to finish. The writers did a good job of slowly revealing the story to the players, and reaching to a point where the innocent boy you start with, ended with someone much developed as a person at the end. Though after finishing 'one' of the final bosses, you'll think that it was over, but no, there's another boss at the end with the initials WW, which kind of dragged the great storytelling to something feeling rushed at the end, but nonetheless, it was a story worth knowing about.

The gameplay is kind of similar to playing pokemon, where you can capture familiars, evolve them, feed them, and fight with them. The gameplay is okay and can get repetitive, though the good thing is, no enemy is too long to kill, that makes a game very dull. Just the right amount of length per fight which can help you grind without being burnt out.

Characters are all well developed, though again, at the end of the game, it could have been much better if it wasn't rushed. Voice acting can also be a little strange since it's a JRPG game with British accents. I know that I could've used the Japanese voice option, but I always prefer hearing people speak in a language I can understand, so that took a little while of getting used to.

The biggest turn on for me for this game is that the studio that did the animation and art for it, was Studio Ghibli. Whenever a cartoon cutscene would show up, it was very pleasing to the viewer to watch, though, most of the cartoon animations are very abrupt, which leaves the players wanting to see more, which is kind of unfortunate as well, as the longer you play, the lesser cartoon animation you see, and instead, you're stuck with gameplay cutscenes. I was hoping to at least see more of the cartoon animation from Ghibli at the end of the game, since it was lacking most at that part.

…

Expand

For the record, I'm a big JRPG and Studio Ghibli fan. Unfortunately, I could not bring myself to finish the game because of certain obnoxious

For the record, I'm a big JRPG and Studio Ghibli fan. Unfortunately, I could not bring myself to finish the game because of certain obnoxious mechanics in the game. However, I have to praise the soundtrack and art direction ,as well as the the plot.

…

Expand

This game has good characters and a solid story, but I didn't find the story all that compelling. The game is very linear and doesn't offer

This game has good characters and a solid story, but I didn't find the story all that compelling. The game is very linear and doesn't offer much of a challenge anywhere. The battle system is interesting and worth giving a shot, but it doesn't work great for the big boss fights at the end. Also, I had issues with it crashing on switch. Probably crashed 6 or 7 times on me over the course of my play through so save all the time.

…

Expand

Probably the worst video game I have ever played. More like a long, slow, boring movie. Combat is so easy there's no reason to gather new

Probably the worst video game I have ever played. More like a long, slow, boring movie. Combat is so easy there's no reason to gather new sprites because your original few will dominate to the end. Nothing epic happens, nothing grabs you, no interesting characters. The combat is a yarn fest after the first few battles. When compared to other RPGs like Final Fantasy, Xenoblade Chronicles or Octopath Traveler, this is just awful. Most overrated game on any platform, it feels like a failed Pokemon rip off, but why would you even collect more sprites when the first ones are overpowered? Just avoid this game.

…

Expand