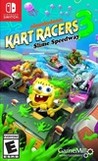 Summary:

Rebuilt and re-imagined from the ground up, Nickelodeon Kart Racers returns - bigger and better than ever!

Featuring a fully voice acted cast of over 40 iconic characters, drift, slide, and boost your way to the finish line on tracks inspired by legendary Nickelodeon shows like SpongeBobRebuilt and re-imagined from the ground up, Nickelodeon Kart Racers returns - bigger and better than ever!

Featuring a fully voice acted cast of over 40 iconic characters, drift, slide, and boost your way to the finish line on tracks inspired by legendary Nickelodeon shows like SpongeBob SquarePants, Teenage Mutant Ninja Turtles, Avatar: The Last Airbender, and more!

…

Expand
Developer:

Bamtang

Genre(s):

Racing

,

Arcade

,

Automobile

# of players:

Up to 12

Cheats:

On GameFAQs

Rating:

E
Overall it's a fun game with a few quirks… but for the sake of spending some karting time with Nickelodeon cartoon characters both old and new I think it's worth grabbing.

Nintendo Force Magazine

Dec 22, 2022

This game is finally tapping into the kind of potential the license provides! [Issue #63 – January/February 2023, p. 68]

Nickelodeon Kart Racers 3 does feel so much more complete than the first two iterations of the series, but it still has a little more room to grow…Even when I was frustrated at some of those things, the tracks, karts, and characters kept me coming back for more. It's definitely worth checking out for fans of racing games and Nickelodeon shows and characters.

Nickelodeon Kart Racers 3 is a second-rate version of Mario Kart; there's no denying it. It tries to keep things fresh, and the voice acting is a welcome addition. Although there were a few smiles along the way, the presentation and gameplay aren't up to scratch, and it's a little pricey.

I've had fun with Nickelodeon Kart Racers 3: Slime Speedway playing it with people, but I think that it is a title that is incomplete compared to other similar ones on the market.

On paper, Nickelodeon Kart Racers 3 does so much right, with a bigger roster of racers, more kart customisation, and the oft-requested addition of voice acting, which does add to the atmosphere considerably. But on the track it's hugely disappointing, with a severely reduced frame rate compared to its predecessor, making everything feel more sluggish as a result.

It's all a pale imitation of Mario Kart and that would be fine if the gameplay matched up to the depth in options. Nickelodeon Kart Racers 3 might be worth a look once it's in the bargain bin, but for now it's not worth the £40 full price. You're better off saving your money for something like Beyonetta 3.
First off I am very very many years older than the target demographic for a nickelodeon cartoon. But I am familiar with the teenage mutant

First off I am very very many years older than the target demographic for a nickelodeon cartoon. But I am familiar with the teenage mutant ninja turtles and Aang and maybe a couple other nickelodeon characters, like sponge Bob or ren and stimpy. However I did buy their kart racer 1 and 2 so I was going to give 3 a shot, at the right price at some point, and that's not the 49$ and 59$ they were originally asking. But on sale, sure I will bite. I was intrigued by looking at the YouTube gameplay and realized it reminded me more of sonic and Sega All-stars racing transformed minus sonic than Mario kart. And since I've been wanting sonic transformed on switch since I've owned a switch and not the horrible sonic racing game Sega actually gave, I was even more intrigued. Well slime speedway 3 went on sale and I bought it, and yep it's a cross between sonic transformed and Mario kart. The cars don't transform into aircrafts, but they do transform into boats with a lot of water racing and of course it's missing sonic. But other than that I think it's a very good kart racing game. It has 3 speeds and I can see how kids will get a kick out of this, and adults too. The voice overs are often and AWFUL so I turned down the voice volume but the graphics are really nice and I don't know if it had any frame rate issues when it released but I have noticed no problems now and I'm playing single player in handheld mode. It's typical kart racing and I like that the gas and slide are mapped like most racing game buttons. To the R and L triggers. Not like Mario kart. I like that they gave me actual human characters to race as at the very start of the game and not just SpongeBob. I like everything this game does and I have and will be playing it a lot as there is a ton of stuff to unlock. Like I said, I'm older than their target audience and Im not familiar with all the nickelodeon characters but I must say, if you can get this game on sale or you like kart racing or you were a fan of sonic transformed this is the next best thing.

…

Expand

Nickelodeon Kart Racers 3 on Nintendo Switch is an amazing game! The graphics are colorful and vibrant, and the karts and tracks are designed

Nickelodeon Kart Racers 3 on Nintendo Switch is an amazing game! The graphics are colorful and vibrant, and the karts and tracks are designed perfectly. The gameplay is exciting and fast-paced, and the controls are easy to learn and use. There is a great selection of characters and karts to choose from, and the multiplayer mode is a blast to play with friends. Overall, this is an excellent kart racing game that is perfect for both kids and adults.

…

Expand

Don't listen to the 10/10 review, that's definitely paid, or a friend of the devs. I had heard the game wasn't as good as the second, which I

Don't listen to the 10/10 review, that's definitely paid, or a friend of the devs. I had heard the game wasn't as good as the second, which I love. I had heard there were performance issues on switch. What hadn't gotten through to me was just how bad the switch port is. I actually think the design is fine, but it was clearly rushed. The framerate dips to what I would guess was about 15 quite often during gameplay and the resolution is awful. In split screen the fps is probably teens the whole time, and the graphics look like, I kid you not, playstation 1. Absolutely shameful, but don't blame the devs, they tried to make a good game, and they did, it just doesn't run yet.

…

Expand

**** this game. I am DEAD serious. No jokes, no exaggeration, this game can just go screw itself. My first two days playing this **** and I'm

**** this game. I am DEAD serious. No jokes, no exaggeration, this game can just go screw itself. My first two days playing this **** and I'm ALREADY seeing issues with it! Two days. TWO!!! Is that some kinda record!? The turning is ass, the AI are busted, the challenges are borderline impossible, and EVERYTHING else is locked behind a paywall!!! How can I enjoy this if there's no actual game progression!? This is anal sauce! It's so bad, it's a work of art! It's a fine, delicately crafted sculpture of ****

…

Expand