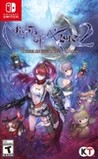 Summary:

Standalone sequel to the gothic fairy tale action RPG from developer GUST Studios, Nights of Azure, is now available in Western territories as Nights of Azure 2: Bride of the New Moon. Introducing a new and colorful cast featuring; Alushe Anatoria, Liliana Selphin and Ruhenheid Ariarod

Standalone sequel to the gothic fairy tale action RPG from developer GUST Studios, Nights of Azure, is now available in Western territories as Nights of Azure 2: Bride of the New Moon. Introducing a new and colorful cast featuring; Alushe Anatoria, Liliana Selphin and Ruhenheid Ariarod alongside a first look at the demon-ridden setting where their narrative unfolds. Step into this story with the knight protector Alushe and uncover the shocking truth behind the mysterious Queen of the Moon.


…

Expand
Developer:

Gust

Genre(s):

Role-Playing

,

Action RPG

# of players:

No Online Multiplayer

Cheats:

On GameFAQs

Rating:

T
Please enter your birth date to watch this video:
You are not allowed to view this material at this time.
Nights of Azure 2: Bride of the New Moon - Teaser Trailer
I will recommend that you play this on your TV, because any text is hard to read on the Switch screen. I also suggest using the Pro controller if you can, because using the Joy-cons, even in the Grip, isn't great for this kind of game. Despite those warnings, Nights of Azure 2 is a pretty easy pick-up-and-play game given the timed mission structure. It's not perfect, but I'm having a good time with it. I encourage you to save often, though, because the game crashed on me three times and resulted in lost progress. Annoying, but at least it's not hard-locking the system.

A fast-paced hack-and-slash with fun, combo-heavy combat and an anime-after-dark aesthetic, Nights of Azure 2 is a great time. Strong characters, endearing interactions, and an interesting plot kept us excited to play more throughout, even if the repetitive missions and environments make for an experience best enjoyed in smaller chunks. There are some noticeable performance issues in handheld mode, and a few interface woes reflect a lack of overall polish, but if you're looking for an enjoyable action romp with plenty of blood-sucking style, this is an excellent choice.

An iffy camera system and questionable design decisions only slightly mar what is otherwise an enjoyable battle system and notably engaging narrative in Nights of Azure 2: Bride of the New Moon for Nintendo Switch. Veterans of the first game will find a snug fit, with new players quickly welcomed in.

Nights of Azure 2 is probably better than the original in narrative and design terms, but lacks some aspects such us controls, camera and combat in general. We expected more emphasis on making a good combo system; however it is very simple overall.

Nights of Azure 2 on Nintendo Switch is a lazy port with loads of visual and performance issues and a downgrade compared to the first one in every aspect.

Nights of Azure 2 seems to follow a pattern with Gust in the past couple of years following its takeover from Koei Tecmo. Though the developer's output has certainly increased, it appears to have come at a cost. This is just the latest in a line of easily forgettable titles that bring some interesting ideas but have not been given enough to use them effectively.

Existing fans of the Hack & Slash genre may find some enjoyment in Nights of Azure 2, but what awaits for newcomers is a by the numbers hack and slash game that does nothing to make itself unique.
El estilo artístico de este juego es simplemente fantástico, cuando lo juegas es como ponerse a ver cualquier anime. Ademas de que tiene una

El estilo artístico de este juego es simplemente fantástico, cuando lo juegas es como ponerse a ver cualquier anime. Ademas de que tiene una jugabilidad muy adictiva.

…

Expand

Nights of Azure 2 is a very interesting game based on the like first 2 hours of gameplay. I like the battle system too. I don't see why there

Nights of Azure 2 is a very interesting game based on the like first 2 hours of gameplay. I like the battle system too. I don't see why there are so many critical reviews of this game as so far i have seen none of those problems.

…

Expand

This game will probably be the first obscure JRPG in a long line of many on the Switch. How does it live up? decent. Not mind blowing but it

This game will probably be the first obscure JRPG in a long line of many on the Switch. How does it live up? decent. Not mind blowing but it is a glorious game worth the money. The story is a little cut and dry, but It is still charming and cute, the voice acting is done well, and the music is really beautiful. Much like the First one, the mechanics are all the same, hack and slash combo into waves of weaker enemies. Similiar to Mosou style games. Docked it plays super smooth, the HD rendering looks wonderful, undocked I noticed it is a little slower but nothing super noteworthy, and you only notice it if youve been playing docked for a while. I am not a fan of the baby faced models and the Environments, while pretty, look pretty cheap.

Over all, Id say the biggest problem this game faces, is that it comes out 3 days before the most anticipated game on the Switch comes out, and so people are going to more than likely spend their money on Mario Odyssey . But for those of you looking for a fun cliche and quirky JRPG this one is definitely going to be for you.

…

Expand

Nights of Azure 2 has a nice storyline that hooked me in during the first hour of playing. It's as if i'm watching an anime instead of playing

Nights of Azure 2 has a nice storyline that hooked me in during the first hour of playing. It's as if i'm watching an anime instead of playing it at times. I recommend this if you like anime, Jrpgs, hack n slash games, a good story/good music, and ofcourse yuri (let's be real here lol). Don't pay attention to the very critical reviews from the Critic Reviewers, this is a game you need to give a try if you are interested in musou games like this. The game isn't mind blowing by any means, but it's good enough to playthrough and collect everything. As far as framerate goes, it does become noticeably low during handheld mode, but in docked tv mode it looks and runs better, keep that in mind. (You'll want to play this docked all the time if you don't like the fps/resolution) Overall, this game deserves an 8, because for me, single player campaigns needs a good story to stand up, and to me Nights of Azure 2 executed it nicely.

…

Expand

There are two words to describe this game on the switch : Lazy Port. The performance is poor (if not terrible) There is deffinitely a lack of

There are two words to describe this game on the switch : Lazy Port. The performance is poor (if not terrible) There is deffinitely a lack of optimization. The game looks like they ported the psvita version and upscaled it for the switch. The gameplay is fine but you're looking at a generic jrpg here. They could have done better especially when doom seems to be way better overall in term of optimization. For $70, it's not worth your attention.

…

Expand

I boot up the game and I immediately ran into a problem at the start screen, that is how bad the game is. The screen told me to push any

I boot up the game and I immediately ran into a problem at the start screen, that is how bad the game is. The screen told me to push any button so I pushed the A button naturally. Then options come up, there's new game, load game, and options so I press A to select new game but nothing happens. I tried to press + and - still nothing happens. I press X and Y but still nothing happens. Then lastly I pressed B which normally would be for cancelling, then the game starts. That is EXACTLY how half assed the game is ported. They didn't even bother changing the control scheme from the Playstation's. It would be X on the dualshock for selecting which is where the B button is. This is a continuous problem. I speak to a character in the game with A, then an option pops up then I naturally press A again to select but it cancels the selection instead because B is select in this game but why make A the button to talk to NPCs?!

Next lets talk about the graphics and performance, oh boy. The graphics are not good. Textures look Playstation 2 era. They ported this one directly from the PS Vita version to save costs perhaps. With graphics that aren't demanding, the performance should be top notch, right? Nope turns out the devs didn't optimise the port even slightly. Granted though, Gust games all have problems in performance no matter the platform but this is just terrible combined with the awful graphics it makes the game unbearable. Resolution is for certain sub native and the framerate is constantly 20+ on docked and on handheld it runs below 20fps which is even worse!

After you begin to accept the weird controls and horrible graphics with awful, GOD AWFUL performance, you get a decent action game where you control one character, Aluche, teaming up with one of her childhood friends or other girls they meet along the way to beat up monsters and clear certain quests. Aluche can build her relationship with these girls of "lilies" as they are called in the game, to gain new skills and character related side-quests.

The game is fine but heavily flawed in technical aspects. It certainly takes away the enjoyment in playing the game.

…

Expand