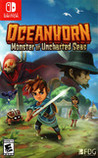 Summary:

You wake up and find a letter from your father. He is gone The only lead is his old notebook and a mysterious necklace. What happened?

Oceanhorn: Monster of Uncharted Seas combines captivating storytelling, breathtaking 3D visuals and exciting gameplay into one epic action-adventureYou wake up and find a letter from your father. He is gone The only lead is his old notebook and a mysterious necklace. What happened?

Oceanhorn: Monster of Uncharted Seas combines captivating storytelling, breathtaking 3D visuals and exciting gameplay into one epic action-adventure experience. In the game you explore the islands of Uncharted Seas, a world filled with many dangers, puzzles and secrets. You must fight monsters, learn to use magic and discover ancient treasures, which will help you on your quest. Use all of your wits and skill to unravel the mysteries of the ancient kingdom of Arcadia and the sea monster, Oceanhorn.

FEATURE OVERVIEW:

- 15+ hours of story driven gameplay
- Master magic and swordfight
- Find ancient items to help you on your quest
- Steam Achievements and Leaderboards
- Steam Cloud
- Steam Trading Cards
- Full controller support
- Enchanting original soundtrack

…

Expand
Developer:

Cornfox & Bros.

Genre(s):

Action Adventure

,

Open-World

# of players:

No Online Multiplayer

Cheats:

On GameFAQs

Rating:

E10+
Please enter your birth date to watch this video:
You are not allowed to view this material at this time.
Oceanhorn - The First 17 Minutes of Gameplay
Oceanhorn is a high-quality Zelda clone with great visuals and gameplay, definitely worth a sailing trip.

Oceanhorn: Monster of Uncharted Seas is right at home on the Nintendo Switch, if only it implemented more of the console's features.

Oceanhorn is a competent, budget, bite-sized Zelda-like experience that is not without its flaws, both in terms of glitches and in terms of sheer game design. Those, however, are not inherent to the Nintendo Switch version itself but are found in all releases of the game and, despite those, it still manages to entertain, to provide a jolly good time and to even impress at times with the graphical effects it pulls off, although the graphical side of things has high and low points, notably in its draw distance at times. It is, however, priced fairly for what it offers and, due to its mobile lineage, it plays best on Switch in handheld mode due to the touch screen aiming for spells and touch menu features, making this effectively potentially the best home conversion, simply because it can be enjoyed on the big screen just as much as on the go, where it truly shines. It is just simply sad that despite being re-released multiple times, a lot of its elements are left as-is when they could have been improved, but there's hope at least that the upcoming sequel, Oceanhorn 2: Knights of the Lost Realm will not repeat any of these. Do not be mistaken, though: Oceanhorn: Monster of Uncharted Seas is still a lot of fun to play.

Oceanhorn is obviously inspired by Zelda, but this studio does not have the skills of Nintendo. Therefor we miss innovative puzzles or mindblowing level design. Oceanhorn is a very relaxed game to enjoy, but it could have been so much more.

The Switch is the best fit for Oceanhorn too. While it has issues, I just know the groundwork has been laid for a killer sequel and I can't wait to see what Oceanhorn's world will look like when we return in the years to come.

The Switch version may very well be the best way to enjoy the game, especially when on the go the game can feel somewhat like a handheld Legend of Zelda, but don't set your hopes too high.

This game seems well made, but the lack of originality, cool gameplay and variety spoil the fun.
I loved to play this Zelda's Clone on my portable Switch. I already play it on my Xbox One, PC and Smartphone, but it is epic on NSwitch

I loved to play this Zelda's Clone on my portable Switch. I already play it on my Xbox One, PC and Smartphone, but it is epic on NSwitch because can bring me "playing a classic Zelda game on a legit Nintendo console". Bring me to the past and the game isn't bad. Stop hate it.

…

Expand

Un buen juego de aventura, acción y puzles, mezcla que recibe de la serie The Legend of Zelda y cuya inspiración sus desarrolladores no

Un buen juego de aventura, acción y puzles, mezcla que recibe de la serie The Legend of Zelda y cuya inspiración sus desarrolladores no intentan negar. Comparado con un juego de la serie Zelda es bastante más fácil y su jugabilidad más simple y tosca en general. Buen apartado sonoro, sobre todo en las melodías que también recuerdan a algunas de Zelda, y unos gráficos que entran bien por los ojos, agradables, pero que no sorprenden a nadie.
Me ha gustado mucho, aunque la historia es un poco floja, pero no es lo que busco en juego, si no que sea divertido, y eso es un rato.
Lo compré rebajado a 7 euros y por ese precio es una maravilla para las, más o menos, 12 horas de diversión que ofrece. Para mí un gran 8,6.
Lo recomiendo si te gusta la serie Zelda y buscas un juego más fácil y ligero.

…

Expand

I don't know why there's so much hate for this little game. It's a fun little adventure game, stealing a lot from Zelda ideas, but of course

I don't know why there's so much hate for this little game. It's a fun little adventure game, stealing a lot from Zelda ideas, but of course no where near as excellent as Zelda. It's fairly easy, which means that it's more accessible for younger folks, and the bosses are unbelievably dorky. The twisty mazes of the worlds are well designed, and the puzzles are relatively easy. But it's a fun dorky little game, so it's all about expectations.

FWIW: I got stuck in a wall a few times, though going back to the title screen will pop you out.

I got really stuck on how to make progress a few times, along the lines of things that you can't usually do, except when you can. I sometimes have a hard time finding bombing sites, which often don't have a visual clue, the way they do in Zelda. And I wish there was a radar that would help you out to find chests or heart pieces. Shooting arrows sucks... the mechanics of that are just off. But whatever.

Good little game.

…

Expand

In conclusion, I think Oceanhorn: Monster of Uncharted Seas is a good Zelda spiritual successor that lacks its own personality and identity.

In conclusion, I think Oceanhorn: Monster of Uncharted Seas is a good Zelda spiritual successor that lacks its own personality and identity. Unfortunately, playing the game through a second time and looking at it critically has lowered my feelings about the game. However, for some people this might be ok. Maybe you played Breath of the Wild and really want a Zelda fix? Then Oceanhorn is perfect for that, but I would personally like to see a less generic story and combat mechanic in Oceanhorn 2. Nevertheless, I think in other respects Oceanhorn punches above its weight, especially in its art and music. This shows that even though a game may be smaller in scope, that important things should not be skipped, proving Oceanhorn's and Cornfox & Bros's quality. I would suggest Oceanhorn to players who liked Blossom Tales: The Sleeping King, as that too is inspired by Zelda (but does a better job of having its own character and identity).

For more indie game reviews on the Nintendo Switch, google Switch Indie Fix.

…

Expand

The game is decent but not worth it's price on the switch. Overall meh game, lacks the " spark " to keep you there.

This game feels mediocre at best, a "meh" zelda game. I think it is hard to like a game like this, and the best I can say as a warning, expect

This game feels mediocre at best, a "meh" zelda game. I think it is hard to like a game like this, and the best I can say as a warning, expect the worst? Although it's still playable with adventure, dungeons, puzzles and bosses. However for some reason the game makes me motion sick, so I am forced to play with a headache and a upset stomach every time I pick it up, not sure if this happens to other people.

…

Expand

If someone offers to pay you to play this game, run as it's still too large of a price tag. When a games PR top bills the music producer,

If someone offers to pay you to play this game, run as it's still too large of a price tag. When a games PR top bills the music producer, you're probably going to be playing a bad game.

Oceanhorn is a Zelda clone in the same way a conjoined twin is a clone: All the DNA is there, but all anyone else can see is an unsightly mess. There's lots of good but absolutely plagiaristic things here; the game not only does nothing original, but it so heavily copies its source that I'm shocked Nintendo's lawyers weren't all over this like an emaciated bull is all over people at a Spanish festival.

You travel the world in a sail boat that, minus the personality giving talking head, could be a twin of the one in Windwaker. The entire world is nothing but islands and a lot of ocean.

You collect quarter pieced heart containers. You use a bow, bombs, and a special set of boots. You get a shield upgrade that reflects beams (sadly way more on that later, the spoiler part). Your sword (eventually) fires beams of energy when at full health.

So why is Oceanhorn so bad for me if it so closely rips off an extremely fun game? Implementation and abysmal controls/design. Whoever programmed this must be a team of savants who are good at art and exactly nothing else (the game *is* beautiful). Your character runs and moves as if his feet are encased in hardening cement at all times. It says something when someone can swing a large, heavy sword three times faster than he can move his legs encumbered only by the cheap cloth he begins the game in. You'd be forgiven for thinking your game is suffering a glitch and is moving in slow-mo based on how he runs, if it weren't for the enemies moving at normal speeds suggesting otherwise.

The largest proof of design flaw is in the beam reflection of your mirror shield. They call it something else, but it's a mirror shield.
Spoilers here. You use your beam reflection on the final boss. Sometimes the beam would go directly through me, despite having my shield up. The beam would reflect then cut out, almost as if I wasn't reflecting anything else but my hopes to be playing a better game. For the record, you have to reflect the beam at both legs of the boss, then run over to said legs in the *very* short time the enemy is down and destroy power cells on its body. Combine the short time thing with the slow run, crappy reflect mechanics, and you have lazy difficulty: where programmers reclassify their own shortcomings as difficulty. There were a few bosses and set pieces like this. I never felt a sense of accomplishment when I finally passed these things; I felt exactly the way a sane human being should feel after tirelessly fixing someone else's problem that they willingly made.

In short, skip this even during one of its many sales. There are SO many good Zelda clones out there; it would be a travesty to throw your money at this aborted dumpster fire instead those titles.

…

Expand