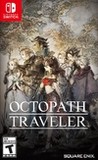 Summary:

Embark on a vast new role-playing adventure as one of eight travelers, all with their own origins, paths, and goals. The producers of the Bravely series at Square Enix have brought a new world to life through a mix of CG, pixel art, and "HD-2D" visuals. Embark on a vast new role-playing

Embark on a vast new role-playing adventure as one of eight travelers, all with their own origins, paths, and goals. The producers of the Bravely series at Square Enix have brought a new world to life through a mix of CG, pixel art, and "HD-2D" visuals. Embark on a vast new role-playing adventure as one of eight travelers, all with their own origins, paths, and goals. Where to begin? Who to team up with? Where to go next? Only you can decide. Each traveler can use a distinct Path Action, a specialized way of achieving objectives and interacting with people you encounter. The warrior can "challenge" people to a duel, whereas the dancer can "allure" others to follow her, even into battle! Enjoy the freedom to choose your own path while experiencing the story through the role you play. Combat revolves around the Boost system, a fusion of traditional turn-based battling and modern enhancements. Each turn, build up BP that can be spent to dramatically increase your strength or provide aid. Identifying when to Boost may just be the key to victory.

* A new RPG adventure from the minds at Square Enix who brought you the Bravely series
* Choose from eight distinct characters, each with their own path, and see where the story takes you
* Music and visuals inspired by RPGs of yore, brought to life with modern touches
Deep, strategic turn-based combat with an innovative battle system
* Enjoy the free demo in Nintendo eShop and help make this an RPG for the ages by sharing your feedback with Square Enix

…

Expand
Developer:

Square Enix, Acquire

Genre(s):

General

,

Role-Playing

,

Japanese-Style

# of players:

No Online Multiplayer

Cheats:

On GameFAQs

Available On:

Stadia

Rating:

T
Please enter your birth date to watch this video:
You are not allowed to view this material at this time.
8 Minutes Of Octopath Traveler Gameplay
Octopath Traveler is a beautiful game that somehow never gets tired. It has a labyrinthine plot that bravely attempts to give eight characters the same scope and development as eight sole protagonists would get in lesser games. It's also a game that bravely makes the story all about those characters, with the world, harsh as it can be, almost secondary to the insular unit and their individual arcs. That sheer ambition is all the more impressive because Octopath Traveller uses sprites. Little 2D characters made up of even littler squares. People need to play this game if only to realise that not everything spectacular needs to be photo-real.

Octopath Traveler is an extremely satisfying storytelling experience vastly different from other traditional JRPGs out there. The eight stories followed over the course of the game are all compelling in different ways, and each is engrossing in different ways. The combat is simple, yet nuanced, and building party compositions never stops being a fun exercise as the adventure presents each new challenge. The pacing does have some small missteps here and there, especially as the world opens up between each major act, but it's a tiny hurdle in an otherwise magnificent experience.

While not the perfect JRPG, Octopath Traveler has too many merits and good qualities that it's impossible for me to not recommend it.

Octopath Traveler manages to remain faithful to the glorious past of the JRPG genre without feeling outdated.

Octopath Traveler is a grower, and one which takes a good while to reach full swing. The reward for the perseverance is a beautiful world and enough story to shake a stick at, but not a wonderfully satisfying conclusion.

Octopath Traveler is not a perfect title, the fragmented narrative and certain predictable mechanisms in the progression system could make many people turn up their noses. Nevertheless it remains a unique RPG, able to combine the nostalgic charm of the classics with a modern and captivating writing.

For a game whose title seems to promise a winding journey of deep and dangerous discoveries, Octopath Traveler goes out of its way to put you on the most predictable and comforting of paths.
If you are a fan of classic turn based JRPGs like older Final Fantasy titles I can only recommend this game to you.

The graphics areIf you are a fan of classic turn based JRPGs like older Final Fantasy titles I can only recommend this game to you.

The graphics are charming, the combat is fun and has a lot of depth to it, some characters have a more interesting story than others but all are well done and the music is GREAT. The soundtrack of this game is one of the best in gaming in my opinion. This is of course subjective but the music in this game is really beautiful.

TL;DR:

If you are a fan of JRPGS, turn based combat, great music get this game.
If you are not a fan of turn based combat and classic JRPGS like older Final Fantasy titles you likely wont get much out of this game.

If you are uncertain, don't forget that there is a downloadable demo in the eShop which you can play quite a bit.

…

Expand

Played a fair amount of the game as of now. The character designs, stories, and graphics are what make Octopath Traveler the unique game that

Played a fair amount of the game as of now. The character designs, stories, and graphics are what make Octopath Traveler the unique game that it is. I have yet to complete the entire game but I am excited to dive further into the game and learn more about the different paths you take within the game. A must have for any JRPG fan and I highly recommend giving this game a try (Try the demo) even if you haven't played/like JRPGs. I'm sure it'll change your mind. A great quality game from a great quality company. Hope to see more gems like this in the future.

…

Expand

Octopath Traveler is a reminder of what was an RPG back in the 90's. It's true to what it offers which is hours of going back and forth from

Octopath Traveler is a reminder of what was an RPG back in the 90's. It's true to what it offers which is hours of going back and forth from one place to the other. The soundtrack from this game is simply phenomenal, even though some of them repeat in certain maps. Most of the character's stories are quite predictable expect from one or two. I've spent around 90 hours playing it and I haven't finished it due to my desire to play without any guides. I still have some side quests to finish.

…

Expand

Ich bewundere die Präsentation hier absolut, die Grafik und die Musik, es ist auch einzigartig, 8 völlig unterschiedliche Geschichten zu

Ich bewundere die Präsentation hier absolut, die Grafik und die Musik, es ist auch einzigartig, 8 völlig unterschiedliche Geschichten zu verfolgen, und aufgrund dieser Tatsache kann jede Geschichte kurz und sehr schnell sein, während es immer noch ein 100-stündiges Rollenspiel ist. Das Erreichen des letzten geheimen Bosses ist jedoch bizarr. Sie müssen 2 völlig zufällige Nebenquests erledigen und dann auf einen Feind treffen, der viel hirnloses Schleifen erfordert, um ihn zu besiegen. Dies ist auch ziemlich genau das, womit die Geschichten zusammenhängen

…

Expand

说实话这个游戏有点让我失望,因为游戏的核心内容是分裂的。8个角色之间没有任何关系,相当于是8个小型rpg拼凑到了一起。进行一个人的剧情的时候其他人就等同于工具人,剧情上没有任何互动。而且每个人的剧情都比较单薄,简单。

说实话这个游戏有点让我失望,因为游戏的核心内容是分裂的。8个角色之间没有任何关系,相当于是8个小型rpg拼凑到了一起。进行一个人的剧情的时候其他人就等同于工具人,剧情上没有任何互动。而且每个人的剧情都比较单薄,简单。
断断续续打了45小时,中间还是穿插着其他游戏打。剧情现在过半了,感觉游戏的玩法很单一,跑图,找NPC,找boss,在找boss的过程中升级。比较容易腻,目前没有动力玩下去。
喜欢的几个点是,能用不同的技能"调戏"所有可以对话的NPC,以及每个NPC都有各自的身份和背景可以被玩家查看。画风我很喜欢的,故意做成了像素风,但又非常精致。而且游戏的配乐是亮点,原声CD碟已入手,这是唯一支撑我打完这个游戏的动力(以后再也不要在游戏通关前买原声CD了)。
游戏的战斗系统好评,跟以往的回合制轮流放技能不同,加入了"弱点击破"的效果,给战斗增加了更多的可变性,让队友的选择更重要。但是这样就不能自动战斗,boss战前的刷级尤其无聊,很需要自动战斗,减少跑图的时间。战斗可以改进成,如果本轮遇到的敌人所有的弱点都已经被玩家发现,则该轮战斗可以自动战斗。
通关更新:85小时。断断续续9个月,这个游戏真的不能算好玩。还想吐槽支线任务,提示过于少了,有一些任务完全摸不着头脑。很多任务都是莫名其妙得到了消息,但完全不知道是哪一个任务需要,点了NPC对话才发现已经得到了任务完成所需要的内容。

…

Expand

On paper, this game should be a strong 8 to low 9. Only rating this as 0 b/c no way it deserves an 8.5 user score. One of, if not the best OST

On paper, this game should be a strong 8 to low 9. Only rating this as 0 b/c no way it deserves an 8.5 user score. One of, if not the best OST I've heard in video games in general. The graphics are trendsetting while still paying homage to the old JRPG ways. Despite this, so much is done wrong. Key things. I don't play a JRPG for a linear and story I'm thrown into. I wouldn't pick up a traveller to see a new story. This game needs a remastered + remaked ASAP. Full voice-acting, more in game artwork (if the game was themed around those fantastic drawings, imagine how much better this game would be), portrait models and a more thought out and interesting stories. Also it's extremely confusing on what to do - I feel like the game has no main quests/story. Why am I picking up other travellers and seeing their prologue too when I can just do that picking them at the start? If I was picking them up, why can't there be any unique relations/dialogue things. Many QOL improvements needed as well - random combat events are annoying af and makes me want to stop playing - I think cut it out entirely or maybe in game monster sprites - boost the exp rate/hp which would make the long waiting in combat more bearable.

…

Expand