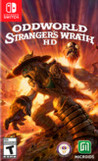 Summary:

Stranger vs. OutlawsStranger's Wrath follows the story of Stranger, a fearsome bounty hunter that captures outlaws to raise "moolah" for a mysterious surgical procedure. After encountering the backwater town of the Grubbs, Stranger discovers that there are a few too many secrets

Stranger vs. OutlawsStranger's Wrath follows the story of Stranger, a fearsome bounty hunter that captures outlaws to raise "moolah" for a mysterious surgical procedure. After encountering the backwater town of the Grubbs, Stranger discovers that there are a few too many secrets about the past and his future as a bounty hunter.

…

Expand
Developer:

Just Add Water, Square One Games

Genre(s):

Action Adventure

,

General

# of players:

No Online Multiplayer

Cheats:

On GameFAQs

Rating:

T
Please enter your birth date to watch this video:
You are not allowed to view this material at this time.
Oddworld Stranger's Wrath Gameplay Movie 12
The Switch release of Oddworld: Stranger's Wrath has proven that this game is truly timeless. There is no doubt in my mind that it is cool to be odd.

Ultimately, this Switch port of Oddworld: Stranger's Wrath is seriously worth considering if you've never played the game before. Oddworld: Stranger's Wrath HD remains original, engaging, fun, and humorous. It feels nearly as fresh now as it did 15 years ago – though I'm not sure if that's a compliment to the game or an indictment of the games industry. Either way, Oddworld: Stranger's Wrath HD deserves to be loved, so give it a go. The Switch is as good a format as any to play it on. In fact, it might even be the best. Only its inflated price should make you think twice.

Strangers Wrath still is a crazy-good action-adventure with a quirky main character. Some details like the odd controls didn't age that well, though.

Stranger's Wrath HD, remastered and enhanced for the Switch, does some things better that its previous iterations, but fails in other aspects. Totally recommended to Switch owners who have never experienced the game before, and to long-time fans as well, but until the next Oddworld adventure arrives, it might be best to search for the game somewhere else.

Stranger's Wrath's HD port feels a little dated despite the performance improvements, but it's still a blast to play. The charming characters, impressive worldbuilding and unique gameplay design pull through to offer up perhaps the best version of this Oddworld entry.

We are getting a 'great game' in its time, an advance to its time, and you have to play it to know what we mean. Although the graphics aspect is simple and its mechanics have aged, it is still enjoyable on Switch.

After so many years of anticipation, I was ready to love Stranger's Wrath. The world Oddworld Inhabitants created here is worthy of that love but the actual game set in it is a throwback in all the wrong ways. While I wish there were more to it, there's just not much of interest here. With so many great games from the past getting a second chance on the Switch, there's no real need to meet this stranger.
Probably one of the best games ever, I used to play it with my dad and the nostalgia was amazing.

This review contains spoilers

, click expand to view

. Strangers Wrath is a special kind of Adventure game (it's not necessarily a FPS/TPS) that doesn't provide a wide range of gameplay, but the gameplay it does provide is very unique. It's a mostly linear experience in that older style vein we used to see, but there's nothing wrong with that. It runs great on Switch, frame rate is consistent and comes with the HD retextures they made a while back, graphically the game looks like a launch title from the Xbox 360 generation. Some textures are better than others, some are very much Xbox generation quality. The cutscenes still hold up, Oddworld Inhabitants have always been terrific there.

The controls are smooth and the transition between first and third person feels very fluid, it feels like it was designed like this from the start

Audio is what you would expect in terms of a western, it's stereotypical at times and solid jams at others, getting more epic in scale towards the end of the game. Voice acting isn't the greatest but it's silly and goofy in the typical Oddworld style

Light spoiler: The beginning/middle of the game is nothing like the end of the game. Not many games do this but SW pulls it off. You'll see if you play the game. TL;DR it has its quirks and it's somewhat dated but gameplay is solid and it's a great experience. Worth a buy

…

Expand

Gave this 1 star after fighting the double gloktigis but decided most of the game is too good to do that. Figured out that if you switch back

Gave this 1 star after fighting the double gloktigis but decided most of the game is too good to do that. Figured out that if you switch back to first person after getting out of the web you can still fire your gun when the spin attack is happening. A thudbuster/bees combo did well for me once I figured out that you needed to switch back to first person at the right time because you get continuously owned by the spin/recovery timing in 3rd person. That interaction is broken and the fight is terribly designed but doable.

The game is really good on every level until the end. I disliked the boat, the timed run, the gloktigis, the end boss, and the ending itself. The end boss is so boring in comparison to every other boss fight in the game, just awful. He's just done after destroying those two side electricity things? I was all ready to have a dope fight with him and then it's right to a cut scene where he gets away. Who wrote that garbage? Ridiculous. It's a bummer to have a great game end so badly on gameplay and story to setup some sequel that never came. Stranger should have ripped that squid off his head after I busted his ass for a while and discovered it was a fellow steef in that moment and made the squid go squish with a dope roar of victory. Bring in another enemy for a sequel. Killing off Septo allows you to design an entirely new dope enemy. So much of this game is truly excellent and worth experiencing. I have only small complaints for the game up until the end stuff, where it's like a 3/10 where most of the game is like a 8-9/10 for me. I love the voice acting, character/world design, most of the story, the gameplay until the end, the variety/creativity of live ammo, literally everything except most of the end stuff.

…

Expand

OddWorld games are known to being unique, this game is no exception. However, the game combat and bounty system can be frustrating. When the

OddWorld games are known to being unique, this game is no exception. However, the game combat and bounty system can be frustrating. When the game puts you against 5 enemies, It is really fun and creative! However, when put against 10 enemies it annoying. The problem is that the game encourages you to capture enemies. The ammo you fire is designed to knock out enemies. However, capturing the enemies after a KO often puts you in harms way and gets you killed if your not careful. The core mechanics just don't mesh will together like some of the other OddWorld games. For maximum enjoyment, save often as the game might put you in a near impossible moment if you don't bring enough ammo. Also just play on easy, it minimizes a lot of the problems in the game.
I would recommend watch a YouTube video on this game to see if something you really want!

…

Expand