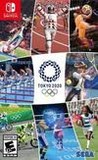 Summary:

The Olympic Games are back, and this time it's your chance for glory. Whether you play with friends, family, or go for gold on the global leaderboards, this is a party game that anyone can pick up and enjoy. Prepare to unleash the competitor within as you create your athlete, customize their

The Olympic Games are back, and this time it's your chance for glory. Whether you play with friends, family, or go for gold on the global leaderboards, this is a party game that anyone can pick up and enjoy. Prepare to unleash the competitor within as you create your athlete, customize their skills and pick the perfect costume. Why settle for standard sportswear when you can take centre stage as a pirate, astronaut or cowboy? Choose between 18 fun-fueled sporting events—from Tennis and Football to the 100m, Basketball and Boxing—there's always a record to beat and a score to settle.

…

Expand
Developer:

Sega

Genre(s):

Sports

,

Individual

,

Athletics

# of players:

Up to 8

Cheats:

On GameFAQs

Available On:

Stadia

Rating:

E10+
A game whose only real sin is having been beaten to the punch by Mario and Sonic. Each event plays well and is backed up with solid presentation, tight controls and AI that offers a proper challenge when against you, while having your back when on your team. Add to that a soundtrack that feels properly encouraging and some solid reasons to keep trudging at the elusive medals and you have a solid title that clearly wasn't rushed by any stretch. That said, if you prefer your sports to be on the realistic side, or you want things even wackier with a touch of spiky hedgehog, this probably isn't the game for you. For everyone else – go for gold.

Overall, however, the roster of events is good and varied, and there are more to come.

Olympic Games Tokyo 2020 - The Official Video Game is a really complete title. Best of all, the devs have managed to recreate the surroundings of Tokyo to offer an accessible experience. It also offers good gameplay, great multiplayer modes and an excellent character editor.

Olympic Games Tokyo 2020 – The Official Video Game is an accessible and fun party game worth getting to play with friends and family, but it is let down by some mediocre sporting events.

Olympic Games Tokyo 2020 goes for a family-friendly approach that works, but can't compete with the fun of the Mario & Sonic titles.

With its arcade orientation, its cartoonish aspect and most of the 18 events that hold up, the Tokyo 2020 Olympic Games - The Official Game does its job quite well, although we would probably have preferred a game more in the vein of London 2012 to name but one. However, it remains a fun game to play with family and locally, the multiplayer being deserted. The game alone will not hold you back for long once all the events have been played two or three times.

Olympic Games Tokyo 2020 is best played with friends and family. It falls in the same category as Wii Sports, creating mini-games that do a good job of getting players in the action instead of simulating every single rule.
This is a fantastic game. Unlike last years Mario & Sonic you can play a medley of events back to back. You van play single events, a series

This is a fantastic game. Unlike last years Mario & Sonic you can play a medley of events back to back. You van play single events, a series of preselected events or customize your own list of events. You van play online and offline, set new records, customize your avatar. You van play with two players on one switch. It also supports local wireless, but i have not tested this.
Therese 18 sports toplay. Most are a lot of fun.

…

Expand

Overall Score: 7.5. Overall, while it has some issues, this is a very good, fun game that I could recommend to sports fans and for those who

Overall Score: 7.5. Overall, while it has some issues, this is a very good, fun game that I could recommend to sports fans and for those who want to enjoy playing the Olympic Games. A nice job by SEGA with this game.

…

Expand

Thus, "Tokyo 2020 Olympic Games - The Official Video Game™" did not manage to become a good game. Although there are many sports and

Thus, "Tokyo 2020 Olympic Games - The Official Video Game™" did not manage to become a good game. Although there are many sports and possibilities, there is little long-term motivation due to the lack of a career mode. An incredible amount of potential was wasted here. In addition, the controls are both good and bad. The graphical performance is also rather manageable than modern. We can't give a clear purchase recommendation and advise you to think twice before buying.

…

Expand

Where are the online players? No one is ever playing this game, so I can't comment on the online play. Local is decent, track and field

Where are the online players? No one is ever playing this game, so I can't comment on the online play. Local is decent, track and field events are excellent. But the fact that you have to back out of the event and then reload to retry is very annoying. SEGA should just remake Decathete.

…

Expand

Juego de mierda, primero era entretenido, pero hay algunos deportes que es RIDICULO la diferencia de dificultad que hay con la IA, haciendo

Juego de mierda, primero era entretenido, pero hay algunos deportes que es RIDICULO la diferencia de dificultad que hay con la IA, haciendo prácticamente imposible ganar en las finales. MALISIMO, igual las graficas del Mario Olympics ceros esfuerzo. XD

…

Expand