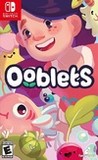 Summary:

Ooblets is a farming, creature collection, and town life game where you build up your farm, befriend townsfolk, grow ooblets, and have dance-offs.
Developer:

Glumberland

Genre(s):

Role-Playing

,

Trainer

# of players:

No Online Multiplayer

Cheats:

On GameFAQs

Rating:

E
It's clear there's a devoted team that set out knowing the cozy little game it wanted to make, and what they've created is a pleasure to play. So get out there and become a farming mogul or a titan of commerce or revel in the strategy of dancing — if you like nice things, then you're sure to enjoy Ooblets.

Ooblets is a delightful and silly farming game with plenty to keep you busy, but the Switch performance might some off.

In its current state, Ooblets is an easy recommendation at its discounted launch price if you enjoy life and farming simulation games despite the performance issues. While it isn't perfect even when played on Xbox Series X going by the bit I played there to compare, Ooblets does a great job of blending creature collecting and life simulation elements together with a ton of its own charm. I hope potential future updates can address the performance issues on Switch because Ooblets feels like a fantastic fit for the Switch's library, and I look forward to seeing how it evolves over time.

A functional combination of Stardew Valley, Animal Crossing and Pokémon that becomes addictive thank to its tone and aesthetic.

Ooblets is a title for all lovers of farm management games or simply for those who enjoy games with kawaii aesthetics. Despite its long loading times and somewhat simple battles, we found it a very cute and relaxing experience.

Ooblets is a peculiarly enjoyable jack-of-all-trades adventure that stumbles near the finish line. The slice-of-life farming sim and town interaction are more developed than the card battling, and the leveling system feels unfinished. That said, the game may expand with additional content or balance patches as the developer continues to update it. Priced at half the cost of a typical full-fledged game, Ooblets is still worth playing for a few hours or so every once in a while, but there are better farming sims, monster battlers, and card-based games out there.

I desperately wanted to like Ooblets. On the surface, it feels like a game that should be right up my alley. Unfortunately, the things that felt therapeutic and rewarding in games like Stardew Valley or Story of Seasons just felt like chores during my time in Badgetown. Despite having the usual farming game loop that was able to suck me in easily, I felt less and less like I was having any fun as time went on. While there is funny writing and cute little collectable creatures to be found in Ooblets, it just wasn't enough to leave me with a satisfied feeling by the end of my time with it. It's a shame because there's obviously a lot of heart put into this game, but heart alone cannot sustain a game like this for an extended period of time.
I don't usually rate games at all. But this one I felt I had to go out of my way to do so. Given the fact it did not have a proper review. I

I don't usually rate games at all. But this one I felt I had to go out of my way to do so. Given the fact it did not have a proper review. I have had a rough couple of weeks. I'm saying this not to share my life, but to express how thankful I am to this game. I have been able to relax and smile while playing because of the charming atmosphere and adorable creatures. Every little bit of the game has been crafted with such care. The dance battles are unique and fun although I feel that there should be more. But in fairness I am only about 5 hours in. The jokes in the game are adorable as well. The farming aspect is what you would expect, but it does come with some unique opportunities for your Ooblets! With each feature I unlock or quest I complete I feel like there are about 4 more things that are opened up to me! I usually am indecisive and have a hard time actually going from debating about purchasing a game to actually doing it. This time I am so glad I took the leap. I absolutely love the game and would recommend it to abyone.

…

Expand

Absolutely full to the brim of charm & impossible not to like! My GOTY hands down, it's just happiness in a game.

Ever since purchasing this game I cannot seem to put it down it is a very calming and relaxing life simulator. It reminds me of a mashup

Ever since purchasing this game I cannot seem to put it down it is a very calming and relaxing life simulator. It reminds me of a mashup between Stardew Valley and Pokémon with dancing. It's just cute adorable and Kawaii!

…

Expand

Absolutely love it, so relaxing, gameplay loop is simple for pick up and play after a tough day at work. I would have gave 10 but the prices

Absolutely love it, so relaxing, gameplay loop is simple for pick up and play after a tough day at work. I would have gave 10 but the prices of items are very high.

…

Expand

Fun, distracting game, one that you can pick up whenever you need to distract yourself from your day. ~Also the artstyle is so well done and

Fun, distracting game, one that you can pick up whenever you need to distract yourself from your day. ~Also the artstyle is so well done and hits that aesthetic I was looking for. But, like others have said, it can get bumpy on the Switch with some FPS drops, but hopefully it gets better along the way. Love my Switch and want to use it more, so here's this game to do so ٩(⊙‿⊙)۶

…

Expand

Nice game fun to play and large enough the play for a long time. It's not the best in this genre but with some patches it will be a great game

Nice game fun to play and large enough the play for a long time. It's not the best in this genre but with some patches it will be a great game to play. Love the art style and the ooblets are cute. Gameplay is simple but good and you can do a lots of things in the game.

…

Expand

Terrible performance in Switch, and the game is "meh" at best times. There's really no excuse for a game this basic in the graphic department

Terrible performance in Switch, and the game is "meh" at best times. There's really no excuse for a game this basic in the graphic department to have so many FPS drops.

…

Expand