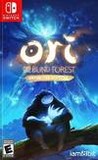 Summary:

Ori and the Blind Forest: Definitive Edition delivers a multitude of new areas, difficulty options, and gameplay upgrades that should appeal to both new and seasoned Ori players.
Developer:

Moon Studios

Genre(s):

Action

,

Platformer

,

2D

, ,

Metroidvania

# of players:

No Online Multiplayer

Cheats:

On GameFAQs

Rating:

E
Please enter your birth date to watch this video:
You are not allowed to view this material at this time.
Ori And The Blind Forest Running On Nintendo Switch | PAX West 2019
Nintendo Force Magazine

Apr 29, 2020

Even though I'd already replayed Ori for the fifth time last year, when I heard it was coming to Switch, I wanted to run through it all over again without question! [Issue #43 – November/December 2019, p. 21SW]

Ori and the Blind Forest was already a fantastic game, but the Definitive Edition smooths out the edges and adds in extra content that slots in comfortably and adds to both the story and the gameplay. It looks brilliant, it sounds amazing, and it plays smoothly and satisfyingly. Be sure to pick this up if you're a fan of the Metroidvania genre and fancy a challenge in an incredibly appealing package.

Four years after its original release, Ori and the Blind Forest is still the same gem, but this time on Nintendo Switch. It has great controls and music, and it's still one of the most beautiful games of this generation.

The end result is a game that is phenomenal in its presentation and very decent in gameplay. Ori and the Blind Forest: Definitive Edition doesn't necessarily set a new standard or innovate within the Metroidvania genre, but it does create an experience that is elevated by its otherwise stellar production values. Ultimately, it's up to personal preference, but you should give the game a chance; you'd likely regret it otherwise.

Sometimes there are games that go beyond a simple experience, games that conquer our hearts forever and Ori and the Blind Forest: Definitive Edition is one of them. It is simply masterful, with a beautiful artistic style, extraordinary gameplay and many challenges. Another essential game on Nintendo Switch.

Ori on Switch still is a brilliant exploration platformer with constant challenges and an incredible soundtrack that it was for its premiere a few years. Visually it might not be as shiny as the original but Ori makes up for that with improved balance finetuning, among other things.

Gorgeous visuals and some sublime visual storytelling, Ori And The Blind Forest might not do much that is genuinely new but almost everything it does attempt is genuinely great.
The only game that made me cry. Twice. First because I was sad and then because it ran so smooth on my switch

Absolutely amazing, probably the most beautiful 2D game I've ever played. Loved everything about it. Can't remember the last time a game made

Absolutely amazing, probably the most beautiful 2D game I've ever played. Loved everything about it. Can't remember the last time a game made me feel so many different emotions in such a short period of time. Everyone who owns a switch should buy this, worth every cent.

…

Expand

I can't explain how much I enjoyed this game from start to finish. The immersive music, the magical graphic, the challenging yet rewarding

I can't explain how much I enjoyed this game from start to finish. The immersive music, the magical graphic, the challenging yet rewarding platforming. I thought it would be too difficult and I will get frustrated, but even I, with a considerable amount of deaths, I managed to complete it on Normal difficulty. Don't let anything stop you and go play this gem.

…

Expand

I played this after having completed the sequel which was my favourite all time game.

The emphasis is far more on platforming than combat.I played this after having completed the sequel which was my favourite all time game.

The emphasis is far more on platforming than combat. The platforming is harder than in Will of the Wisps, especially the chase sequences.

I probably would have enjoyed it more if I had played it before the sequel and in its own right its a very good game. Its just I had been spoilt with Hollow Knight and Will of the Wisps before I played this.

Still one of the best metroidvanias ever. Just play them in order if you can and you will appreciate it far more.

…

Expand

Ori and the blind Forest: Definitive Edition is a wonderful game to come to the Switch and a wonderful port. It runs so smoothly and the story

Ori and the blind Forest: Definitive Edition is a wonderful game to come to the Switch and a wonderful port. It runs so smoothly and the story is very captivating. I think I cried 2 times, because of the emotional depth this story provides. You can also feel the hand-drawn art in this game and see the details in the background. Also to see an Xbox exclusive come to the Switch is just surreal. I loved it.

…

Expand

This game is beautiful. I was so happy to see this game come to Switch. Since i wouldn't have had a chance to play it otherwise. The

This game is beautiful. I was so happy to see this game come to Switch. Since i wouldn't have had a chance to play it otherwise. The movement and and combat is fluid and responsive, just satisfying. The music the environments and animations are all top quality. There were a lot of creative puzzles to get through in the environments. There were some sequences that i kept dying, but they were so fun and challenging, that i didn't mind having to do them over and over.

I want to give it a 10, but for 1 single design choice. I am deducting 1. The escape scenes. These awful bits were just straight up un-fun. i get it they were supposed to be frantic, indiana jones under then shutting stone door type moments. but they were punishing and frustrating and i just wanted to get through them. and even when i made it through, i felt no sense of accomplishment, just relief.

…

Expand