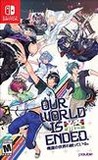 Summary:

A world between reality and fiction

Explore a faithful recreation of Asakusa, one of Tokyo's most iconic districts as elements from the game worlds will slowly manifest themselves and threaten to destroy the entire district itself.. Splendid Artwork and Outstanding Visuals EnjoyA world between reality and fiction

Explore a faithful recreation of Asakusa, one of Tokyo's most iconic districts as elements from the game worlds will slowly manifest themselves and threaten to destroy the entire district itself..

Splendid Artwork and Outstanding Visuals

Enjoy stunning visuals and gorgeous CGs drawn in a distinctive and vibrant art style. The detailed environments bring Asakusa to life with a unique atmosphere.

The interactive Selection Of Soul system

When the main character, Reiji gets flustered, the S.O.S (Selection Of Soul) system will be triggered. His emotions will flow onto the screen before vanishing. Quickly react to these options and see how your choices will affect the dialogues.


…

Expand
Developer:

RED Entertainment

Genre(s):

Adventure

,

General

,

Visual Novel

# of players:

No Online Multiplayer

Cheats:

On GameFAQs

Rating:

M
A top-notch visual novel, both visually and novel-vise. A great and funny story, lots of choices that won't ruin the final outcome and a great visual style are just a few of many reasons any fan of the genre should pick this title up. If not a fan of visual novels, still give this one a go. You might just get to look for more...

Our World Is Ended is a somewhat irregular visual novel, since it has very charismatic characters and a somewhat diffuse plot due to its fanservice. Even so, thanks to its great Japanese dubbing and its good visual section, is a title that fans of the genre will enjoy a lot.

Our World is Ended could be a brilliant, interesting sci-fi visual novel, but it's too busy telling crass jokes and harassing women to care.

A half-baked story, which lacks rhythm, and too much fanservice keep Our World is ended from the elite of the best visual novels available in the west. Still, a somewhat different choice for the hardcore fans.

What really lets Our World Is Ended down is its lack of narrative focus. On the one hand you'd got a compelling discussion about fluid reality - something that, much like AI and robotics, is quickly falling out of the area of "science fiction" and into "we actually need to talk about this, because it's happening" territory. On the other hand, you've got a lot of stories about a bunch of generally unlikable characters and their obsession with breasts. With the way Our World Is Ended is designed, these don't mix anywhere near as well as they needed to to take this to the upper echelons of the genre.

Our World Is Ended. has interesting points in its favour, like its good looking visuals, vocalizations and a well implemented interface but these positive elements end up taking a second place to its rather weak characters, countless plot clichés and overall erratic advances in the game, not to mention its repetitive humour.

As it stands now, it's impossible for me to recommend Our World Is Ended. The older version of the game we're getting is missing a lot of quality of life improvements. Little things in the text set off my editor senses. The plot quickly derails and is so overbearing with the focus on fanservice that I wanted to scream. Maybe PQube should try again with the Judgment 7 version next year, but I'm not holding my breath for it.
I Loved this game the art style is fun the expressions are great! There is a lot of pervy humor through out mainly by one character, but it is

I Loved this game the art style is fun the expressions are great! There is a lot of pervy humor through out mainly by one character, but it is tasteful and enjoyable. each character has a quirky personality that is different from one another and each have specific likes and dislikes that make the story elaborate! Would play again and would recommend for any mature visual/light novel lover.

…

Expand

I love the game and how you interact with it this is the best game ever I've spent hours on it and I've loved it from the start the art and

I love the game and how you interact with it this is the best game ever I've spent hours on it and I've loved it from the start the art and characters make me feel like there real. I'd give this game the best rating ever plus one. Only thing I ask for is for y'all to make an anime out of it.

…

Expand

The game has its flaws, but I think it deserves much more attention, thus the 9.
It's impossible to finish the game and do not feel sad toThe game has its flaws, but I think it deserves much more attention, thus the 9.
It's impossible to finish the game and do not feel sad to say goodbye to such a cast. Also it makes you feel sympathy towards all these little studios that don't make it to the top and their games are berated online (like this one).

I liked the pranks and the sense of humor. The OST and art are really good too.

…

Expand

So you can pretty much ignore all the reviews from the "woke" gaming Websites, which seem shocked that there is any fanservice in a Visual

So you can pretty much ignore all the reviews from the "woke" gaming Websites, which seem shocked that there is any fanservice in a Visual Novel. In fact, there isn't much fan service in this Visual Novel compared to many of the highly rated ones on PC, and a lot of it is "romance" service which is more cute than sexy. Put it this way, if you are used to games like Catherine, you'll probably find the fanservice in this one fairly tame.

But with a lot of trashy, worthless gamejourno (urgh) sites deciding to trash this, I thought I'd give this an honest review.

Judgement 7: Our World is Ended is about a group of Japanese game developers who uncover a science fiction type plot. There are actually a lot of science fiction ideas explored in this game, such as advanced "deep dive" virtual reality, artificial intelligence and various forms of mind manipulation using advanced technology. Aside from the romantic scenes (which in my playthrough focused mostly on Natsumi, the Judgement 7 teams gothic game art director), mostly the plot is about each character confronting his or her flaws and overcoming them.

This has multiple ending routes, which the main character has to choose through either quick text events or standard choices. These will be things like "who do I spend time with during the company trip" or "what do I say to cheer this character up." Making these choices will send you to one of the endings, and there are a few different ones. (In fact, I eventually found these "reviews" when I was searching for a guide.)

The reviews I've read on this site by "gamejournos" (blergh!) are lying about the female characters being treated badly. The main character starts out as fairly timid and as he gets closer to the girls he will start opening up to them, but he's basically kind to them. There are also some pretty nasty smears about this game from a website that rhymes with Otaku, but the less said about those lies, the better.

I had a fairly easy time getting a good (if somewhat unsatisfying from a romantic angle) ending, but there are a lot more endings to find. Since I couldn't find a guide, it will probably require trial and error, for us completionists I guess we'll just need to do our best!

For negatives, I'll say I found some of the translation choices annoying, but it wasn't enough to knock points off of the review.

Anyway if you like Visual Novels, or games like Persona, you might give this one a try, I bought it day one at full price, but if you plan to get a digital edition, you might want to wait for a sale. (If you want a physical edition, well, I probably wouldn't wait.)

Oh, a certain Website that rhymes with Otaku is demanding it be removed from online stores, so let us hope nobody takes those vermin seriously, eh?

…

Expand

I've played numerous visual novels before, from Steins;Gate to the Fruit of Grisaia, and both of which have their own respective "quirks".

I've played numerous visual novels before, from Steins;Gate to the Fruit of Grisaia, and both of which have their own respective "quirks". Though raunchy at times, Our World Is Ended is a solid example of a visual novel, adapting rom-com scenarios one might find in a typical harem anime. Though the control scheme is abysmal (Who thought putting the B button as the confirm button? utter insanity), it's an interesting read for weaboos alike who aren't afraid of a little bit of perversion.

…

Expand

Light-hearted but solid visual novel with bunch of weirdos characters, slowly developed sci-fi story and lot of fanservice. Not for everyone

Light-hearted but solid visual novel with bunch of weirdos characters, slowly developed sci-fi story and lot of fanservice. Not for everyone because of its sometimes bizzare, infantile and repetitive erotic humour (usually about "mammary weapons" :-) ) but definitively not so vulgar you could expect from its reputation. My biggest complaint is definitively hellish control scheme, which is uinintuitive and can be reconfigured only partially (why???).

…

Expand

While this game is full of tropes ("Mammary weapons" and "rods") it is still a fun game to play.
Owie gives you 17 chapters and with thatWhile this game is full of tropes ("Mammary weapons" and "rods") it is still a fun game to play.
Owie gives you 17 chapters and with that plenty of hours of entertainment.

The art style is fresh and colorful and the voice acting is great (Japanese audio only mind you)
The quality of the subtitles is not great, with words missing from time to time. However, the impact on the general story is minimal.

I recommend this game for the switch, especially if you can get it during a sale. Nice light novel game for when you need a break from the larger RPG 's , etc

…

Expand