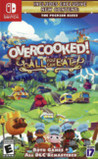 Summary:

Overcooked!, Overcooked! 2 and all additional content are blended together and remastered in this delicious definitive edition! Enjoy hundreds of levels of cooperative cooking chaos across increasingly perilous and obscure kitchens.
Overcooked! has reached a whole new level. The developers managed to correct and add all features that were missing in the previous titles: accessibility and a worthy remaster with tons of content. It's a fun game for absolutely every occasion, and the new crossplay feature offers even more options. It's a gastronomic masterpiece!

Aside from minor mechanical inconsistency across both mainline titles, Overcooked! All You Can Eat is a lovingly-crafted remaster of two lovingly-crafted experiences, complete with their respective DLC packs at a mouthwatering price. There's never been a better way to enjoy the Overcooked! series and all the multiplayer carnage it offers. As a party game it is undeniably better when played with friends so bear that in mind, but for those hungry for some local co-op action, the genre is very much alive and well with this filled-to-the-brim hotpot of cheffing action.

Overcooked! All You Can Eat is an absolute must-buy for anybody looking for a fantastic party game to play with friends. The wacky visuals and chaotic gameplay make it an ideal game for local co-op, and there's plenty of content to work through. Across the entire series so far, Team17 and Ghost Town Games have explored a lot of cool ideas via DLC content, and ensured that each expansion had unique theming and gameplay mechanics. Considering that all of this is offered in addition to the stellar base campaign in both games, Overcooked! All You Can Eat really stands as a no-brainer. Overcooked 2 alone is one of the very best local co-op games you can currently buy for the Switch, and if you've been looking for that next game to play when you have friends over, look no further than this. The only downside is that those who have already dipped into either title (or both) won't find a massive amount of new stuff here, outside of the exclusive "Peckish Rises" expansion.

Overcooked! All You Can Eat is a great multi-player experience with cross-platform play that serves up plenty of content for hours of crazy fun. However, this game is made for too many cooks in the kitchen, and it does have a few technical issues that keep it from being top chef.

Overcooked! All You Can Eat offers all the content of the previous games. It has an excellent gameplay that is more enjoyable in company. A great title highly recommended for those who like to play with family or friends.

Overcooked: All You Can Eat is an easy sell to co-op players who revel in chaos. If you've already forked out for the two games and their DLC, this is likely salt on the wound. It's hard to recommend getting this game if you're going to go it alone. It's doable, but this is a game that really excels with others to join. It's been out for a while now, but with the birthday update it's the icing on the cake.

Overcooked! All You Can Eat may not offer much in the way of fresh content, but its pairing of two of the best co-operative games on Nintendo Switch results in a bundle that's a heck of a lot of fun and stuffed to point of explosion. As an entry point to the series Overcooked! All You Can Eat is a no brainer but fans who've followed the series since its beginnings may want to hold off.
I am just trying to guess why I can not score any game in this web, so I will see if after writing this my score will be saved.

This game is really good and I love it, but oh my god, those loading times are INSANE! It takes about 30 seconds for the game to load, which

This game is really good and I love it, but oh my god, those loading times are INSANE! It takes about 30 seconds for the game to load, which is unacceptable.

…

Expand

The quality of gameplay and amount of content are amazing, but the loading times are absolutely atrocious. If you value your time, maybe get a

The quality of gameplay and amount of content are amazing, but the loading times are absolutely atrocious. If you value your time, maybe get a different edition of Overcooked.

…

Expand