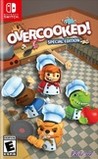 Summary:

Overcooked is a chaotic couch co-op cooking game for one to four players. Working as a team, you and your fellow chefs must prepare, cook and serve up a variety of tasty orders before the baying customers storm out in a huff. Sharpen your knives and dust off your chefs whites, there isnt

Overcooked is a chaotic couch co-op cooking game for one to four players. Working as a team, you and your fellow chefs must prepare, cook and serve up a variety of tasty orders before the baying customers storm out in a huff. Sharpen your knives and dust off your chefs whites, there isnt mushroom for error and the steaks are high in these crazy kitchens!
The Onion Kingdom is in danger and only the finest cooking can save it! In Overcooked players must journey through a variety of cruel and unusual kitchens on their quest to become master chefs capable of conquering an ancient edible evil which plagues the land.

Play solo or engage in classic, chaotic couch co-op for up to four players in both co-operative and competitive challenge modes. Youll have to cook a range of different dishes and work together in order to become the most effective and ultimate team!

…

Expand
Developer:

Team17

Genre(s):

Action

,

Arcade

Cheats:

On GameFAQs

Rating:

E
Please enter your birth date to watch this video:
You are not allowed to view this material at this time.
This is easily one of the best co-op titles on Switch and can't be recommended enough! [Issue #30 – November/December 2017, p. 19]

Overcooked: Special Edition is a spectacular downloadable title for Switch owners to play with their friends locally. I easily lost hours playing right next to a buddy on a couch, screaming obscenities and the names of food items. Anyone looking for a fun party game or a fun cooperative Switch experience should pick up Overcooked immediately. Unfortunately, the exciting nature of the game will wear off for those who don't have others to play with, which should surely be a consideration for anyone thinking of picking the game up.

Overcooked: Special Edition is a great co-op game that takes advantage of the Switch portability and Joy-Cons. Sadly its framerate issues prevent from getting a higher score.

Ghost Town Games' amusing multiplayer experience is back with a porting that feels quite undercooked.

A good party game for the Nintendo Switch, but a bit limited. A perfect fit for this new hardware.

As fun as the original version of the game but with more levels and some added flaws that makes this Special Edition good but not better.

The core premise and style of Overcooked is a perfect fit for Nintendo's portable console, but its technical performance ruins the experience. There aren't many issues that couldn't be fixed with a patch, but as it stands, Overcooked offers an exciting cooperative experience which is quickly hampered by performance issues.
This game had a lot of optimization issues at first, but now it seems it is mostly fixed. With it's biggest issue gone, the game is basically

This game had a lot of optimization issues at first, but now it seems it is mostly fixed. With it's biggest issue gone, the game is basically flawless, with plenty of fun with friends with competition and coop. The amount of areas to cook are great and so many of them have variety that make them unforgettable.

…

Expand

Awesome game, playing through the main campaign with my brother and other people as well has been so much fun. We have been yelling at each

Awesome game, playing through the main campaign with my brother and other people as well has been so much fun. We have been yelling at each other, but because the game is about teamwork, it ended up being acceptable to yell at other players haha. Anyway after finally beating the main campaign, im so happy with the two extra little worlds which im gonna play tonight with friends. And also the 2 vs. 2 is a very fun way to make the game competitive. IMO this is 10/10 but thats because i dont give a **** about graphics or fps. This game doesn't run perfect, but the gameplay is so much fun. That it carries the game.

…

Expand

The one of the best coop games I ever played.
Such a great fun and big challenge for all our family to work together. Even my little 6yThe one of the best coop games I ever played.
Such a great fun and big challenge for all our family to work together. Even my little 6y daughter loves this game, but scaried about unbreads though ))))
It's very addictive - you won't go to sleep before you make new level ))) at least we don't!

…

Expand

I love party games and its really great in this area. Game brings all players together for a great fun, but sometimes it gets out of hand and

I love party games and its really great in this area. Game brings all players together for a great fun, but sometimes it gets out of hand and very hard. Anyway I can recommend, we are having a lot of fun with family and friends!

…

Expand

It's a fun game. But it seems to only run at 30fps despite being a fairly simple game, graphically. The biggest issue for me though, is that

It's a fun game. But it seems to only run at 30fps despite being a fairly simple game, graphically. The biggest issue for me though, is that there's no local multi-switch multiplayer. Which means that you have to all share the same small screen unless you have a TV nearby.

…

Expand

This game looks like a cute little thing you can play with a kid but it's incredibly difficult. The controls are not very good, the difficulty

This game looks like a cute little thing you can play with a kid but it's incredibly difficult. The controls are not very good, the difficulty ramps up quickly, and there's a time limit on every level. You have to make X meals in so many minutes to beat a level, but it never tells you what X is.

The controls are not great. You're supposed to walk around picking up ingredients, slicing them up at a cutting board, putting them in a pot, and then onto a plate. Only it's very difficult to just to select the space with the ingredients, board, pot, or plate. You might find yourself throwing food onto the floor, putting it back into the pot from the plate. The timer doesn't help with this, because you're rushing around trying to get so many meals cooked.

The difficulty ramps up very quickly. You start out on a level you're supposed to lose, and by level 4, the kitchen is moving around so you can't get from the cutting board to the plate.

The game ends up being more frustrating than fun, and there's no options for easier difficulty levels. If you want a challenge to play with your game-savvy, adult friends, try this out. If you want to play with somebody who is still learning the ropes, avoid this, as you will just play the same few levels over and over, trying to win.

…

Expand

This game sucks no point at all in anything. Game is only about cooking which is pointless