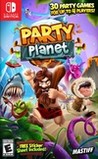 Summary:

Party Planet features 30 party games for up to 4 players. It's game for family and friends of all ages.
Developer:

Mastiff, Teyon

Genre(s):

Miscellaneous

,

Party / Minigame

# of players:

No Online Multiplayer

Cheats:

On GameFAQs

Rating:

E
Party Planet looks wonderful on the surface with a bright, colourful, and slick interface that suggests you have a top-quality game in your hands. Unfortunately, though, a series of mini-games that vary from being good to disappointing may well start to feel rather stale after a short time; everything is nice and interesting at first, but there's little reason to keep playing once you've seen each game a couple of times.

Party Planet succeeds at offering a lot of variety in one package, but the quality of the games wildly varies. While many are good — but also derivative of other games — others simply aren't worth playing often due to a limited concept. Still, if you're looking for a product to please not only yourself, but a group of friends either casually or at work, this will do the trick. In fact, it's better-served as a break room game due to the super-short nature of some of the games. While some of the games support up to four players — each with their own Joy-Con — having them all playable with a single Joy-Con is impressive and ensures that, at worst, folks just have to take turns in a larger setting to enjoy the games.

The most enjoyment you'll get out of Party Planet is having a few laughs at some of the mini-games. Most of the collection is composed of awful takes on classic games so if you're a retro gamer then it's best to avoid this load of farts entirely.

Party Planet is 30 awful mini-games, 12 of which can only be played solo. It's really bad.
Finally a worthy Party Game on the Nintendo Switch. Party Planet features 30 party games for up to 4 players. It's a game for family and

Finally a worthy Party Game on the Nintendo Switch. Party Planet features 30 party games for up to 4 players. It's a game for family and friends of all ages. More than half of the games can be played with your friends while the other half is 1 Player games. I enjoyed the local multiplayer games and most were really fun. I personally Enjoyed Mystical Totem where you play as an Eskimo and your goal is to chop your way to the top while avoiding freezing to death and being hit with the sides of the Totem. What I liked about Mystical Totem is how fun it became when playing with friends and family especially after they learn how to play it . The fast paced Frosty Hockey mini game is also fun especially 2 VS 2 matches where you have to coordinate together to beat the opponents.

Party Planet has a wide Variety of games that you can play. Games include Running, Climbing, Jumping, Sailing, Shooting and a few memory games. More games are unlocked by scoring higher points in any game, for example some games are unlocked if you achieve 2 stars while others are unlocked when you achieve 3 stars. Thankfully I managed to unlock them all.

The graphics are simple, you don't need more for these mini games and the sounds are spot on.

With the portability and versatility of Nintendo Switch, players can turn just about any location and venue into their own personal party for friends and family! Overall Party Planet is a perfect game for the Nintendo Switch and there is no better feeling than playing simple mini games with friends and family

…

Expand

Finally getting around to writing up a quick review for this game because it is surprisingly fun! I purchased the game from GameStop the week

Finally getting around to writing up a quick review for this game because it is surprisingly fun! I purchased the game from GameStop the week before Christmas as something that my family and their kids might be able to enjoy, and I'm super happy I did because it was a total hit! It was really nice to see my parents playing with their grandkids. I don't think I've ever seen any other game where they were all engaged like this. There's a lot of variety in the games too. I do wish there was some sort of meta game because once we unlocked all 30 games that was pretty much it. No end game. While I paid $40, it's now only $30, and for 30 games it's totally worth it! Definitely worth picking up for short gaming sessions or if you have non-gaming family or friends that you'd like to introduce to gaming.

…

Expand

I purchased this game yesterday with low expectations but to my surprise it was a lot of fun. I'm a casual gamer (ie. i'm the type that finds

I purchased this game yesterday with low expectations but to my surprise it was a lot of fun. I'm a casual gamer (ie. i'm the type that finds it difficult to play through an entire game) so Party Planet is perfect. Simple graphics, simple controls, and simple gameplay - this is all I really want.

Some games are fun, some are addicting, some just aren't my style. In conclusion, I feel this game is great and I plan on playing it with friends during our holiday get-together.

…

Expand