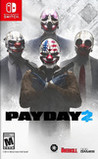 Summary:

Payday 2 is an action-packed, four-player co-op heist shooter that once again lets gamers don the masks of the original Payday crew - Dallas, Hoxton, Wolf and Chains. The new CrimeNet network offers a huge range of dynamic contracts and players are free to choose anything from small-time

Payday 2 is an action-packed, four-player co-op heist shooter that once again lets gamers don the masks of the original Payday crew - Dallas, Hoxton, Wolf and Chains. The new CrimeNet network offers a huge range of dynamic contracts and players are free to choose anything from small-time convenience store hits or kidnappings, to cyber-crime or emptying out bank vaults. As the crew progresses the jobs become bigger, better and more rewarding. Along with earning more money and becoming a legendary criminal comes a new character customization and crafting system that lets crews build and customize their own guns and gear.

…

Expand
Developer:

Sumo Digital, Overkill Software

Genre(s):

Action

,

Shooter

,

First-Person

,

Arcade

# of players:

Up to 4

Cheats:

On GameFAQs

Rating:

M
Please enter your birth date to watch this video:
You are not allowed to view this material at this time.
Payday 2 VR – Gameplay Teaser Trailer
Payday 2 still is a very solid and funny cooperative shooter even on Switch, despite the lack of some content (heists, masks) you can find in the PC version.

Payday 2 remains a unique experience in the FPS genre thanks to its subject matter and dedicated approach to team work. And while quite a bit has been said about how this Switch version isn't up to date with all the content released on other platforms, the package doesn't feel incomplete or even light on material as there is still lots to do. Furthermore, the game executes all the core mechanics well and looks good while doing it. Aside from a handful of small yet noticeable issues, the biggest problem remains the lack of in-game voice chat. Altogether, this means that this version of Payday 2 might not be the best way to experience the game, but it is certainly serviceable for those willing to go the extra mile to arrange for other voice chat solutions.

Payday 2 on Nintendo Switch will not revolutionize the genre, but it's a very good porting, except for some technical issues and no voice chat at launch. An enjoyable cooperative FPS, so far.

For those who have a dedicated group to play with online there are hours worth of fun to be had overcoming the more difficult challenges. However, If you'll need to rely on random players the fun can only go so far without any form of communication. And if playing solo is your only option, I'd highly suggest thinking twice because quite frankly playing alone is not very much fun at all.

There are some nice ideas here, but especially in handheld mode, Payday 2 can be very frustrating.

Payday 2 reveals its worst in the Nintendo Switch. Even though it is not a bad port, the Overkill game and the Nintendo Switch does not seem to get along. Good gameplay, but this is the worst version of the game nowadays.

Payday 2 continues to maintain a very dedicated audience, but even fans of the game are unlikely to enjoy what's being put forward for Nintendo Switch. Stripped-back visuals, poor performance and a lack of adaptation to the console results in a shoddy port at best...It's ironic that a game about heists is trying to jump on a bandwagon and rob you of your hard-earned cash.
Great game.Hurricane gameplay.Great co-op. But sometimes you can squat fps.I hope they release some patches.

Great port Overkill! waited for this game for a long time and it didn't let me done. awesome gameplay, high replayability and now I can play

Great port Overkill! waited for this game for a long time and it didn't let me done. awesome gameplay, high replayability and now I can play it while on the go. 9.5/10

…

Expand

Here is the real score : 9 out of 10. I'm in NZ and have been playing it like crazy and I want to let you guys know that it's awesome. Don't

Here is the real score : 9 out of 10. I'm in NZ and have been playing it like crazy and I want to let you guys know that it's awesome. Don't worry about the other versions of the game, this one has no slow down, the graphics are great (not fuzzy like doom which I loved) and the AI is nowhere near as bad as everybody keeps harping on about. It's just straight up fun and is an exciting port of the first real world shooter on the switch. It handles like a dream and just feels fun to sneak around or shooting loads of guns. Don't miss out on a wicked game guys especially those who have never tried it. 9 out of 10.

…

Expand

I can't say I wasn't disappointed, Its payday 2 on the go.

But, there are several issues with this port that just.... disappointed me.I can't say I wasn't disappointed, Its payday 2 on the go.

But, there are several issues with this port that just.... disappointed me.

When I began playing, there was no voice chat, nor was there a text chat. I don't know if Nintendo Switch Online's voice chat works on this, but judging it upon its launch, this game instantly gets gut-punched on the get-go. You have no way of communicating with people in pubs, unless you are sitting right next to them or using apps like discord.

This isn't really the definitive experience that you get playing on PC, nor is it the sub-par experience from the Xbox or Playstation ports. This game is more un-updated than the crimewave edition (the one for consoles). It also chugs terribly on some maps. PD2 on PC is not optimized but i swear, this game chugs harder than a train.

I had also gotten this game due to the fact that Switch Online was free at the time, but as of right now, you have to pay for online. Which was another gut-punch, but this time they didn't gut-punch themselves, Nintendo Gut-punched them. Combined with the fact that it needs online access and still needs to have voice coms is insulting.

I give it props for being on the go, and the local multiplayer, but in order to tap into its full potential, you must be online, and being me, usually when i'd have an internet connection, id be at home, and when i'm at home, id rather play Payday 2 on the PC.

…

Expand

It's below average for a game. Firstly the game runs terribly, in a heated situation the frame rate drops significantly and even in a calm

It's below average for a game. Firstly the game runs terribly, in a heated situation the frame rate drops significantly and even in a calm part the frame rate still dips. And the game it self looks terrible, how did Doom come out on the same system when that looks so much better and even it runs better. Not to mention theres no voice chat or any way of communication. It's a more broken boring game that was originally boring and broken just to re-sell for a quick buck.

…

Expand

I enjoyed the game on PC and thought I would enjoy it on-the-go but... No.
Nothing new, no particular effort put in the game.
Unlike Skyrim,I enjoyed the game on PC and thought I would enjoy it on-the-go but... No.
Nothing new, no particular effort put in the game.
Unlike Skyrim, the magic didn't happen here.

…

Expand

DON'T BUY THIS GAME. It's definitely not worth AU$75 when it's AU$10 or free everywhere else. This is a mainly a multiplayer game; you can't

DON'T BUY THIS GAME. It's definitely not worth AU$75 when it's AU$10 or free everywhere else. This is a mainly a multiplayer game; you can't really take that on the go. Graphics are old and ugly. Gameplay is repetitive and boring. Remember peeps, you don't need to buy every third party game just because it came out on switch especially if it's a mediocre game like this one.

…

Expand