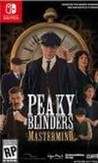 Summary:

Peaky Blinders: Mastermind is a puzzle-adventure game, based on the multi-award-winning BBC and Netflix TV show.

Welcome to Birmingham, during the aftermath of the Great War. Set right before the events of Season One, Peaky Blinders: Mastermind lets you join the Shelby family's criminalPeaky Blinders: Mastermind is a puzzle-adventure game, based on the multi-award-winning BBC and Netflix TV show.

Welcome to Birmingham, during the aftermath of the Great War. Set right before the events of Season One, Peaky Blinders: Mastermind lets you join the Shelby family's criminal gang. Follow the rise of Tommy as he successfully uncovers a sinister plot to put the family out of business, proving himself worthy of being the true mastermind of the Peaky Blinders.

Mastermind refers to Tommy's ability to plan complex scenarios in his head. As the player, you get to exercise this power by taking control of key members of the Shelby family including Tommy, Arthur, Polly and more. Become the Mastermind as you freely reset and rewind each character's path in order to tune all of their actions for perfect coordination.

Achieve the highest mission rating by strategically utilising characters and stealth to solve increasingly complex puzzles with optimum timing.

…

Expand
Developer:

FuturLab

Genre(s):

Adventure

,

Puzzle

,

Action

,

General

# of players:

No Online Multiplayer

Cheats:

On GameFAQs

Rating:

M
Peaky Blinders: Mastermind is a strategic take on a TV show tie-in that could have easily been mindless violence. It's not as sharp as Tommy's wardrobe, but for fans of the show, there's definitely fun to be had.

A thin plot is only a minor issue in the larger context of what the game gets right. With an innovative main mechanic and great balance of complexity within each stage, Peaky Blinders: Mastermind is a nice, tight experience capable of making any puzzle player raise a triumphant fist after an intense sequence.

Peaky Blinders: Mastermind is a solid, if perhaps unexciting puzzle game with enough fan service for those looking to spend more time with the stylized criminals of old London to keep them on the hook.

Although it's based on a long-running British TV show, no previous knowledge is required to enjoy solving the tricky time-manipulation puzzles of Peaky Blinders: Mastermind. In a world where tie-in games are generally awful, this is a rare entry that works for show fans and non-fans alike.

Without any concrete information as to when we can expect the next season of Peaky Blinders, Peaky Blinders: Mastermind might end up being a nice distraction from the limbo we've all been left in. Fans of the show may find this experience to be somewhat satisfying, if not an excessively simple take on an intricate, expertly crafted world. But there isn't much here if you aren't hip to the source material. You'll be lost entirely as far as the motivations of these characters, and missing out on virtually every bit of (brilliant) history doesn't exactly make for compelling storytelling. Approach this one with caution, and that's by order of the Peaky Blinders.

Fans of puzzle games should enjoy the new mechanic of hopping through time to control multiple characters, but as an adaptation of the series, it falls flat. It's frustrating in a way that makes for a riveting challenge, but then you'll reflect that maybe you just spent six hours pulling levers to open doors.

Even with its clever premise, Peaky Blinders: Mastermind's campaign doesn't feel all that consequential yet it remains somewhat enjoyable.