Publisher:

Q-Games

Release Date:

Dec 10, 2020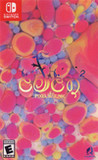 Summary:

From the mind of Baiyon, creative director and hypnotic soundscape composer, for both the award winning Pixeljunk Eden and Eden Obscura, comes Eden 2, an exploration of life, color and collaboration as Grimps reinvigorate and revitalize the world in a swath of luminescence, painting upon a

From the mind of Baiyon, creative director and hypnotic soundscape composer, for both the award winning Pixeljunk Eden and Eden Obscura, comes Eden 2, an exploration of life, color and collaboration as Grimps reinvigorate and revitalize the world in a swath of luminescence, painting upon a lush canvas as they play.

Return to the spectacular, ever changing gardens of psychedelic sights and sounds as you cultivate new plants and biomes, collect pollen and help seeds sprout new exotic leaves and bloom flowers, all against a dynamic and vibrant backdrop of mellow, multi-hued visuals.

Swing and spin from silk threads, in both single and cooperative play as you and a partner pirouette around one another in brush-strokes of light and color in the world on your journey to collect the all important "Spectra," the source of all life in the world.

…

Expand
Developer:

Q-Games

Genre(s):

Action

,

General

,

Platformer

,

2D

# of players:

No Online Multiplayer

Cheats:

On GameFAQs

Rating:

E
I spent close to a dozen hours with the main progression path in PixelJunk Eden 2, and I've hardly dug into the unlimited-time "choose your garden and Grimp" free-play mode. Whenever I feel the gotta-catch-'em-all collectathon itch, I'll be sure to head there first since that mode has its own achievements. You can't tell me the total number of seeds in each level and not expect me to hunt them down. PixelJunk Eden 2 is one of 2020's few pleasant surprises, and I'm so thankful it exists.

Even in spite of some bouts of repetition, PixelJunk Eden 2 is a wonderful experience. It's serene just exploring and engaging with the visually intriguing gardens while backed by a killer soundtrack. The various gameplay mods that come out of the different Grimps and Spices are clever in how they usually alter the play style just enough to make you approach each level in a different way. This is one of the most mindfully aware games I've ever played. It's well worth sitting down with if you just want to be in the moment and clear your mind.

Weird, hypnotic and etremely relaxing. In the long run it suffers a bit from repition, but nonetheless this is a fascinating arcade trip.

As someone who wasn't particularly attached to the first game, I thought PixelJunk Eden 2 was fun and unique, but didn't think of it too far beyond that. For those who were waiting for a sequel to PixelJunk Eden or simply want a different type of game that will relax them, I have no doubt that you're going to love this, complete all of the gardens and their variations, collect all the Grimps and really make the most out of it.

PixelJunk Eden 2 is an odd duck, but it delivers an enjoyable and engaging time. Despite frontloading its status as an "audiovisual experience", we found it fun in and of itself. The litmus test, of course, being "would this game still be fun if it had Vectrex-level graphics", and thankfully in this case it absolutely would. A lack of variety hurts it somewhat, but if you treat it as an occasional treat to dip into rather than an extensive campaign that must be cleared, PixelJunk Eden 2 is a welcome addition to your Switch library. Let's just hope that Eden 3 doesn't skimp on the nudity again.

A fairly niche experience is here to be had. It is unique, bold and above all pretty cool! When it comes down to it, PixelJunk Eden 2 is an easy experience to get lost in. It is obviously not going to satisfy everyone but for those this title strikes a nerve with it will be a lasting enjoyable experience and memory.

PixelJunk Eden 2 is an indie title that re-delivers a unique premise for a new generation of players. The gameplay mechanic of swinging around plants in a 2D video game environment isn't revolutionary, but the melodies and levels create a trippy and euphoric journey that is sure to keep players coming back. It may not be a step up from what came before it all those years ago, but Q-Games has managed to give fans of the original and newcomers alike a reason to go gardening.
I loved Eden 1, getting the chance to play a new game in the series is brilliant. Love the game love the franchise.

A really chill, gratifying experience. Bursting pollen prowlers, pulling in the floating pollen, and sprouting pollen-filled seeds to grow

A really chill, gratifying experience. Bursting pollen prowlers, pulling in the floating pollen, and sprouting pollen-filled seeds to grow vines so you can access new areas is really satisfying.

The core gameplay remains the same from the first Eden, but the controls and respawning have been made more forgiving and more playable. The co-op is also much more manageable, since there's no timer penalty for a player leaving the visible screen.

This is by far my favorite chill-out game.

…

Expand

Great Game! Super Chill! I love the music and art. the gameplay is simple but addicting.

I have always been a fan of Eden, the new version does not disappoint. Thanks for the adventure in sound and art :)

Super chill game to play in short bursts. I'm a big fan of the original Eden when it came back for the PS3 and this is still a blast.

PixelJUNK. It's in the name folks, bad graphics, crashes my Nintendo Switch and the FPS drops are horrendous.

I'm going back to playingPixelJUNK. It's in the name folks, bad graphics, crashes my Nintendo Switch and the FPS drops are horrendous.

I'm going back to playing Cyberpunk 2077, at least that game has some portions that are in 30 FPS

…

Expand