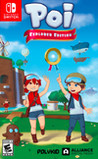 Summary:

Embark on a classic 3D platforming adventure as you set sail on an airship to collect Explorer Medallions and unravel the mysteries of the Milky Way Globe. Explore uncharted lands, and meet wild new characters, while on a journey to collect all the medallions and become a true Master Explorer!
Developer:

PolyKid

Genre(s):

Action

,

Platformer

,

3D

# of players:

No Online Multiplayer

Cheats:

On GameFAQs

Rating:

E10+
Whilst it could never compete with the likes of Super Mario Odyssey, Poi: Explorer Edition is a great platforming adventure in its own right. Anyone who enjoys a good 'collect-a-thon' will be in Heaven with this game – the Medallions are great fun to work towards and finding every single extra collectable will take some considerable time and effort. If you enjoy games of this genre, and have the means to do so, we'd definitely recommend giving Poi a go and help it to be noticed in what must be one of the cruellest release windows ever. It deserves to be played.

Poi tries very hard to emulate early 3D Mario games, and it does a fantastic job. Unfortunately it rarely rises above that. Most of the challenges, enemies, and boss fights, have direct parallels in one 3D Mario game or another. Outside of some unique takes on progression you'll rarely find anything that feels entirely new in Poi. When all's said and done Poi is a very well executed clone. It is fun and charming, but feels like something I've played before.

Poi: Explorer Edition is ultimately a Super Mario 64 clone that doesn't do much to stand out in the genre. That being said, its charming world and simplistic gameplay make it a great game for children or if you just want to wind down after a long day.

Poi's greatest weakness lies in its sound design, but the core game is well-crated and a lot of fun. The smaller world size keeps players focused on the task at hand, while keeping mandatory collect-a-thon parts to a minimum puts a stronger focus on the platforming action. Thankfully, this is the game's strongest point and anyone looking for a solid 3D platformer should check out Poi. It controls nearly-perfectly, with only an iffy camera causing issues from time to time. It looks solid for the most part too, with impressive lighting adding some impressive visual flair to what can sometimes be bland-looking stages.

I was looking forward to reviewing Poi: Explorer Edition, as a game that channels the old-school 3D adventure game I loved so much as a child sounded like a great thing. However, this game is less a channeling and more a full emulation of one of those older games. It's good for some fun, though that fun won't last long. It's not completely broken, but the minor issues can add up in a hurry. There's some enjoyment to get out of Poi: Explorer Edition, but it's more of a nostalgic trip to a more innocent time than anything noteworthy in the present.

Poi: Explorer Edition is a nice, budget 3D platformer that is perfect for younger Nintendo Switch owners. The challenges in the game can become rather repetitive, but if you are looking for a colourful platformer that is inoffensive and fun, then you can't go too wrong with Poi!

Devoid of both style and substance, Poi is perhaps the least interesting 3D platformer currently available for the Nintendo Switch. Not only is it mechanically shallow with a relatively skill ceiling and floor, the level design rarely, if ever, gets creative enough to mask how lacklustre the platforming can be. To make matters worse, this is just charmless all around thanks to an incredibly safe aesthetic that renders a potentially fascinating world completely unmemorable. This neither reinvents platforming, nor serves as a suitable love letter to the genre, ensuring it is best left forgotten.
amazing game (i would rate it 8 out of 10, but its only 5 bucks). polished, interesting and fun. basically diet 3D Mario

Look, firstly, only 10 bucks. I will admit it isn't long but it doesn't overstay its welcome, and it took me about 20 hours to 100%, and I

Look, firstly, only 10 bucks. I will admit it isn't long but it doesn't overstay its welcome, and it took me about 20 hours to 100%, and I will be replaying this game in the future. worth my money, good (if slightly generic) design, and very fun gameplay. if you want a fun small little game, pick Poi

…

Expand

For fans of Super Mario 3D games, Looks good and gameplay good. But the characters are very thin and the world's feel a bit too superficial

Just completed Poi: Explorer Edition last night and I was not disappointed. You can complete the game in a fairly short period of time, but it

Just completed Poi: Explorer Edition last night and I was not disappointed. You can complete the game in a fairly short period of time, but it took me about 12 hours to 100% it (101 medallions). The controls and the angles of the camera are not top notch like a Mario title, but it is good enough to enjoy the game! The platformer / puzzles aspects are fairly simple and easy in general. I would have love new gameplay mechanics / something innovative. The graphics and the music are good, but nothing crazy/innovative. I like the fact there are 100 medallions to collect, but hate that it does not give you anything besides an extra medallion. The loading time was a little slow at times, but nothing major. The price is not that high for a physical version and Poi deserves an 7.5 out of 10 in my book.

…

Expand

I like the exploring aspect, but the lack of weapons against enemies has me wishing that I had left this game alone.