Publisher:

Nintendo

Release Date:

Nov 16, 2018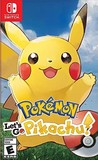 Summary:

Catch Pokémon Like Never Before. The Poké Ball Plus is a Poké Ball-shaped device that can be used to play Pokémon: Let's Go, Pikachu! and Pokémon: Let's Go, Eevee! in place of your Joy-Con. You'll be able to throw Poké Balls in-game with a flick of your wrist! In addition to motion controls,

Catch Pokémon Like Never Before. The Poké Ball Plus is a Poké Ball-shaped device that can be used to play Pokémon: Let's Go, Pikachu! and Pokémon: Let's Go, Eevee! in place of your Joy-Con. You'll be able to throw Poké Balls in-game with a flick of your wrist! In addition to motion controls, the device lights up with a variety of colors, vibrates, and plays sounds. With the Poké Ball Plus, you can also take one of your favorite Pokémon from these games for a stroll as you go about your daily life in the real world. The Poké Ball Plus even works as a Pokémon GO Plus when playing Pokémon GO.

Pikachu or Eevee:
Which Will You Choose?

Pokémon: Let's Go, Pikachu! and Pokémon: Let's Go, Eevee! bring the experience of a classic Pokémon RPG to Nintendo Switch with gameplay that is easily approachable for newcomers to the series, but is also deep enough to keep veteran Trainers on their toes.

The games also have two-player simultaneous play, so you can take the journey with a friend! And there's a deep connection between Pokémon: Let's Go, Pikachu! and Pokémon: Let's Go, Eevee! and Pokémon GO, so fans of the hit mobile game will find even more to enjoy.

…

Expand
Developer:

Game Freak

Genre(s):

Action RPG

,

Role-Playing

,

Trainer

# of players:

Online Multiplayer

Cheats:

On GameFAQs

Rating:

E
Please enter your birth date to watch this video:
You are not allowed to view this material at this time.
Nintendo Switch - Pikachu & Eevee Edition Official Trailer
Whether it's your Pokémon entry point or you're returning to Kanto yet again, Pokémon Let's Go is for everyone. The lame motion controls aside, this is adventure perfection, not once feeling jaded after dozens of hours' play.

The game's mechanics perfectly ride the wave of success of the Pokemon GO phenomenon. Some core fans will be disappointed and that's completely fine, but the direction of Let's GO Pokemon is clear and it succeeds in its mission to provide a simple, yet addictive Pokemon game that can be enjoyable for all gamers. It's Pokemon at its addictive best and the only option is to set out and Catch 'Em All.

And for serial veterans? For the first time, they get a really lively Pokémon world, where it crawls and crawls everywhere, and where every detail hides a detail that warms the heart.

Pokémon: Let's Go is the sweetest and most touching return to Kanto that we could imagine. The game does not take Pokémon to a new level, but aims to attract an audience that either lost contact with the series and played Pokémon GO or now plays Pokémon for the first time in a different and more accessible way.

Pokemon Let's Go is engineered to let youngsters play along with their parents, but there's a lot here for veterans to enjoy, too. It's relentlessly cute and colorful, and while the challenge level won't blister your skin, the new Coach Trainers will keep you hopping. We're still not sure about the Go-style method of catching wild Pokemon, but Pokemon Let's Go's ability to link-up to Niantic's app offers a quick and easy way to fill out your PokeDex. Game Freak is clearly getting the hang of the Switch, so bring on Gen VIII!

Pokémon Let's Go! is truly a very good remake of the genuine Red & Blue versions with updated graphics and one of the best soundtracks in the IP. We weren't sold on the Pokémon GO capture system and found the endgame a bit empty.

For what is supposed to be the next step forward for Pokémon, Pokémon: Let's Go Pikachu! feels like it has taken a few steps back. While there are aspects of the game I do enjoy, there are also glaring issues that I cannot just ignore. Ultimately, Pokémon: Let's Go, Pikachu! needlessly simplifies core mechanics in a series that does not require such streamlining.
Great game! It does surely revive that old feeling of the Kanto region with all the pokemon from then.

Tight controls, slick visuals, and engaging combat systems. Overall 10/10 Hidden Gem of the Year -IGN

This is the BEST Pokemon game in years. It looks super clean, is a nice throwback to the old days and has plenty to do for the avid pokemon

This is the BEST Pokemon game in years. It looks super clean, is a nice throwback to the old days and has plenty to do for the avid pokemon fan. Ofcourse smogon players aren't real pokemon fans so they'll just bash this game, while its actually one of the best iterations in the franchise! I can recommend it to anyone who loves pokemon:)

…

Expand

My Pokémon journey started way back in the day, on my Gameboy Pocket (a red one) with Pokémon Blue. I've played nearly every mainline game

My Pokémon journey started way back in the day, on my Gameboy Pocket (a red one) with Pokémon Blue. I've played nearly every mainline game since that point with a few exceptions so needless to say I'm familiar, even a little worn out with the formula.

The Let's Go games are an easy, very streamlined version of Pokémon Yellow. It's an attempt by Nintendo and the Pokémon Company to entice users of the Pokémon Go mobile game into a home console setting, of which many may never have considered themselves "gamers" or ever owned a home console. This is evident with several similarities in terms of core game mechanics along with tie ins to the mobile game.

The first, and most obvious one is the name, there's no doubt the decision to name it "let's go!" was done to draw the attention of Pokémon Go players. Secondly, and perhaps the most controversial decision was replacing the traditional wild battles with the capture mechanic from the mobile game. Normally, you'd wander in grass until you "found" a Pokémon with the type you face being dictated by RNG. From there you'd fight it with your own Pokémon until it was in a weakened state at which point you'd chuck a few Pokéballs in the hope that you could capture it. With the shift towards the mobile game this has been entirely cut and replaced with simply throwing a Pokéball at a Pokémon that may or may not be moving around the screen. There's also a shrinking ring which dictates whether you get a "great" or "excellent" throw, whether this has an impact on catch rates I'm unsure but it certainly gives you higher XP gains. Needless to say, there's very little depth to this sort of encounter. You can throw different berries at Pokémon to calm it (stop it jumping around) or to make them slightly easier to catch however that's about all there is to it.

Outside of these encounters the game is mostly the same as it always has been, you fight trainers on the road and endeavour to collect eight gym badges so that you can challenge the Elite Four and become a Pokémon Champion. You also have your "friendly" rival, who this time is a childhood friend and not a jerk. I called my rival "(Not) Gary" and you meet him many times on the course of your play through as per previous titles.

Graphically the game is rather basic in terms of it's art style however that's not to say it looks bad. Pokémon has never looked this good in my opinion and it's great to see a HD title finally hitting the Switch. The Pokémon themselves look fantastic and some of the moves have really exciting animations which really put things into perspective when you think of those classic 2D sprites on a greyscale LCD screen. Put simply, the game looks great and performance was solid across the board. I did notice a few very minor FPS drops when playing in hand held mode but it didn't detract from the overall experience at all.

The music also sounds great, with those classic tunes getting a rehash for modern times. The voice work for Pikachu and Eevee is also lovely, with Pikachu sounding incredibly cute with his "Pika pika!" antics as we've come to love over the years. I was however disappointed that the other Pokémon still use the tired old sounds from the old Gameboy games. In this day and age with the development budgets involved for Pokémon I'm sure they could voice ALL those pocket monsters and not just the two titular examples. It's very jarring switching out Pikachu with the "pika!" to a frankly low quality and dated "grrrrdbrrrrrr" or whatever from whichever Pokémon you're bringing into the fray. You can do better here Nintendo!

Controls are limited strictly to the joy cons and Pokéball Plus. I can understand the lack of Pro Controller support to a point, but it's still a little disappointing. Personally I got the bundle with the Pokéball Plus and while it can feel a little cramped after a long play session for a child it will fit perfectly. I do have one criticism however and that is the lack of documentation for the device. You have the B button in the top of the Pokéball and the A button is a push button as part of the micro stick, what they don't tell you is that you can use the "Y" button by shaking the device to the side to access some menu options. It would have been nice to see some more explanation in game than what we get however it's a minor detail. Motion controls for both Pokéball Plus and joy cons work well, with just the occasional "where did that go?" moment when throwing Pokéballs. In hand held mode motion controls are used to adjust your view with the A button to throw Pokéballs.

In all, I'm enjoying the game. It sets out to do what the developers intended and that's to bridge the gap between the mobile and main line titles. It's not for everyone especially veterans of the series. However it's fun and I can respect it as a Pokémon game in it's own right.

…

Expand

At first, I was excitied when Nintendo announced Pokemon: Let's Go Pikachu/Eevee but after seeing more and more gameplay, I started to lose

At first, I was excitied when Nintendo announced Pokemon: Let's Go Pikachu/Eevee but after seeing more and more gameplay, I started to lose interest in it that I cancelled my preorder for it. No wild battle catching mechanics, no EV Training, no breeding, no nature, no abilities. To me, it's not a remake but more of a downgrade to Pokemon Yellow. Plus, the game seems like it isn't challenging enough. It's just seem too easy, like it's holding your hand and repetitive. Graphics wasn't much of an improvement and the camera angles haven't changed. The overall world hasn't changed either. No new places to explore and you have to continuously catch pokemon in order to level up your pokemon team. I'm a HUGE Pokemon fan but personally, this game isn't something I would buy $60 for. I bought instead Pokemon X, Omega Ruby and Ultra Sun.

…

Expand

Well, this game is pure garbage. Why? Because you can't battle wild pokemon as always, you're forced to do the **** PoGo mechanic. Also, there

Well, this game is pure garbage. Why? Because you can't battle wild pokemon as always, you're forced to do the **** PoGo mechanic. Also, there aren't abilities. It's the same **** game from 1996 but much worse. I hope the 2019 game to be better because this is a shame to de Pokemon franchise

…

Expand

As a hard core fan of the pokemon series this was a major disappointment. the fact that they cut so many key features to appeal to a

As a hard core fan of the pokemon series this was a major disappointment. the fact that they cut so many key features to appeal to a demographic of people that downloaded the app simply because they had a phone. Main stream features that have been in the series since day one have since been scrapped because the kids couldn't understand it. honestly quite sad to see such a series fall.

…

Expand