Publisher:

Nintendo

Release Date:

Nov 16, 2018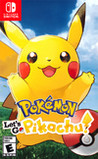 Summary:

Catch Pokémon Like Never Before. The Poké Ball Plus is a Poké Ball-shaped device that can be used to play Pokémon: Let's Go, Pikachu! and Pokémon: Let's Go, Eevee! in place of your Joy-Con. You'll be able to throw Poké Balls in-game with a flick of your wrist! In addition to motion controls,

Catch Pokémon Like Never Before. The Poké Ball Plus is a Poké Ball-shaped device that can be used to play Pokémon: Let's Go, Pikachu! and Pokémon: Let's Go, Eevee! in place of your Joy-Con. You'll be able to throw Poké Balls in-game with a flick of your wrist! In addition to motion controls, the device lights up with a variety of colors, vibrates, and plays sounds. With the Poké Ball Plus, you can also take one of your favorite Pokémon from these games for a stroll as you go about your daily life in the real world. The Poké Ball Plus even works as a Pokémon GO Plus when playing Pokémon GO.

Pikachu or Eevee:
Which Will You Choose?

Pokémon: Let's Go, Pikachu! and Pokémon: Let's Go, Eevee! bring the experience of a classic Pokémon RPG to Nintendo Switch with gameplay that is easily approachable for newcomers to the series, but is also deep enough to keep veteran Trainers on their toes.

The games also have two-player simultaneous play, so you can take the journey with a friend! And there's a deep connection between Pokémon: Let's Go, Pikachu! and Pokémon: Let's Go, Eevee! and Pokémon GO, so fans of the hit mobile game will find even more to enjoy.

…

Expand
Developer:

Game Freak

Genre(s):

Action RPG

,

Role-Playing

,

Trainer

# of players:

Online Multiplayer

Cheats:

On GameFAQs

Rating:

E
Please enter your birth date to watch this video:
You are not allowed to view this material at this time.
Nintendo Switch - Pikachu & Eevee Edition Official Trailer
Whether it's your Pokémon entry point or you're returning to Kanto yet again, Pokémon Let's Go is for everyone. The lame motion controls aside, this is adventure perfection, not once feeling jaded after dozens of hours' play.

The game's mechanics perfectly ride the wave of success of the Pokemon GO phenomenon. Some core fans will be disappointed and that's completely fine, but the direction of Let's GO Pokemon is clear and it succeeds in its mission to provide a simple, yet addictive Pokemon game that can be enjoyable for all gamers. It's Pokemon at its addictive best and the only option is to set out and Catch 'Em All.

Pokémon Let's Go is a true and respectful remake. This game goes back in a time machine to the root of the Pokémon series, with Game Freak doing a beautiful job to adapt the traditional mechanics to the modern age.

Pokémon: Let's Go's nostalgic charm and interactive gameplay will have both newcomers and returning trainers hooked as they explore the beloved Kanto region. Let's Go mashes together these two different styles of Pokémon game into one streamlined format, and despite some slight annoyances, these remakes provide an intimate take on the classic Pokémon journey, especially when played with the Poké Ball Plus accessory. If you're looking for a refreshing take on the Pokémon RPG, then this one may keep you invested until you catch 'em all. It probably won't take long though.

Pokemon Let's Go is engineered to let youngsters play along with their parents, but there's a lot here for veterans to enjoy, too. It's relentlessly cute and colorful, and while the challenge level won't blister your skin, the new Coach Trainers will keep you hopping. We're still not sure about the Go-style method of catching wild Pokemon, but Pokemon Let's Go's ability to link-up to Niantic's app offers a quick and easy way to fill out your PokeDex. Game Freak is clearly getting the hang of the Switch, so bring on Gen VIII!

Reconciling the classic Pokémon games with brand-new elements, Pokémon Let's Go Pikachu and Evoli is the perfect fit for newcomers and old-school players wishing to to play the very first games in a new manner.

For what is supposed to be the next step forward for Pokémon, Pokémon: Let's Go Pikachu! feels like it has taken a few steps back. While there are aspects of the game I do enjoy, there are also glaring issues that I cannot just ignore. Ultimately, Pokémon: Let's Go, Pikachu! needlessly simplifies core mechanics in a series that does not require such streamlining.
Hi. Are you a parent concerned about the "mixed" reviews this game is getting? Well, don't be, it's all spam/fraudulent reviews from toxic

Hi. Are you a parent concerned about the "mixed" reviews this game is getting? Well, don't be, it's all spam/fraudulent reviews from toxic individuals creating numerous accounts to downvote this game into oblivion. This game is actually very good. It still follows the original pokemon games but with vast improvements, graphically and mechanically. It is also an excellent introductory game into the pokemon franchise. Do not let these toxic individuals scare you away, I assure you, the majority of the pokemon community is not like them. I found this game to be an extremely good time and I hope you can say the same. This game does have its differences from the rest of the series, as you do not need to battle wild pokemon, you can simply catch them, but all of these differences to me are improvements, not simplifications.

…

Expand

This is my first experience with Pokemon RPG series, and this game is absolutely perfect and fun! What a blast!

This is the BEST Pokemon game in years. It looks super clean, is a nice throwback to the old days and has plenty to do for the avid pokemon

This is the BEST Pokemon game in years. It looks super clean, is a nice throwback to the old days and has plenty to do for the avid pokemon fan. Ofcourse smogon players aren't real pokemon fans so they'll just bash this game, while its actually one of the best iterations in the franchise! I can recommend it to anyone who loves pokemon:)

…

Expand

On the bright side, the graphics are nice and clean, and for the first time in the Pokémon saga you can see some mons in the overworld, which

On the bright side, the graphics are nice and clean, and for the first time in the Pokémon saga you can see some mons in the overworld, which mimics the trend started by Pokémon Go, hence it's called Let's Go, I guess? However, aside from that, the adaptation from the first gens is kinda lazy. Although it is nice to see your buddies follow you around, the whole game feels shallow. Green, Red, Blue and Yellow were tough games, especially while levelling up, and Let's Go makes it just... super easy. So much easy that's almost boring. Got it. Beat it and forget it. However, as a plus for many players, this one actually features chaining for shiny hunting and with Pokémon Home you can transfer them to the new gen games, which is nice.

…

Expand

Overall, I am not pleased with this game. I have been a Pokemon fan every since Omega Ruby and have liked the quality and style of the games

Overall, I am not pleased with this game. I have been a Pokemon fan every since Omega Ruby and have liked the quality and style of the games up until Pokemon Let's Go Eevee and Pikachu. There are some aspects of the game that I like. For example, I believe that you are able to choose which Pokemon you want to catch instead of random encounters is nice and I preferably quite like it. I also think that because of the new combo feature and the Shiny Charm, it makes catching shiny Pokemon more enjoyable and easier rather than spending hours on end trying to find that one shiny Pokemon you were looking for. There are many features that are unpleasant and disappointing about this game as well. I found this game to be quite fun when I was playing it. I liked battling all the gyms and battling the Elite Four again, but after that I quickly lost interest in the game. I myself am not a shiny hunter so that takes the aspect of "chaining" as I call it and filling up the PokeDex out of the question. The "Master Trainers" don't provide a interesting thing to do after the game, and Team Rocket does a lousy job of trying to battle your trainer again after the game. Overall, I am disappointed in the post game adventure unlike Sun, Omega Ruby, and X. I also am not a fan of the catching mechanism that Game-freak used in this game. I find myself using too many Pokeballs and infuriating myself on how Pokemon somehow instantaneously flee from battles breaking my chains. I am used to spending 1-3 Pokeballs in the other core games rather than 7-9 Pokeballs in this game. I also dislike how there are only 151 core Pokemon in this game (excluding the legendary, special Pokemon, and the Alolan Pokemon). This makes for the game to be somewhat boring and tiring going through. I honestly think there is a lack of story line here both in game and post game. The way that Game-freak merged the game with Pokemon Go was disappointing and unpleasant for the core gamers. Overall, I think you should give this game a try. It's not only my opinion that shapes your mind to whether you want to buy the game or not. I think it should not be called a core series game and more of a sub-series game. Disappointing overall.

…

Expand

m*bile games are ruining the videogame industry
once games were about overcoming a challenge, now they're instant gratification simulatorsm*bile games are ruining the videogame industry
once games were about overcoming a challenge, now they're instant gratification simulators that basically play themselves
and would you look at that, GO success directly caused an easier, casualized, kanto pandering, low effort cashgrab completely deviod of passion
pokemon is a zombie series

…

Expand

Juego que destruye la franquicia desde su base, tomando las mecánicas y bajandolas a niveles infantiles en extremo.

Pokemon Let's Go comoJuego que destruye la franquicia desde su base, tomando las mecánicas y bajandolas a niveles infantiles en extremo.

Pokemon Let's Go como un juego de la saga principal apesta, no tanto por las mecánicas que pudieron estar y no están, no tanto por el hecho de no poder luchar contra pokemon salvajes, sino por ser una versión tan asquerosamente casualizada y sin ningún ápice de curva de dificultad comparado con el juego en el que se basa, cosas como que uno tiene un repatir. exp soldado con fuego desde el principio, incoherencias tales como que nada mas empezar tienes 50 pokeballs sin que nadie te las diera, cosas absurdas como que te obliguen a llevar a un Pokemon efectivo contra los dos primeros gimnasios, y la rotura anal de poder sacar de la caja a un pokemon donde quieras, cuando quieras, hacen a Pokemon Let's Go una basura como RPG, cuya dificultad solo depende de que el jugador se auto-limite a si mismo o juegue en formato nuzlocke. No hay mas.
Los movepools de los pokemon y especialmente de Eevee y Pikachu iniciales estan rotos y demasiado casualizados, lo desafiante del Pokemon Amarillo original estaba en por ejemplo, vértelas con Brook con ningún Pokemon de tipo Agua/Planta y ver como derrotabas a sus Pokemon de Tipo Tierra con un Pikachu, como RPG le daba sabor al asunto, pero en Let's Go es completamente asesinado con la aparición de Psyducks y Oddishs en pleno Bosque Verde, lo cual es vergonzoso, así es todo el juego, un vórtice de condescendencia y facilidades sin fin.

Mejor compren otro juego, lejos de la franquicia Pokémon.

…

Expand