Publisher:

Nintendo

Release Date:

Nov 16, 2018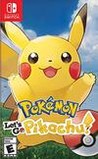 Summary:

Catch Pokémon Like Never Before. The Poké Ball Plus is a Poké Ball-shaped device that can be used to play Pokémon: Let's Go, Pikachu! and Pokémon: Let's Go, Eevee! in place of your Joy-Con. You'll be able to throw Poké Balls in-game with a flick of your wrist! In addition to motion controls,

Catch Pokémon Like Never Before. The Poké Ball Plus is a Poké Ball-shaped device that can be used to play Pokémon: Let's Go, Pikachu! and Pokémon: Let's Go, Eevee! in place of your Joy-Con. You'll be able to throw Poké Balls in-game with a flick of your wrist! In addition to motion controls, the device lights up with a variety of colors, vibrates, and plays sounds. With the Poké Ball Plus, you can also take one of your favorite Pokémon from these games for a stroll as you go about your daily life in the real world. The Poké Ball Plus even works as a Pokémon GO Plus when playing Pokémon GO.

Pikachu or Eevee:
Which Will You Choose?

Pokémon: Let's Go, Pikachu! and Pokémon: Let's Go, Eevee! bring the experience of a classic Pokémon RPG to Nintendo Switch with gameplay that is easily approachable for newcomers to the series, but is also deep enough to keep veteran Trainers on their toes.

The games also have two-player simultaneous play, so you can take the journey with a friend! And there's a deep connection between Pokémon: Let's Go, Pikachu! and Pokémon: Let's Go, Eevee! and Pokémon GO, so fans of the hit mobile game will find even more to enjoy.

…

Expand
Developer:

Game Freak

Genre(s):

Action RPG

,

Role-Playing

,

Trainer

# of players:

Online Multiplayer

Cheats:

On GameFAQs

Rating:

E
Please enter your birth date to watch this video:
You are not allowed to view this material at this time.
Nintendo Switch - Pikachu & Eevee Edition Official Trailer
Whether it's your Pokémon entry point or you're returning to Kanto yet again, Pokémon Let's Go is for everyone. The lame motion controls aside, this is adventure perfection, not once feeling jaded after dozens of hours' play.

The game's mechanics perfectly ride the wave of success of the Pokemon GO phenomenon. Some core fans will be disappointed and that's completely fine, but the direction of Let's GO Pokemon is clear and it succeeds in its mission to provide a simple, yet addictive Pokemon game that can be enjoyable for all gamers. It's Pokemon at its addictive best and the only option is to set out and Catch 'Em All.

Although there was fear of how Pokémon Go mechanics could fit in the gameplay scheme of both titles, Pokémon: Let's Go, Pikachu! and Pokémon: Let's Go, Eevee! are two fantastic remakes that show how even a well consolidated formula can still adapt to new ideas. Also its a guaranteed travel through time, specially for those who enjoyed Pokémon Red, Blue or Yellow versions when kids (or teens).

While those opening hours can feel like a languid tutorial, Game Freak know that the challenge will need to climb. And if anything there is a sudden spike that might come a little hard for newcomers, given the breeziness of the early game.

Pokémon Let's Go mightn't be for hardcore, competitive fans, but it will certainly win over everyone else. A vast majority of the changes are certainly for the better.

A good Pokémon debut on Nintendo Switch. However, the casual mechanics to attract users of Pokémon Go seems to us to play against being valiant and take a leap of quality according to the possibilities of the new machine.

For what is supposed to be the next step forward for Pokémon, Pokémon: Let's Go Pikachu! feels like it has taken a few steps back. While there are aspects of the game I do enjoy, there are also glaring issues that I cannot just ignore. Ultimately, Pokémon: Let's Go, Pikachu! needlessly simplifies core mechanics in a series that does not require such streamlining.
This game is a ton of fun and exactly what I wanted in the pokemon series. Awesome to relive the original experience in high def and synergize

This game is a ton of fun and exactly what I wanted in the pokemon series. Awesome to relive the original experience in high def and synergize with go!

…

Expand

Amazing game! Worth every cent. Fantastic game play, very nice visuals and a great story. The perfect game for everybody that loves Pokemon.

This is the BEST Pokemon game in years. It looks super clean, is a nice throwback to the old days and has plenty to do for the avid pokemon

This is the BEST Pokemon game in years. It looks super clean, is a nice throwback to the old days and has plenty to do for the avid pokemon fan. Ofcourse smogon players aren't real pokemon fans so they'll just bash this game, while its actually one of the best iterations in the franchise! I can recommend it to anyone who loves pokemon:)

…

Expand

Oh well, it's Pokemon, I bought for my daughter so I could avoid constantly playing Mario Party or Splatoon. I know it is supposed to be based

Oh well, it's Pokemon, I bought for my daughter so I could avoid constantly playing Mario Party or Splatoon. I know it is supposed to be based on an older Pokemon game, but I have only played 3 or so titles in the series. This is the first one I finished and I was actually surprised that it was finished so quickly, around 25 hours or so. The graphics is the best in the series and a nice thing is that another player can join at anytime for support, so a lot of fights become much easier. You can also combine for dual-catch techniques to increase your chances to catch more difficult Pokemon.
You can transfer some of your Pokemon Go creatures to the Switch (but not back) which helps you complete the Pokedex. Story is very Pokemon typical, nice, but nothing special, quite child friendly. I don't care for the Pokemon franchise (my favorite game on the Switch is Octopath Traveler), but for playing co-op with my daughter "Let's Go" is quite fun.

…

Expand

Only 153 Pokemon, and a few alternate forms despite previous remake FRLG having all Pokemon from Gen 1-3
No Sevii Islands despite FRLG havingOnly 153 Pokemon, and a few alternate forms despite previous remake FRLG having all Pokemon from Gen 1-3
No Sevii Islands despite FRLG having them
Is for kids, but requires them to pay $50 and/or $20 and/or walk several miles with a phone draining battery app that also needs cellular data to 100% the game (Super Sonic being $2 doesn't seem so bad now)
Despite an annual subscription for online play, there are less features than the 3DS games such as wonder trade, battle spot, and the GTS
No wild battles
No Safari
No games at the game corner, just text
Animations are completely recycled from USUM, including the walking animations for Pokemon
Blastoise shoots Hydro Pump from its forehead
Gym Requirements force you to have an advantage over the gym
They also made traditional nuzlocke rules impossible
Exp share can not be turned off
Lance uses Seadra simply because Kingdra isn't in the game, as with the case with many bosses
The champion has no Pokemon with 4 moves
Red himself uses a Fire Blast Machamp without No Guard or Specs
AVs increase stats beyond what stats normally can be and can be maxed out in every stat, making Mega Slowbro+Chansey Core nearly unbreakable
Btw Megas don't require items since no Pokemon can hold items
No abilities either
They didn't bother making a skeleton aerodactyl for the museum
Co op is wasted potential with it making battle 2v1s with P1's team and no other functions
Following Pokemon and Co-op will likely be dropped in Gen 8

…

Expand

This review contains spoilers

, click expand to view

. Only 153 Pokemon, and a few alternate forms despite previous remake FRLG having all Pokemon from Gen 1-3
No Sevii Islands despite FRLG having them
Is for kids, but requires them to pay $50 and/or $20 and/or walk several miles with a phone draining battery app that also needs cellular data to 100% the game (Super Sonic being $2 doesn't seem so bad now)
Despite an annual subscription for online play, there are less features than the 3DS games such as wonder trade, battle spot, and the GTS
No wild battles
No Safari
No games at the game corner, just text
Animations are completely recycled from USUM, including the walking animations for Pokemon
Blastoise shoots Hydro Pump from its forehead
Gym Requirements force you to have an advantage over the gym
They also made traditional nuzlocke rules impossible
Exp share can not be turned off
Lance uses **** Seadra simply because Kingdra isn't in the game, as with the case with many bosses
The champion has no Pokemon with 4 moves
Red himself uses a Fire Blast Machamp without No Guard or Specs
AVs increase stats beyond what stats normally can be and can be maxed out in every stat, making Mega Slowbro+Chansey Core nearly unbreakable
Btw Megas don't require items since no Pokemon can hold items
No abilities either
They didn't bother making a skeleton aerodactyl for the museum
Co op is wasted potential with it making battle 2v1s with P1's team and no other functions

…

Expand

Pokémon GO: Console Edition. Easier, simpler, tasteless.
No abilities. No day/night cycle. No weather. No fishing. No breeding. No end-game.Pokémon GO: Console Edition. Easier, simpler, tasteless.
No abilities. No day/night cycle. No weather. No fishing. No breeding. No end-game.
Nice graphics and such things are not enough.

…

Expand